Abigail Lind Named to 2023 Triad Business Journal's 40 Leaders Under 40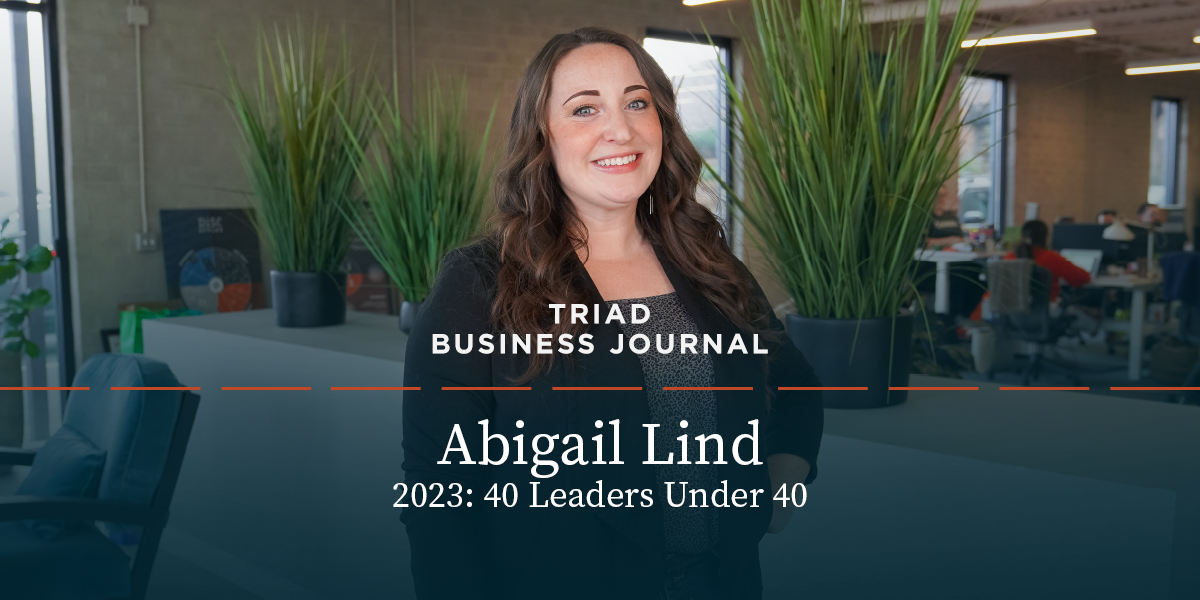 Making an Impact in Her Career and Community
Stratagon's Content Manager, Abigail Lind, has been named to the 2023 Triad Business Journal "40 Under 40" List, which recognizes professionals under 40 who are making a profound impact in their careers and in their communities.
When asked about Abigail, her peers say, "She is the kind of person that elevates everyone around her. With a personality that naturally exudes positivity, working with her is not only easy, but enjoyable as well. She reliably delivers the highest quality and aims higher each time. This approach, paired with a growth mindset in general, creates a magnetic individual who can't help but create an impact on those she interacts with, both within our agency and in the greater community. Simply put: the world needs more people like her."
Driving Results in Marketing and Beyond
In the office, she leads a team of writers to create compelling content across a variety of B2B and B2C industries, drawing in audiences for measurable marketing growth.
She also manages the proposal and contract writing process for RFPs, ensuring the Stratagon team meets all technical requirements and deadlines. Additionally, she provides oversight to our StratU college internship program and is one of our liaisons in the community.
"Queen of High Point" in the Community
Outside of her career accomplishments, Abigail is heavily involved in our city, so much so that she's been nicknamed, "Queen of High Point."
She is the current Board Chapter President of the High Point Jaycees (2022-2023) where she tripled membership in the first year; served on the High Point Young Professionals Committee within the BHP Chamber of Commerce for 4 years (2019-2022); currently the Co-Chair of Leadership High Point Alumni Committee (Class of 2020); served as a High Point Ambassador and on the Community Relations Committee for Visit High Point (2019-2021); and was on the Marketing Committee for Forward High Point (2020-2022).
She also serves on the Guilford County Schools CTE (Career and Technical Education) Business Advisory Council representing the Marketing Industry (2021-2022) advising schools on how to prepare students for high skills, high-wage, in-demand careers; recently joined the Southwest Renewal Foundation of High Point as a community liaison, and she is a Communities in Schools of High Point school liaison (2020-2023).
In her downtime, you can find her running or cycling on the local greenways, enjoying a weekend adventure, or teaching the adult gymnastics class she founded in 2015 at LemPossible Gymnastics in High Point.
See her full article profile from the Triad Business Journal here.