Ryan Burkett Among Charlotte Business Journal's Most Admired CEOs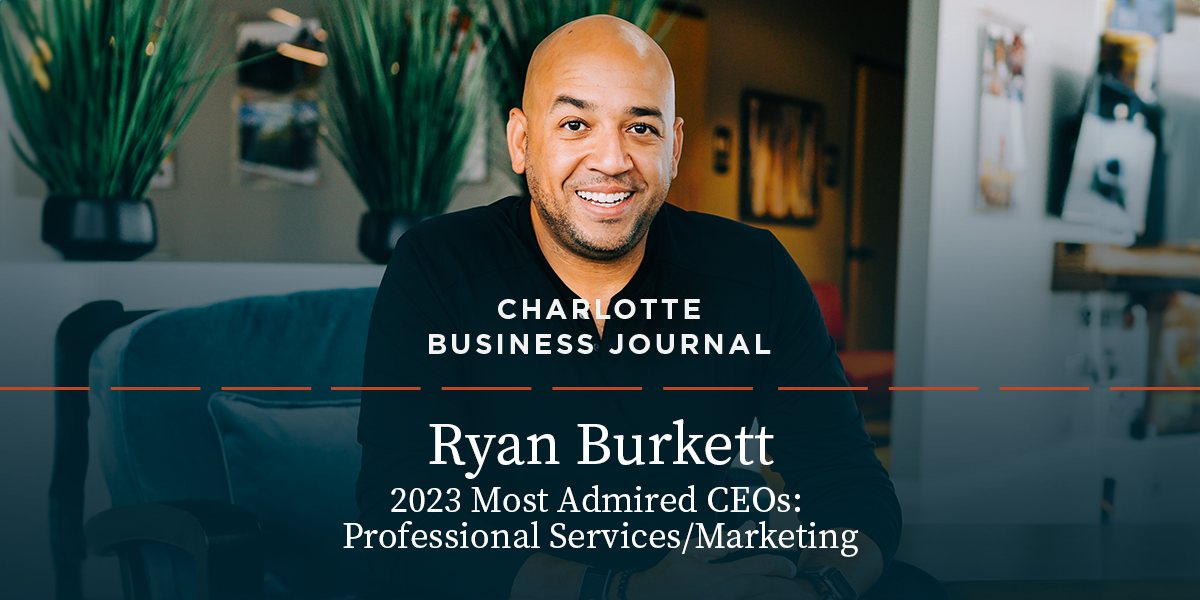 Proven Track Record of Strategic Leadership
Stratagon CEO and Founding Partner, Ryan Burkett, has been recognized as one of the Most Admired CEOs by the Charlotte Business Journal. This award program honors established leaders across industries in the Charlotte region who have demonstrated exceptional vision, commitment to their companies, and significant contributions to the community.
The Charlotte Business Journal's Most Admired CEO Awards celebrate leaders who have displayed a proven track record of innovation, outstanding financial performance, promoting diversity in the workplace, and making a meaningful impact beyond the workplace. Honorees were selected through a rigorous nomination process earlier this year, with all recipients holding the title of chief executive or an equivalent role.
Ryan's recognition as one of the Most Admired CEOs is a testament to his unwavering dedication to our success, his commitment to fostering a positive work culture, and his significant contributions to the community.
Driving Financial Success
Ryan's strategic mindset and goal-oriented approach have been instrumental in ensuring Stratagon's financial success. Under his leadership, the company has consistently pursued ambitious growth targets, which has propelled Stratagon to be listed on the INC 5000 Fastest-Growing Private Companies three years in a row (2020-2022). Ryan has also implemented strategic organizational models that foster long-term vision planning, data-driven decision-making, and continuous improvement at all levels of the company.
Creating a Great Work Culture
Recognizing that people are at the heart of Stratagon's success, Ryan has prioritized creating a thriving work culture. Through transparent communication, accountability, and a people-centric approach, he has built a team-oriented environment where individuals are empowered to contribute and grow. The company invests in employee development through initiatives such as: DiSC communications style training and Diversity, Equity, Inclusion, and Belonging (DEIB) education, among others. Stratagon's straightforward yet transformative core values – having a growth mindset, being team-oriented, and always committed to success – shape our collaborative culture.
Contributing to the Community
Ryan's commitment to giving back extends well beyond the confines of Stratagon. He actively participates in various community activities, serving on local boards, engaging in community/civic service, and assuming leadership roles. Ryan is dedicated to supporting minority-owned businesses, exemplified by his involvement with organizations like Minorities in Agriculture, Natural Resources and Related Sciences (MANRRS) and the Carolinas-Virginia Minority Supplier Development Council (CVMSDC).
Additionally, Ryan's extensive community involvement includes serving on the board of St. Marks Child Development Center, being a member of the OverCancer Foundation, and actively volunteering with various organizations. His recent recognition as one of the 70 entrepreneurs selected for the 2023 Ernst & Young Entrepreneurs Access Network (EAN) cohort further underscores his commitment to making a positive impact.
Leading the Way in Strategic Initiatives
Ryan is an accomplished business leader and consultant with over 20 years of experience in strategic initiatives, solutions design, and global delivery. As the CEO and Founding Partner of Stratagon, he leads the Strategy and Solutions practice, as well as the Marketing and Operations practice at BrandGen.io, a self-service digital advertising platform that accelerates sales and revenue growth through targeted, cost-effective marketing campaigns.
Away from the professional arena, Ryan enjoys creating memories with friends and family through traveling and cherishes spending time with his wife and two sons in Charlotte, NC.
View the full list of this year's Most Admired CEOs here.
View Charlotte Business Journal's profile piece here.