Charlotte Business Journal Names Stratagon Among Highest Earning Digital Marketing Agencies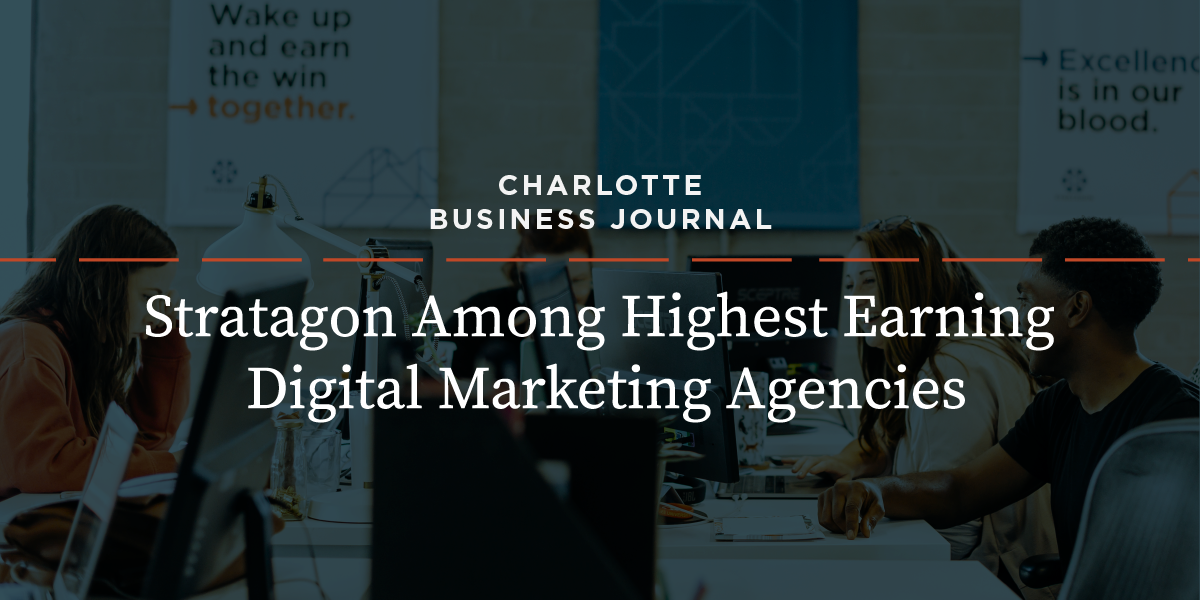 Digital Marketing Revenue Recognition in Charlotte
Stratagon was recently named among digital marketing agencies in the Charlotte area with the highest earnings by the Charlotte Business Journal. The list ranks the top 21 firms in the area based on their local office revenue earned in 2021. Stratagon's Charlotte office receives a spot at #18 on the list, alongside other digital advertising and marketing firms that are making remarkable strides and demonstrating measurable growth in the Queen City.
A full list of Charlotte's largest digital advertising and marketing agencies can be viewed here.
Results-Driven Marketing Strategies for Diverse Industries
Stratagon is a strategic marketing agency that builds customer-centric campaigns to power revenue growth. We were founded in 2005 by two friends and business partners, Ryan Burkett and Alex Moore, with a passion for helping companies find resourceful solutions for tough business problems.
Our marketing strategies have been used across a wide sector of industries including: manufacturing, higher education, professional services, agriculture, non-profit, governmental agencies, and beyond.
Those who work with us find we think differently than most and we have a unique drive to figure it out, regardless of the challenge. We go beyond surface-level marketing tactics and motions. With equal parts strategic planning, creative assets, and technology expertise, we dig deep to understand our clients and what drives their customers.
And underneath the strategic marketing brains, we have genuine hearts. We want to do right by each other, our clients, and our community.
Do You Need a Marketing Agency Partner?
It may seem easier on the surface to try to do everything yourself – whether that's hiring internally or juggling a host of service providers to meet your marketing goals. However, when you choose to rely on a partner agency, you instantly gain access to a team of experts in marketing strategy, creative content, marketing technologies, and web development all in one place who are all focused on helping you achieve measurable results.
See how we've helped others reach their goals.