Stratagon Named Among Largest Charlotte Advertising & Marketing Agencies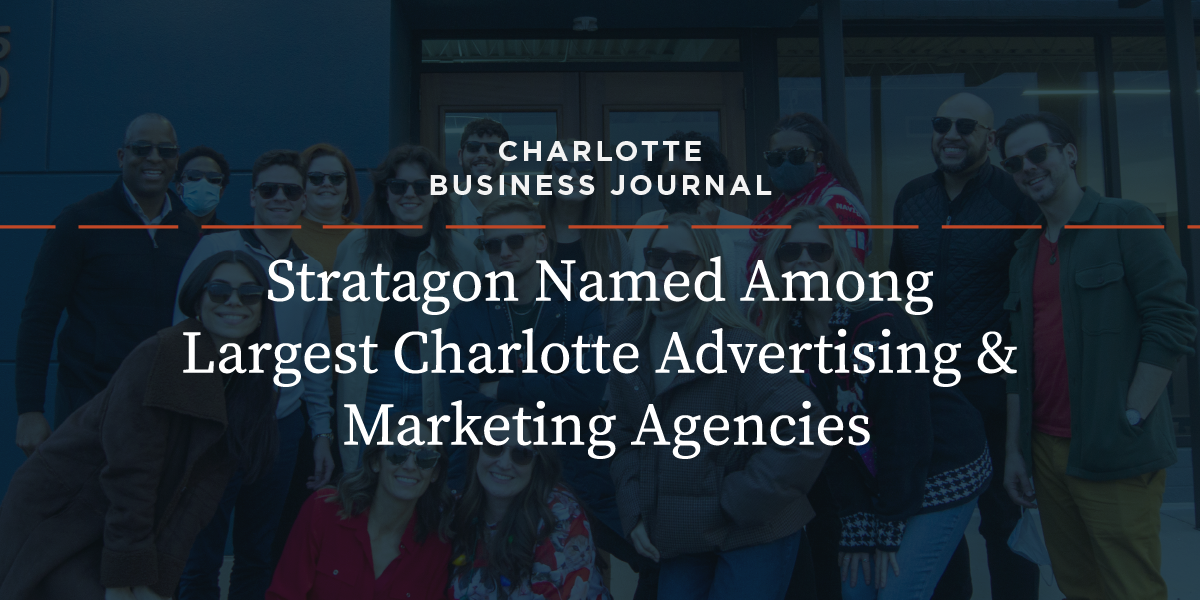 Charlotte Business Journal Ranks Area's Largest Agencies
Stratagon was recently named among the largest advertising and marketing agencies in the Charlotte area by the Charlotte Business Journal. The list ranks firms in the area based on their reported number of full-time employees. Stratagon's Charlotte office earns a spot at #15 on the list, alongside other marketing and advertising firms that are making a name for themselves in the Queen City.
Workplace Culture Centered on 3 Core Values
The catalyst behind our growth is a focus on healthy workplace culture. The leadership team at Stratagon has invested heavily in creating a place where we all aim to do right by each other, our clients, and our community. Through this perspective, we aspire to enjoy our time together both at work and out of the office.
To achieve this, every member of the team is held accountable to 3 main core values: have a growth mindset, be team oriented, and be committed to succeed. This means we aim to be better tomorrow than we are today; we're eager to help each other win; and we seek to find the best solutions, work hard, and never settle.
Our greatest hope is that by prioritizing in this way, Stratagon continues to be a place where people want to work and a team that others want to work with.
Do You Want to Join Our Expanding Team?
Are you looking for a place where you can grow and thrive? Does this type of space for growth and opportunity resonate with you? Full-time employees have access to competitive, industry-leading benefits including: medical, vision, dental, 401(k) matching, merit-based bonuses, flexible time off, paid holidays, professional coaching, and more.
Check out our current career openings to see if you have what it takes to be a part of our growing team.
See the full list of Charlotte's largest agencies here.