Stratagon Named Among Largest Triad Advertising & Marketing Firms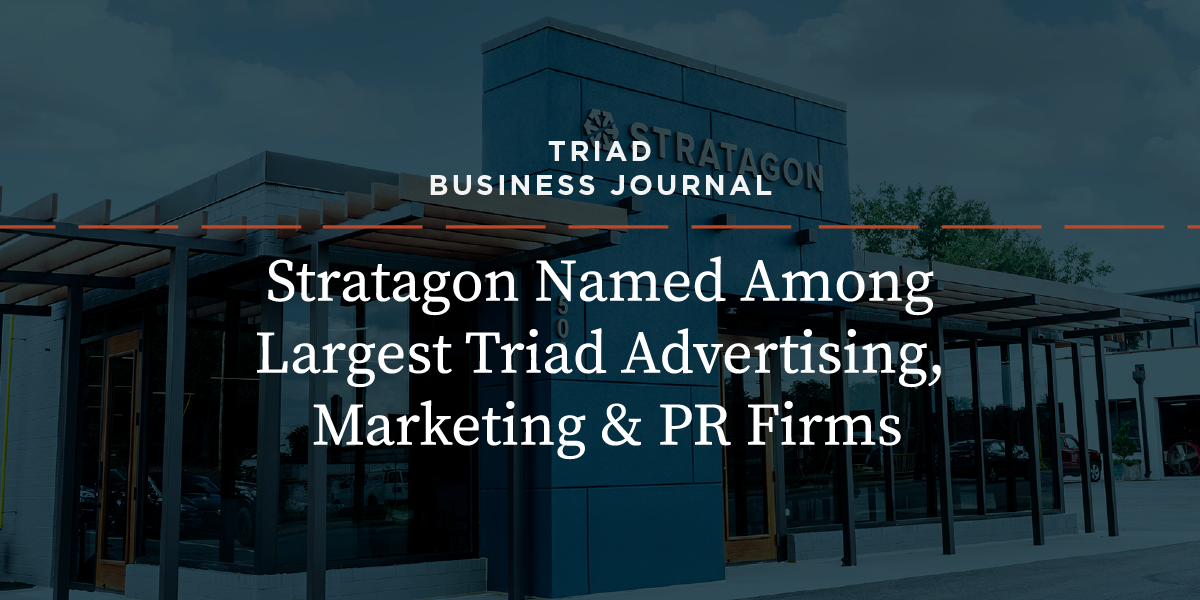 Marketing Agency Ranks Higher Year After Year
Stratagon was recently named among the largest advertising, marketing, and PR firms in the Piedmont Triad by the Triad Business Journal for 2023. The list ranks agencies in the area based on their reported number of employees. And since we've been in a season of growing our team, we're thrilled to see our High Point location shot up 2 spots, now ranking #14 on the list!
Growing Our People, Our Customers, and Our Community
Although this recognition is about the size of our team, growth is more than numbers. Our culture at Stratagon is centered around 3 pillars: have a growth mindset, be team oriented, and be committed to succeed. Our leadership team prioritizes personal and professional growth – not just company growth – because when we are all aiming to be better tomorrow than we are today, we'll succeed together.
We want to do right by each other and our clients. In addition to seeing growth among our team, our key motivator is to generate growth for our customers by creating resourceful solutions for their toughest business challenges. In fact, that's why we were founded back in 2005.
Our greatest hope is that by taking this perspective Stratagon continues to be a place where people want to work and a team that others want to work with, and through this, we have a positive impact on our community.
Explore Our Current Career Openings
If you're looking for a place to grow professionally, we'd love to hear from you! Full-time employees have access to competitive, industry-leading benefits including: medical, vision, dental, 401(k) matching, merit-based bonuses, flexible time off, paid holidays, professional coaching, and more.
Check out our current career openings to see if you have what it takes to be a part of our growing team.
See the full list of Triad firms here.