Integrated Marketing and Technology Agency Officially Opens 18 months after COVID Shutdown
We are pleased to announce the grand opening celebration of our new High Point office to showcase the renovation of a downtown building to advance economic development and exhibit the entrepreneurial journey of our growing company.
The grand opening celebration was held on September 9th, 2021, at 501 W English Road in High Point. The newly renovated downtown building was once a rundown dry-cleaning business that had been empty for six years. It is located across the street from Congdon Yards and the Truist sports stadium, home of the High Point Rockers, and located next to great neighbors, Splashworks. The area is encompassed within the furniture and textile industry and other manufacturing facilities, which is beneficial due to our work in marketing for B2B industries and other local organizations.
Alex Moore and Ryan Burkett, co-founders and senior partners, launched the firm in autumn 2005 after meeting as graduate students at the UNCG Bryan School. "We wanted to be in the heart of High Point, and we believe in the vision of economic development in the area that will create a thriving downtown. We're committed to starting now and building with the city from the ground up, so it was an investment worth making," noted Moore.
The 4,000 square foot building was purchased at the end of 2018 and renovated to become a unique workspace for our team, which we opened in March 2020. The work was completed by local companies, including general contracting by Dunbar & Smith, architecture by Freeman Kennett, and interior design by Dappled Willow Decor.
Just two weeks later, our move was followed by a nationwide shutdown of local businesses due to COVID-19. Despite the office standing mostly empty over the past year and a half, our team worked remotely and patiently awaited collaborating together in person again. "This building and our team have been through a lot to bring us to where we are today. We didn't foresee a grand opening celebration happening a year and a half after we opened our doors, but we wanted to follow guidelines and ensure safety for our employees and guests," stated Burkett.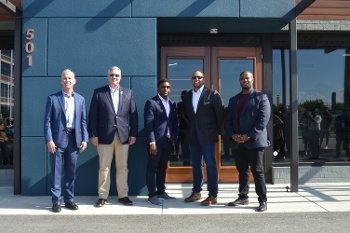 The highlights of the event included a ribbon cutting by Business High Point Chamber of Commerce with speeches by our Senior Partners, Mayor Jay Wagner, Councilman Cyril Jefferson, and Patrick Chapin, CEO of the Chamber. Attendees played outdoor games, enjoyed refreshments from food trucks under large tents, and took indoor tours of the building in small groups.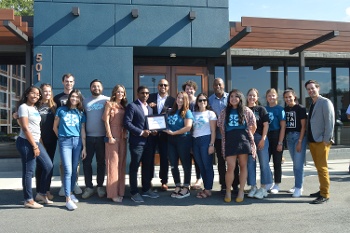 Guests got to experience our newly renovated building featuring an open-space concept with workspaces for employees, large conference rooms complete with technology for virtual meetings, and a kitchen stocked with snacks and plenty of kombucha on tap from Sum Bucha. After a total renovation that left only three standing walls, the building has a new roof, eye-catching painted brick walls, a rustic concrete floor, and large windows that bring in plenty of natural light.
Media Contact:
Melissa Campbell, Director of Client Services
info@stratagon.com
888-506-3466