Stratagon Named as a 2023 Leaders in Diversity Honoree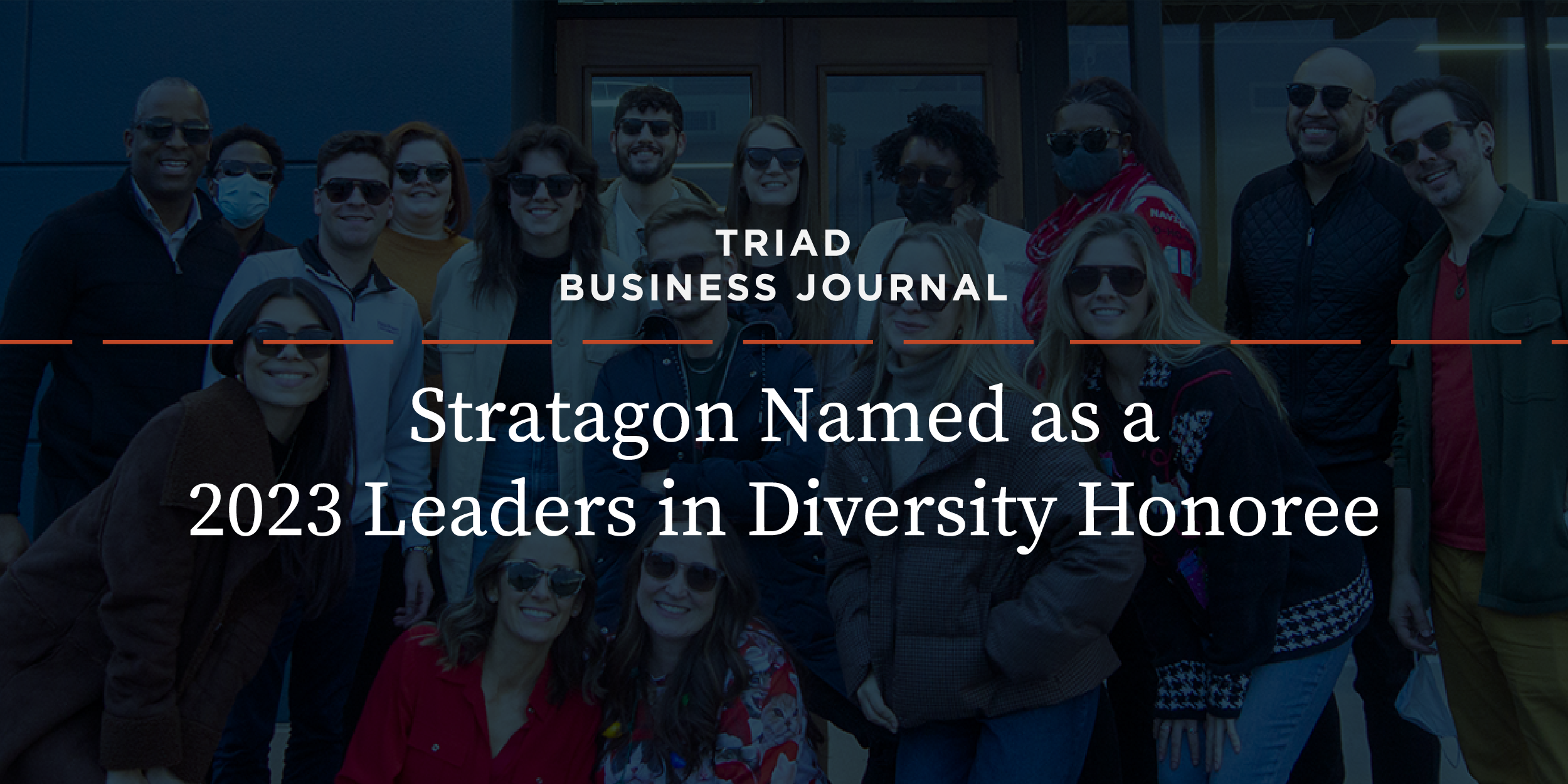 Stratagon Honored with Award for Outstanding Diversity in a Private Organization by the Triad Business Journal
Stratagon Inc., a full-service marketing, technology, and creative agency, is proud to announce its recognition on the prestigious Leaders in Diversity list in the Triad Business Journal for 2023. The company has been awarded the Outstanding Diversity in an Organization - Private category, acknowledging its remarkable commitment to fostering a diverse and inclusive workplace.
Fostering Inclusion in the Workplace and Beyond
This award is a testament to Stratagon's proactive efforts in promoting diversity, equity, inclusion, and belonging (DEIB) within the organization and in the community. Under the guidance of a DEIB expert from MacLENS Inclusive Leadership and founders Alex Moore and Ryan Burkett, Stratagon has formed a dedicated committee that spearheads DEIB initiatives across hiring, community outreach, internal processes, and client relationships. The company has also established meaningful partnerships with minority advocacy organizations, demonstrating its commitment to supporting underrepresented communities.
One of the key highlights of Stratagon's commitment to diversity is reflected in its leadership team composition, with 60% of the team being African American and 40% being women. This representation showcases the company's dedication to providing opportunities for diverse professionals to thrive in senior-level positions.
In response to the honor, Alex Moore shared his gratitude, commenting, "It was refreshing to see the work and commitment to DEI from leaders in the Triad. I am honored that Stratagon was recognized for the work we are doing in the Diversity, Equity, and Inclusion space and the culture we are building."
Advancing DEIB Amidst Setbacks
Stratagon's DEIB efforts have gained significant traction at a time when many organizations face challenges in advancing diversity initiatives. While some DEI movements have encountered setbacks nationally, Stratagon remains dedicated to its DEI strategy. The company firmly believes in celebrating diversity in perspective, culture, and representation, considering each individual's contribution as essential to the whole. Stratagon recognizes the importance of intersectionality and ensures that its DEIB initiatives encompass various dimensions such as race, gender, sexual orientation, language, and disabilities.
For employers striving to regain momentum in their DEI efforts, Stratagon emphasizes the significance of senior leadership involvement and a clear purpose behind the initiatives. The company advises organizations to identify top priorities, integrate DEIB into their core business practices, and select passionate team members dedicated to building an inclusive culture.
Cultivating Diversity within Client and Community Initiatives
For employers yet to embark on their DEI journey, Stratagon stresses the importance of prioritizing employee well-being and seeking external DEI consultants. Senior leadership buy-in, effective communication, and the cultivation of inclusive workplaces are key components to foster a culture where diverse voices are heard and appreciated.
Stratagon's commitment to DEI extends beyond its internal efforts. The company actively engages in client partnerships with organizations including Minorities in Agriculture, Natural Resources and Related Sciences (MANRRS), Black Coaches United (The BCU), Tuskegee University College of Agriculture, Environment & Nutrition Sciences (CAENS), and proudly serves as the agency of record for North Carolina Central University (NCCU).
Stratagon is honored to receive this distinguished award and remains dedicated to promoting diversity, equity, and inclusion as it continues to make a positive impact within its organization, clients, and the community.
View the full article from the Triad Business Journal: Leaders in Diversity 2023: Stratagon Inc., High Point
Interested to learn more about our culture of thinkers, makers, and all-around go-getters? Learn more about us.