4 Ways to Use Current Students to Recruit Prospective Students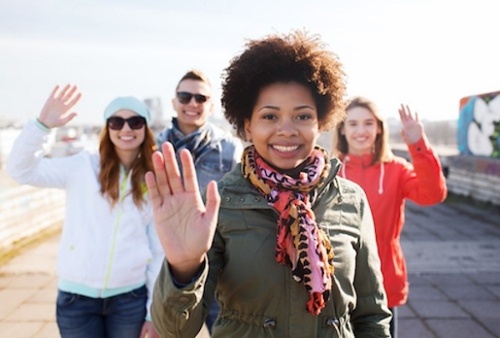 The task of recruiting millennials is a whole new game, and the days of flashy advertisements and smooth sales pitches are dead. Let's be real – a college education is expensive. Prospective students need more than nice fliers and a holiday card in the mail to commit to your institution. Prospects want hard evidence that they will get their money's worth if they choose to attend your university, and what better proof can you offer than your thriving current students?
Before you buy a new car or switch phone companies, you read consumer reviews. Choosing a college is no different. Your students serve as walking testimonies of the collegiate experience unique to your college, and it would be a shame not to tap into that potential. Here are four ways you can engage current students in the recruitment process.
1.) Student Ambassadors
Most higher education institutions have already taken the first step in employing student ambassadors, but are you taking full advantage of the opportunities presented by these key students? Beyond serving as tour guides and greeters, student ambassadors should be used to reach out to recruits in area high schools, especially their individual alma maters. In addition to sending your recruiter on that school visit and to that college fair, think about sending along a student who embodies your institution as well.
2.) Blogs
MIT makes a point to feature 10 student blogs on their website. It's a great strategy, and here's why. Most likely before a prospective student makes initial contact with your school, he or she has already done some base-level research on your website. Publishing student blogs is a great way to hit major pain points through testimonials. If you're feeling fancy, turn a few of those blogs into videos for an even more engaging touch. (A little birdie told me millennials love blogs.)
3.) Social Media
Did you think we were going to get through this post without touching on the holy grail? I can't press this issue enough; social media is an everyday part of life for your audience. One recent study of college and high school students found that 88 percent used Instagram and Snapchat and 81 percent were Facebook users.
But these Gen Z and Millennials do not use the platforms for the same things, and it's critical to understand which platforms are for interacting with friends and which ones are preferred for getting information. You know who can help you understand that difference? Current students! North Carolina A&T uses social media campaigns as a forum to share what students love most about the university through hashtags. It's a great way to showcase pride and highlight your university's best features.
4.) Admissions Follow-Up
The time between a student being admitted to your school and officially committing to attend is crucial. While it may be true that a few of your admitted students are interested only in your institution, it is likely that most are seriously considering at least two or three schools. Many colleges have recruitment officers in charge of following up via email or phone to answer any lingering questions and hopefully convince uncommitted students to enroll. Consider including current students in those last few personal touches. Recruits will feel more comfortable asking the real questions they have, and your current students are much more relatable than the professionals hired to get students enrolled.
Incorporating students in your recruitment process can be tricky. It requires finding the crème of the crop, the students that best represent the values and mission of your institution. But, if you put in the effort, your current students will work wonders for your recruitment process.