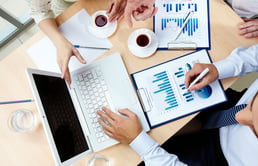 So maybe we convinced you to start a blog with our blog about reasons to blog for the financial industry. If so, you have made a decision to direct 50% more traffic to your website and attract 4.5X more leads than you had before. We think this is a very smart decision. Now that you are on your way to being a blogging maven, we want to share with you how to do it the right way. Let's talk about some content and general blogging tips and best practices for your finance blog.
Buyer Personas
Before you start your blog, really study your target market and develop your official buyer personas. Buyer personas are semi-fictional representations of who your ideal customer is. This is based off real data you have on your existing customers. You need to know your personas inside and out. This means having an understanding of their goals, aspirations, pain points, challenges, who they report to – a day in the life and how your service will benefit them. This will be your key to creating relevant content to capture new customers.
A Content Calendar
It's very important that you come up with a content calendar and plan for your blogs and your long form content like (white papers, e-books, and tip sheets). It is also good to remain flexible when creating and following your calendar so you can "news-jack" a news story, current event, or trend. A good way to keep on top of these current stories is by subscribing to relevant leading publications for the finance industry. Make sure you are reading and learning something every day. This way you can choose to write about what you think your audience will take an interest in. Another helpful tool is to sign up for Google Alerts and choose keywords that are relevant to your industry.
A Financial Blog "Don't"
As marketers, we fully understand how easy it is to get caught up in the constant use of our abbreviations and general marketing and technology jargon. The fact is, jargon can scare people. They can get confused and lose interest in your content. It's not that fun to have to Google every other abbreviation in a blog post.
This doesn't mean that you can't explain commonly used financial jargon, or that you now have an excuse to write sloppily. Make sure that your points are simple, well-structured and informative sentences.
So What?
Follow some of these tips when blogging for the financial industry and you will be on your way to more leads, more visitors, a larger following and, most important, more customers!
Avoid these 15 blogging mistakes! If you have made them already - here's how to fix them.
---
---
Photos and stats in post: www.thetranelfinancialgroup.com