Clubhouse App: The Room Where It Happens and Why Marketers Should Care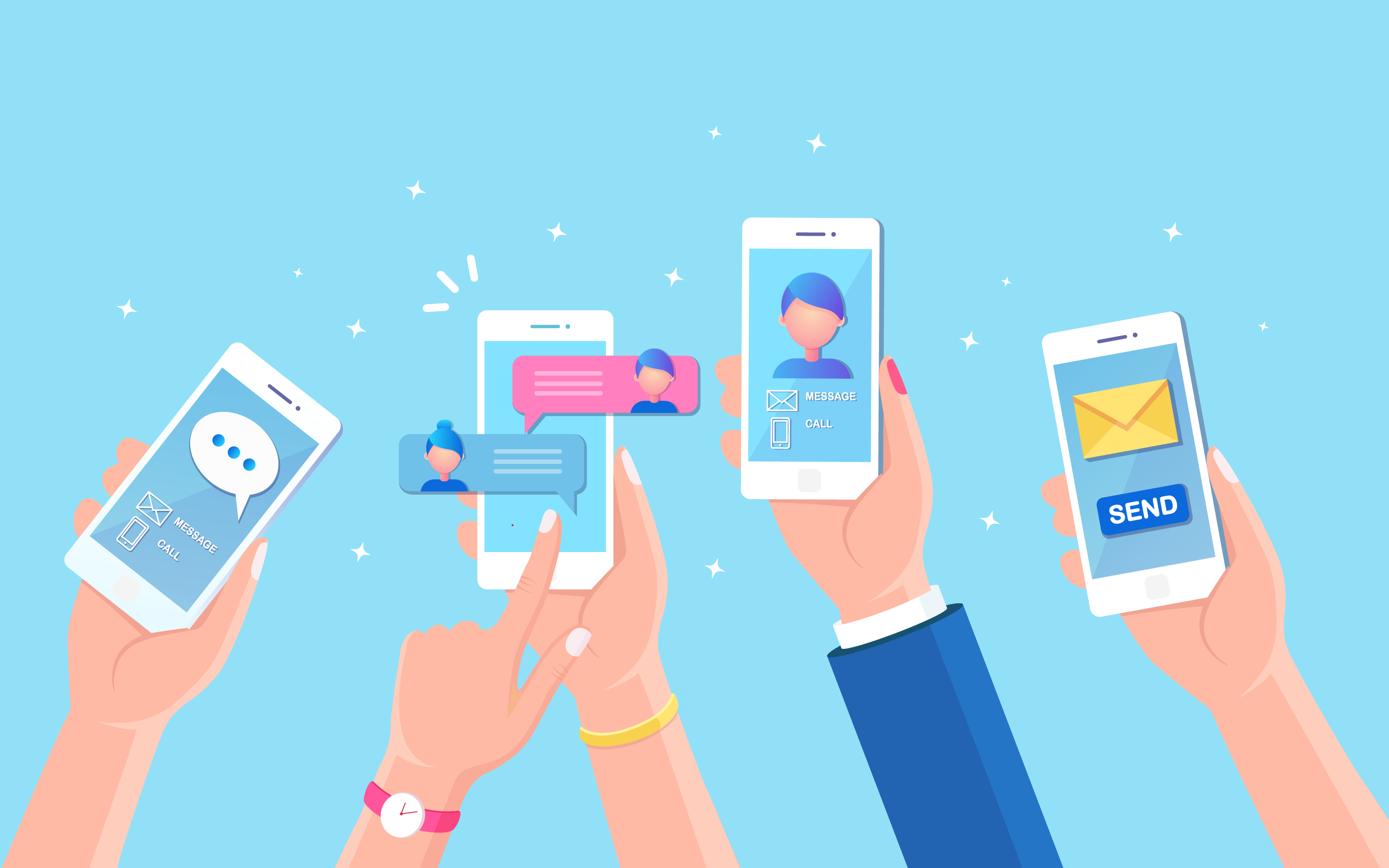 A couple of months ago, one of my best friends in NYC sent me an Instagram message: "Join Clubhouse! It's an audio chat platform."
Of course, I was skeptical: "What is that? There are so many apps I can't keep up." He replied, "This one is interesting – many legit startup guys are on it."
He got my attention. You see, my friend is very in-the-know, so he sent me an invite to the platform and I was in.
Quick Background of Clubhouse
When the app first launched by a couple of Silicon Valley software entrepreneurs in March of 2020, it started bringing in a wave of big name investors and celebrities who could have group chats about topics of interest in everything from industry news to social happenings and business tips.
Many have speculated that the app created buzz due to pandemic boredom because people have plenty of extra hours to sit around and chat. Another interesting point is that it reached a $1 billion valuation after recent rounds of investor funding in early 2021.
There's a lot of info out now about "What is Clubhouse" from HubSpot, Social Media Examiner, The New York Times, and more – so, let's dig into a couple of other questions.
WHY Should I Use Clubhouse?
Clubhouse App Offers Access, Yet Exclusivity

Do you want to be in the room where it happens?
A main reason why Clubhouse has gained so much popularity is because so many big names jumped in quickly. Its founders Rohan Seth and Paul Davison are well known in the development world, and celebrities such as Oprah, Kevin Hart, Elon Musk, and Bill Gates have been known to show up in a room – sometimes unexpectedly – to take the stage.
You see, the thrill of the unknown drives the popularity of Clubhouse. Who could show up next? It gives you access to people you wouldn't typically be able to connect with otherwise.
Clubhouse allows users to host and moderate an audio conference, or an audio webinar, live.
It's like a podcast because it's audio only, but it's happening in real time, which allows for audience interaction.
In the couple of months since I joined the app, I've noticed people getting up to eight thousand (because that's the current cap) in a room and holding audiences for up to five hours in one sitting.
It can seriously suck you in.
You can find essentially any topic you're interested in "skilling up" on, from cryptocurrency to meditation. There's an ongoing directory of upcoming events filled with channels based on topics and moderators who are in charge of what's happening in the room.
I guess we should queue up "The Room Where It Happens" from Hamilton?
The other side of access in Clubhouse? EXCLUSIVITY.
The app has grown leaps and bounds because everyone wants to be in. It's selective with invitations to keep it exclusive: it's only supported on iPhone right now, and there's a waiting list. Some users are even selling their invitations on sites like Etsy and Ebay!
Bottom line: it creates FOMO. People do not like being left out! That generates hype.
Clubhouse Brings Relevance, Whether Business or Social
The Clubhouse app was born in a time of disconnectedness – the world had essentially shut down due to a pandemic, and we all needed to find a way to connect. That's why the feeling of chatting real time with others on topics of interest just felt so good, and it stuck.
For marketers, it's important to find meaningful connection with our audiences. Clubhouse enables users to do just that. Whether you're interested in connecting for business or socially, the lines can become blurred – and that's really okay.
Clubhouse can help you build your personal brand, your social circle, and your business network.
B2B companies can use Clubhouse to host rooms about thought leadership within their industry, or an individual can provide awareness about a topic that will lead to your products or services as a solution. If you can provide relevant, helpful information, Clubhouse can help you get connected.
My experience with relevant Clubhouse content:
Situation A:

I'm learning more about

business growth through the Government Contracting Network, where I've listened to contracting officers and other contractors speak firsthand about experiences and how to

win

better contracts

.





Situation B:

Last week, I

listened in on a "Copywriting Secrets" room with over 1k people, while learning insights from the top copywriters at companies

including

Salesforce,

Wine Folly, and more.

(Who knew there could be so many word nerds in one room?)
Situation C:

I joined a room on National Drink Wine day and chatted with people from all over the world about our favorite

wines just for fun, while learning from professional sommeliers in the process.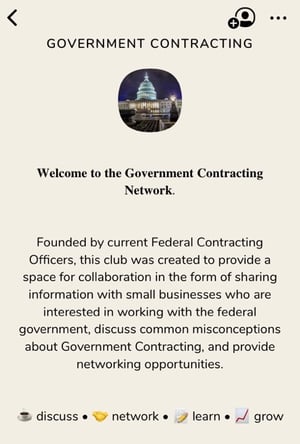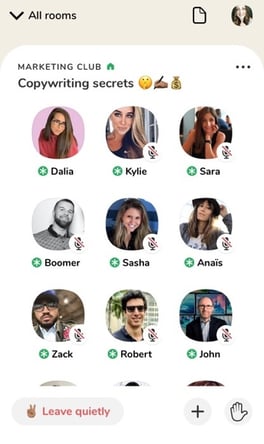 Honestly, Clubhouse feels like a virtual house party that emerged during the social isolation of a pandemic and allowed people to get together in real time with actual conversation. However, it also feels like an international business conference with incredible speakers who openly talk about their expertise firsthand.
The point here is that you can reach any audience you'd like, but the key is to meet them where they are with genuine interaction on their time. It takes less time to produce the content because it follows the natural flow of conversation, but you have the ability to reach a wide audience.
HOW Do I Use Clubhouse?
If you're new, take the time to explore. I've gathered some tips and tricks to get you going and to understand the lingo, but you'll discover most of what you need as you go.
Clubhouse Best Practices + Etiquette
Utilize your profile to

your benefit –

and

make it strong

.
The first 3 lines will show

before someone clicks on it, so use that valuable real estate wisely to showcase your expertise,

experience, personality, and what connections you're trying to make.
Connect your other social profiles to keep the conversation going.
There's no

chat function within the app, so you can connect your Instagram and/or Twitter profile

to connect outside of Clubhouse.
If you're on stage, speak confidently.
It's easy to get nervous if you're called to the stage, but

speak with confidence, don't take up too much time,

and don't interrupt another speaker.
If you're on stage with other speakers, you should be muted at all times unless you're speaking. If another speaker is

saying something phenomenal, tap your mic button on and off to show you're clapping for them.
Be concise and state when you're done.
When you begin speaking, state your name and go. When you finish speaking, it has become common practice to state your name again and then finish with "I'm done speaking," or "This is my opinion, thank you."



Potential Pitfalls and the Future of Clubhouse
The app is still new, so it's under constant changes and, well, scrutiny because of its quick rise to popularity.
Be aware of:
Room bombers: people who ask to come to stage

and then make disruptive or inappropriate noises/comments.

Listen to learn, but always fact check. There are lots of self-proclaimed

experts on the platform, but it's always important to be cognizant of what's true and what's not.

Conversations are live, but not recorded or archived.

Speak clearly and

carefully,

but

understand there's no true way to control the conversation or who says what.

There are whisperings of potential ways to monetize the app

, like being able to tip speakers – but there is no "Clubhouse Currency" that some people are trying to spread misinformation about.

Make sure you know the facts!



What's Next For Clubhouse?
The founders are very involved with the process of the app's direction and growth, and they're willing and open to hear from users about how to make it better.
Clubhouse App hosts a weekly "Town Hall" meeting every Sunday at 9am PST / 12pm EST to

update users on recent progress

and

answer questions

.
I attended last week

,

and it was incredible to hear how involved the

y are in listening to user input and doing Q+A. There were 8k listeners in one room, and I was in the overflow room with 5k more listeners!
Clubhouse has a knowledge center you can find by going to your gear icon

on your profile

, then FAQ

or visit

support.joinclubhouse.com.
My best advice? The platform is still relatively new and ever-evolving. Don't get too attached to any feature right now.
Remember when Facebook required a .edu email address to join? (Maybe I'm dating myself with this reminder.) It started out with exclusivity too, and we used to all get upset with every new change. Just as that social platform has evolved, this one will too – and others will mimic its features because every great new idea has copycats.
Do you want to be in the room where it happens?
The best way to figure it out is to explore on your own. Of course, as I mentioned, you need to have an iPhone and an invite – and I happen to have a couple to spare if you reach out to me on LinkedIn!
I'm Abigail, this is my opinion, and I'm done speaking. Thanks!