CoreMedical Group: An Inbound Growth Story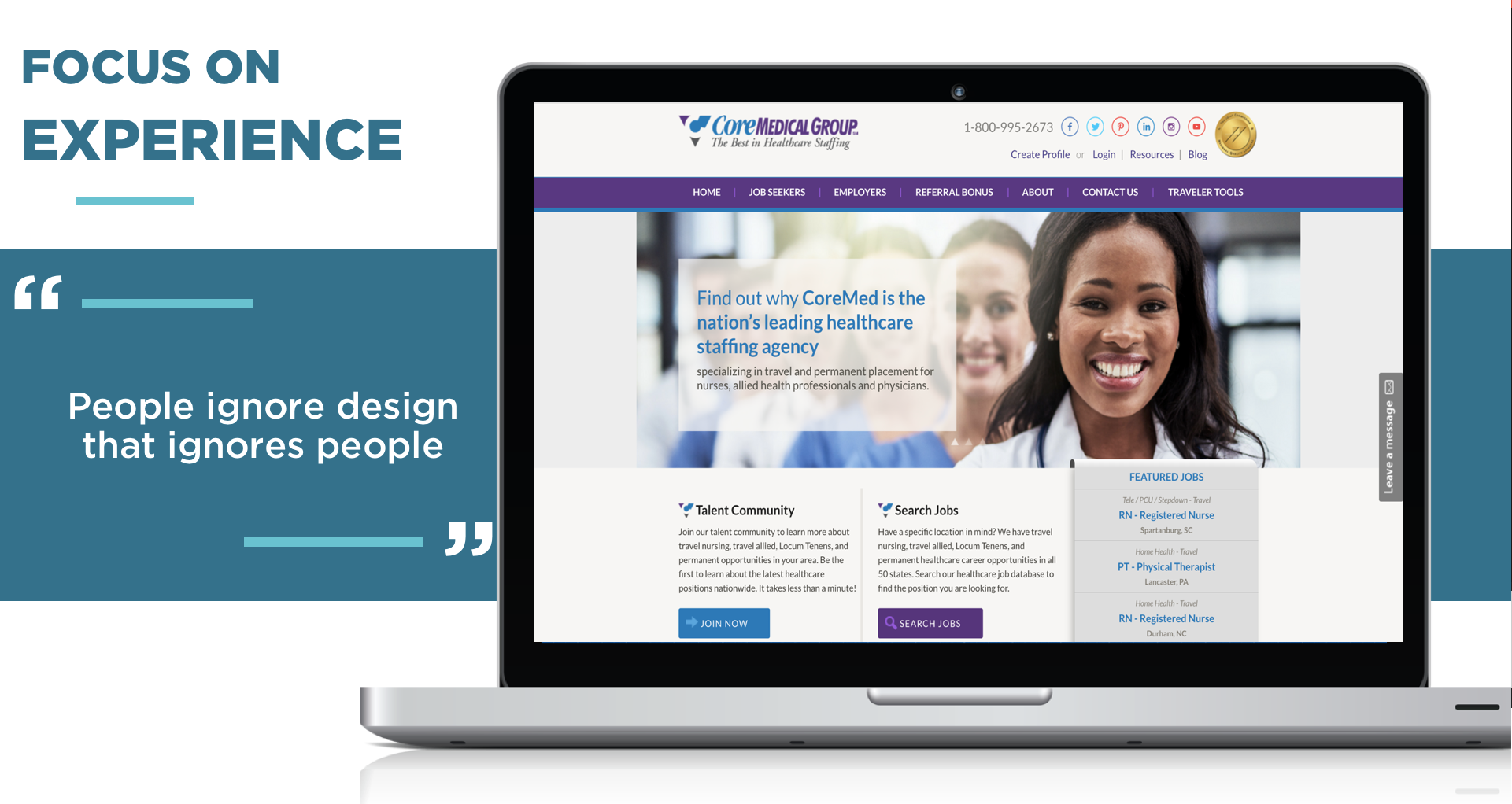 At Stratagon, we work in collaboration with clients through a spirit of shared passion and innovation. In order to make goals become a reality, we believe in each other. We combine visions and fill in the gaps. Then, we work hard and make it happen.

CoreMedical Group , or CMG, is a nationally acclaimed medical staffing agency based in Manchester, New Hampshire. CMG specializes in both travel and permanent placement for nurses, allied health professionals and physicians, and has been named as one of the Largest Healthcare Staffing and Travel Nursing firms in the U.S by SIA for six consecutive years, from 2012-2018.
CoreMedical thrives because of their core values: connecting people, improving lives, and giving back. And they actually prove it through the medical community and group involvement. We also love how their CoreCares initiatives help serve their communities at home and afar – and all of these incredible aspects of this company helped us to realize that we could join in our shared vision for meaningful growth (specifically through inbound and HubSpot, of which we're also fanatics).
Big visions are great, so let's break it down to the granular details that make goals become a reality.
Challenge: Disjointed User Experience
CoreMedical began using HubSpot in February of 2016 for their blog and landing pages, but they needed a way to create a unified user experience to increase engagement, awareness, and conversions. They needed cohesive strategy and an outside perspective to quickly and efficiently provide a meaningful experience and seamless conversion process for all of their personas across medical professions. Stratagon and Core Medical Group joined in an agency partnership in February of 2017, after meeting at HubSpot's INBOUND conference in Boston, MA. Through the discovery phase, we recommended to migrate the CoreMedical site to HubSpot COS, which would allow for increased efficiency and flexibility in content and site management. We also delved into the bigger picture of their content strategy on reaching all personas and target audiences and suggested realigning their efforts to create pillar pages and topic clusters.
We love the HubSpot COS because it allows for built-in SEO functionality, simple editing for content and imagery, as well as drag-and-drop features, and easy-to-use responsive framework for viewing on any device screen. We've quickly become loyal partners and champions for HubSpot – in fact, we are one of the two Platinum partners in North Carolina. We love it and our clients love it: it's a win-win for development, functionality, and overall user-experience and friendliness (not to mention integration with basically anything we want to add in the future, but we digress).
CoreMedical Group's Needs:
Content was difficult to navigate by users, and hard to manage and publish internally within its original hosting space. Pages needed mobile optimization.
Core Medical Group's content needed to be optimized with strategic forms in order to convert visitors. To position CMG as a true thought leader in the medical staffing community, we needed to ensure that we provided useful and relevant top, middle, and bottom of the funnel content for all personas with effective lead capture for nurturing prospects.
Updated graphics were needed for design to engage clients, as well as social and email support to carry them through the recruiting journey. This client in particular needs support through the involved decision process that their prospects face when job searching and making the decision to work with a medical staffing agency.
Strategy: Creating a Unified Digital Experience
We reviewed competitive research, trend analysis, stakeholder interviews, keyword research, persona strategy reboots, and audience consideration. The new site in HubSpot was built via responsive platform and SEO optimized, and navigation was improved for convertibility of target personas. With the launch of the site on the new HubSpot platform, all of their pages also became optimized for mobile and any size screen, which was a desire of the executive team.

Within the first six months of partnership, CMG experienced an 111% increase in blog and landing page visits and a 105% increase in contacts.
An updated content strategy was also deployed for 2018, and focused on creating pillar pages with topic clusters and targeted blog content to enhance the user experience and optimization for 5 different units of business that included: Travel Nursing, Locum Tenens (travel physicians), Allied Health (therapists including PTs and OTs), Permanent Placement, and their internal recruiting efforts. We aimed to create more middle and bottom-of-the-funnel content to assist with consideration and decision level visitors.
Stratagon also helped CoreMedical increase awareness around "Club CoreMed," a loyalty bonus program that awards points redeemable towards CoreMedical's exclusive resort vacation packages for loyal traveling healthcare providers. We developed a microsite that highlighted Club CoreMedical and supported the imagery with content about the program offering.
Solutions:
1. Website Audit and Update
Website migrated to HubSpot in September of 2017, which allowed for responsive platform, improved navigation, and mobile optimization.
2. Revamp Marketing Strategy
New content strategy developed pillar pages, topic clusters, and blogs for target personas to find and engage with the site and Core Medical Group's resources with keyword research.
3. Increase Engagement and Conversions
Updated graphics and social media publications helped engage and convert site visitors to supplement middle and bottom-of-the-funnel content with CTA's to gated rich content on landing pages to promote lead capture. New Club CoreMed microsite featuring loyalty program increased effectiveness for customer loyalty.
The website conversion to the HubSpot platform had clearly defined goals, which allowed for successful migration with improved navigation, user experience, and mobile optimization. The consolidation and organization of resources proposed navigation improvements, which updated the overall content strategy and relevance to site visitors.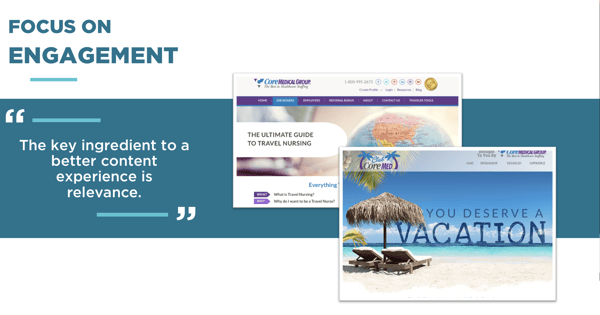 A reignited focus on engagement increased content relevance to position CoreMedical Group as an industry leader and resource provider for the medical community.
Implemented Services + Deliverables:
Content Strategy Creation
Content Strategy Execution
Website Design and Development in HubSpot
Email Marketing Automation
Lead Capture
Graphic Design and Social Support for Blog Promotion
Additional Channel/Brand Logo Creation
Experiential and Promotional Support
Existing System Maintenance on 3rd Party Integrations
Results + Metrics
We're numbers people -- and metrics are at the heart of what we do. We are strong proponents of measuring our efforts, learning from the results, and adjusting accordingly. The "what" is meaningless without the "why." That's why we believe in transparency and accuracy in everything we do.
We utilize tools like HubSpot Analytics and Reporting, HotJar, Google Analytics, and Databox, to name a few. Weekly dashboards and open conversations are essential parts of our agency partnership with clients.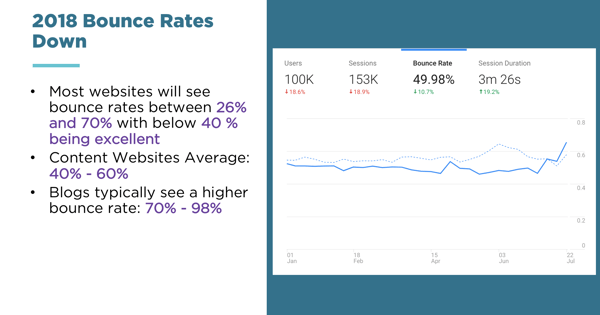 Throughout our ongoing collaborative engagement, marketing efforts have been successful in establishing the foundations for growing CoreMedical's effectiveness, on and offline, even in the face of significant changes in the web. Responsive design continues to be a driver as users are engaging with the site using a wide range of device types. The performance of the site continues to garner strong results. CoreMedical has emerged as a reputable source and thought leader for licensure content, with licensure material for PT sitting at the third highest viewed page with an all-time average page retention rate of 4 minutes.

As of December 2018, Core Medical Group's year-to-date leads were up 36% (1,478.) We promote lead capture in a variety of ways, with CTA's to gated content as a default on all blogs and pillar pages.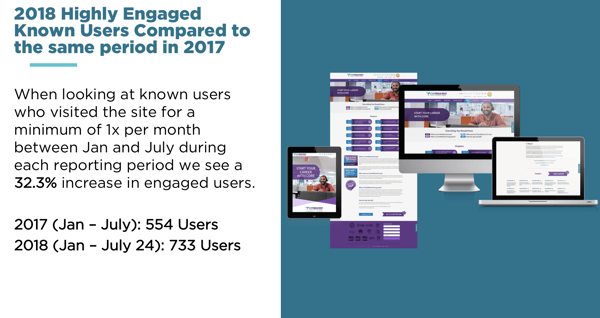 From Resource Pages to Pillar Pages:

We introduced pillar page content for each of CoreMedical Group's five personas as a solution for conversions and to increase accessibility and user experiences while leading prospects from the awareness to decision phases. These "chapters" are housed under the resources pages for users to navigate at their own pace, with gated rich content CTAs on the blogs.
1. Travel Nursing
Our team ran HotJar heat mappings to analyze the results and track habits of a sample of 1000 users' clicks after the Travel Nursing pillar page was launched in order to analyze which pillars or "chapters" were performing well and if any out-of-order spikes were recorded. We pulled 600 desktop users, 339 mobile users, and 55 tablet users and noted that a spike of readers jumped to Chapter7: "Pay and Benefits for Travel Nursing - the 411."
Page Published: December 8, 2017
Reporting Period: 12 Months
Goal: An all-encompassing guide to educate on the how, what, when, where, why, and who can help you to become a travel nurse.
Views Total to the page: 4,389
Average Bounce Rate on the page: 49.95%
Notable Metric: 35% of traffic stemmed from organic search
2. Travel Therapy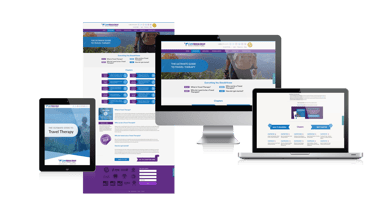 Page Published: January 31, 2018
Reporting Period: 11 Months
Goal: To create a single page resource for every site visitor from the awareness to decision stage for the travel therapy persona group.
Views Total to the page: 3,615
Average Bounce Rate on the page: 48.39%
Notable Metric: 56% of traffic stemmed from organic search.
3. Permanent Placement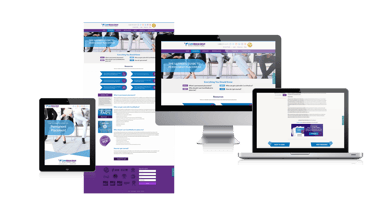 Page Published: April 17, 2018
Reporting Period: 8 Months
Goal: To educate existing (less likely) and new prospects that CoreMedical Group also place candidates in long term opportunities.
Views Total to the page: 2,292
Average Bounce Rate on page: 41.35%
Notable Metric: Gained 11 new contacts from submissions.
4. Locum Tenens Pillar Page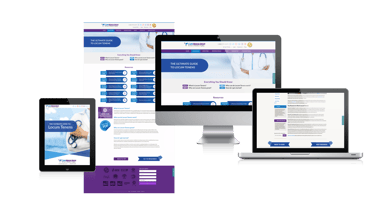 Page Published: May 21, 2018
Reporting Period: 7 Months
Goal: To provide an awareness that CoreMedical Group places physicians for Locum Tenens assignments.
Views Total to the page: 1,048
Average Bounce Rate on page: 36.49%
Notable Metric: Average Time Spent on Page = 67 seconds
5. Internal Recruiting for CoreMedical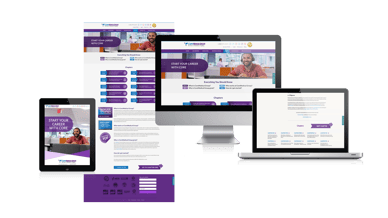 Page Published: February 13, 2018
Reporting Period: 10 Months
Goal: To create an all-encompassing resource to aid in internal recruiting efforts for CoreMedical Group and to utilize at career fairs.
Views Total: 2,705
Average Bounce Rate: 51.71%
Notable Metric: Social Media Bounce Rate = 46.9%
Blog Traffic Overview: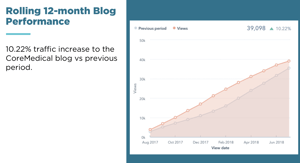 10.22% Traffic increase to the CoreMedical Blog
In the first four months after publication for the "10 Reasons Why Moving to Southern New Hampshire is a Great Idea" blog post, it had an 89% click-through rate, which indicates that the majority of visitors (most of which were through organic traffic) who read the blog clicked on the CTA to learn more.
Subscribers receive a blog notification via email for each new blog posted, which increases blog awareness and engagement.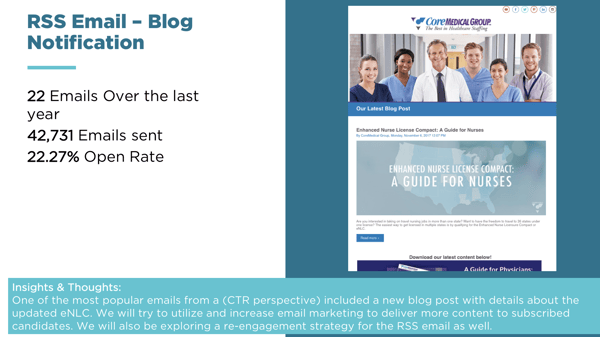 Part of our strategy includes evergreen content that can be updated and optimized year after year. For example, our highest performing blog between Q1 and Q4 in 2018 is an optimized piece from late 2016, a top-of-the-funnel piece titled, "What to Expect in a Nursing Peer Interview."
This blog has had 5,224 reads this past year, with 81% of traffic driven from organic search and an average of 6 minutes spent on the piece. The piece promotes lead capture with a gated checklist on the custom landing page to begin the nurturing process with future nursing in the job searching process featuring the following CTA.

Notable Overall Stats:
32% i

ncrease in engaged users year over year.

10.22%

traffic increase to the CoreMedical blog.

19.2%

increase overall in session duration and 10.2% decrease in bounce rate.
The performance of the content strategy for inbound growth has caused a significant increase in engaged site users and traffic since the beginning of our partnership. We are unable to tie a direct dollar amount to the increased ROI due to sensitivity in individual salaries for recruitment in various jobs and positions for medical placement, yet the increase has been significant enough for CoreMedical Group to continue their engagement with us and increase their retainer hours for further growth.
Detailed Overview and Results: Club CoreMed Transformation

In Q3 of 2018, Stratagon helped CoreMedical increase awareness around "Club CoreMed," a loyalty bonus program that awards points redeemable towards CoreMedical's exclusive resort vacation packages for loyal traveling healthcare providers. We developed a microsite on the HubSpot COS that highlighted Club CoreMedical and supported the imagery with content about the program offering to increase awareness and engagement with CoreMedical customers.
Club CoreMed Microsite Creative Process: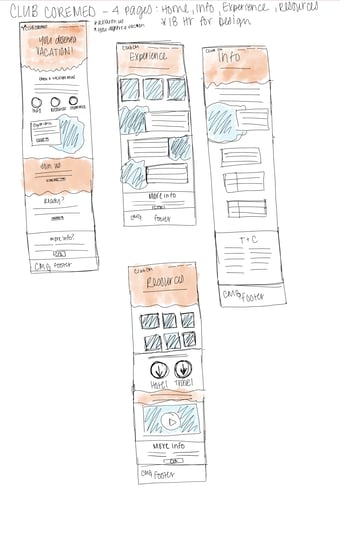 Club CoreMed was developed as an asset to support and complement the overall efforts of recruitment and reward their loyal customers.
Since its launch on July 20th, 2018, the clean and visually pleasing design and user experience have aided in the overall strategy for targeting personas and converting new users.
The layout maintains CoreMedical Group's brand integrity while conveying a very different feel with crisp visuals promoting relaxation and supporting content shared in easily digestible snippets.
Over half of the visits result from direct traffic - with users navigating to the microsite through CoreMedical's primary website.
Significant Stats for Club CoreMed Microsite:
4, 534 views, 44 submissions
1,694 views, 6 submissions
767 views, 2 submissions
1,091 views, 14 submissions
8,086 views, 66 submissions, and 29 new contacts. Home page bounce rate rests at 48.78%
These stats include performance from the first five months since launch (July 20-Dec 20, 2018).
The beauty of growth is that it can breed more growth.
Because of our successful partnership in the first year of engagement, CoreMedical requested to increase their retainer with Stratagon by 25% going into Q1 of 2019. Plans for further growth include customer engagement through bots and conversational marketing, increased email marketing, organic and paid digital and social media advertising, and storytelling videos to complement current practices.
Customer Testimonial:
Learn more about our partnership story with CMG through Cassie Viau, their Marketing Manager.
Transformation through collaboration and HubSpot's digital toolbox make for great results that just keep growing. We love being part of the "marketing department family" of CoreMedical from digital through experiential and helping them see big returns from their target audience through measurable analytics. We're looking forward to more growth in 2019!