HubSpot Releases AI Updates at INBOUND: 7 Tools You Should Use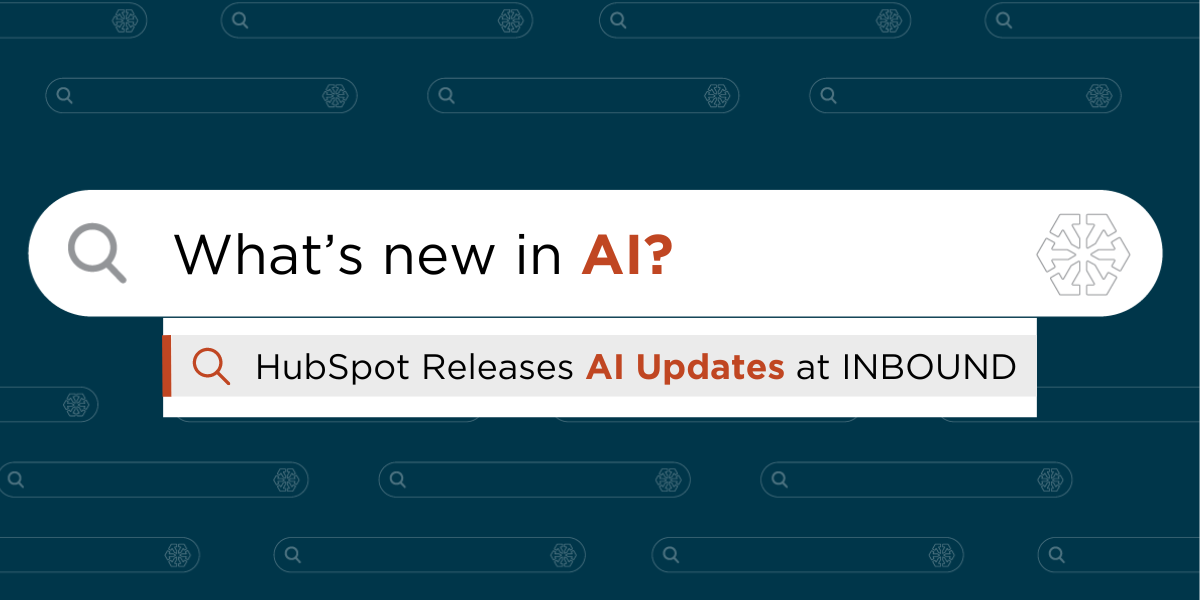 This week, INBOUND is live in Boston, a conference powered by HubSpot, where marketers go to skill up and learn about the latest product updates to all the HubSpot tools.
HubSpot has emerged as a trailblazer in integrating AI into marketing tools, offering a range of updates designed to elevate marketing campaigns. These updates include: an AI subject line generator, a website builder, enhancements in social and ad copy creation, content ideation, content assistant improvements, reporting capabilities, and landing page creation.
The latest AI updates in HubSpot play a significant role in boosting marketing efficiency to complement your strategic thinking.
Ready to dive in? Here's an overview of each AI product update.


1.

AI Subject Line Generator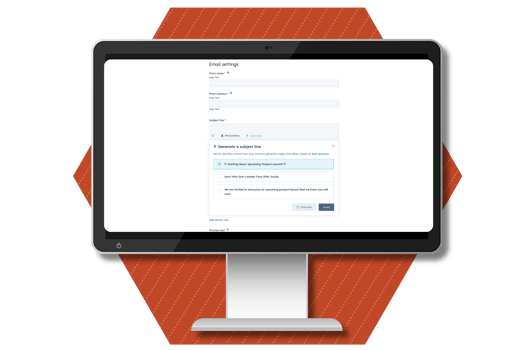 Now, content creators like you can effortlessly generate email subject lines for campaigns. HubSpot's Subject Line Generator, fueled by email insights and best practices, analyzes your marketing email's content and creates three subject lines with a simple click.
It's a time-saver, allowing you to concentrate on essential tasks like content creation and optimization.
HubSpot Version: Free and up, currently in Private Beta, Global


2.

AI

W

ebsite

B

uilder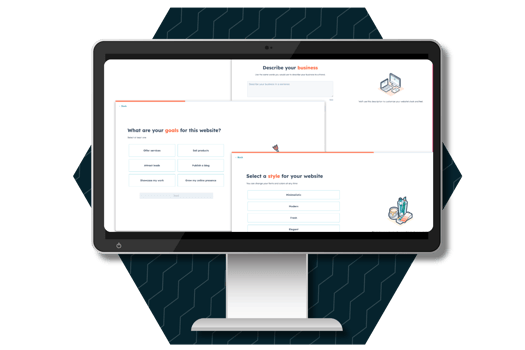 A new, streamlined onboarding process for CMS Free (and up) users. Here's how it works:
HubSpot will ask users questions about their business.

HubSpot CMS uses generative AI to build a single-page site.
Note: This feature doesn't create a full website.
HubSpot Version: Free and up, Global (English only)
3. AI-Generated Social & Ad Copy (within Blog Editor)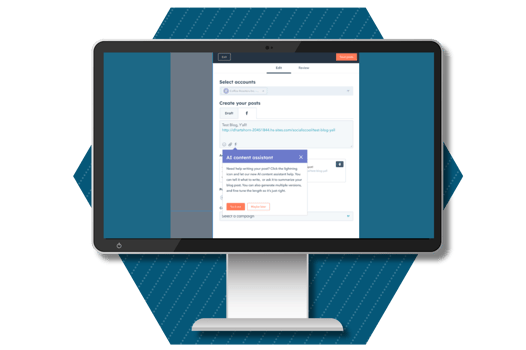 The current process for marketers to create social media posts promoting blog content is manual, time-consuming, and prone to errors.
HubSpot's AI solution: Enable marketers to generate social posts directly within the blog post editor using the social composer side panel.
HubSpot Version: Pro and up, currently in Private Beta, Global



4. AI-Powered Content Updates

SEMrush Data:
Introducing a new blog content idea generator designed to combat writer's block. Powered by ChatGPT and SEMrush keyword data, this tool simplifies generating blog post topics, titles, descriptions, and outlines. Just input a topic, and HubSpot will deliver audience-friendly ideas, complete with rankings and Google search popularity scores.
This tool aims to:
Save time for content creators starting blog posts.

Spark creativity and overcome writer's block.

Help select content ideas with better performance potential for your target audience.
One-Click Title & Meta Description Generator:
Introducing a new content assistant feature in website pages, landing pages, and blogs. Simply click a button to generate SEO-friendly titles and meta descriptions. This AI-powered feature analyzes your page's content to create accurate and engaging titles and meta descriptions.


Content Assistant Updates:
In the blog editor, content creators can now generate outlines, paragraphs, ideas, and conclusions. They can also edit existing text, altering tone, rewriting, shortening, or expanding it to enable content creators to efficiently build and edit marketing content.
HubSpot Version: Free and up, currently in Public Beta, Global
5. AI-Generated Reporting & Workflows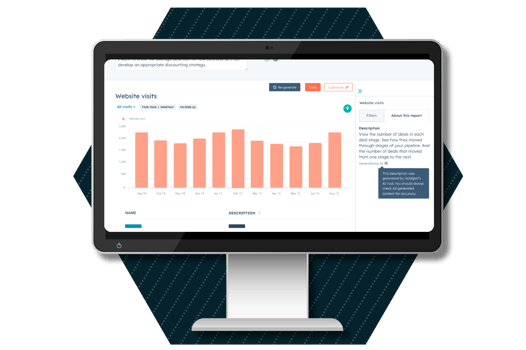 Now, you can easily add and edit descriptions on Reports, thanks to user-friendly AI assistance. Adding descriptions to Reports simplifies understanding by explaining the content, purpose, and insights they provide.
HubSpot Version: Free and up, currently in Public Beta, Global


Reporting Updates:
With HubSpot's Generative AI, creating reports is a breeze – just ask a question! This feature simplifies report creation for addressing business queries. Streamline the often challenging and time-consuming process of report creation using Generative AI, making reporting more accessible and efficient (currently in Private Beta).


Workflow Descriptions:
It can be challenging to quickly grasp the purpose and function of workflows. HubSpot's generative AI provides assistance in summarizing and clarifying a workflow's objectives and actions (currently in Private Beta).


6. Landing Page Creation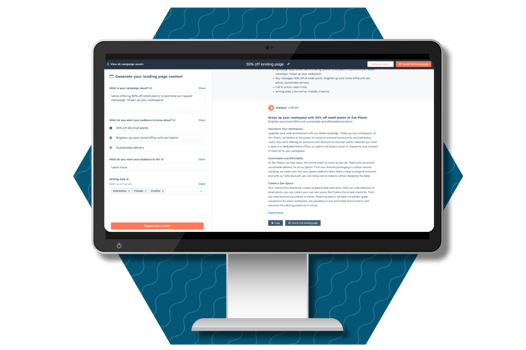 Generate a landing page quickly using Campaign Assistant. Write the copy, then build and publish your landing page with a single click in minutes. Plus, it's free for everyone!
HubSpot Version: Free and up, currently in Public Beta, Global


7. LinkedIn & Facebook Text Ads Copy Generator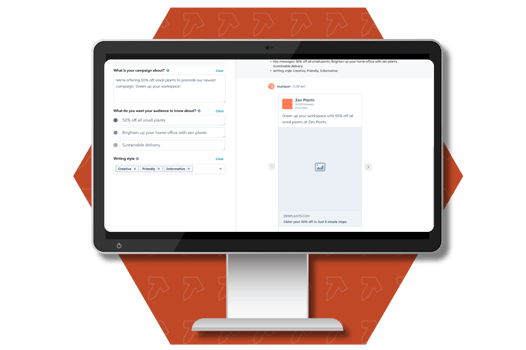 Craft LinkedIn and Facebook ad copy effortlessly using Campaign Assistant. With just one click, generate three variants to test in your next campaign.

HubSpot Version: Free and up, currently in Private Beta, Global

Why Does AI Matter in HubSpot's Product Updates?
Efficiency is at the heart of successful marketing campaigns, and AI has proven to be an ally in this regard. By automating routine tasks, AI allows marketers to reclaim valuable time. With the help of AI, you can deliver more personalized content and provide predictive analytics to optimize your strategies.
BUT – don't forget the human touch. AI should be used as a complement, not a replacement, for your marketing strategy and execution.
As we celebrate the capabilities of AI, it's essential to remember the importance of human-driven strategy. AI is a tool to support and enhance your strategic thinking, not substitute it.
Never forget the power of expertise, creativity, and strategic vision. Are you ready to unlock the full potential of AI as HubSpot continues to evolve for its customers?
See Our HubSpot Services to get started!