A Multi-Channel Approach to Non-Profit and Higher Ed Marketing Success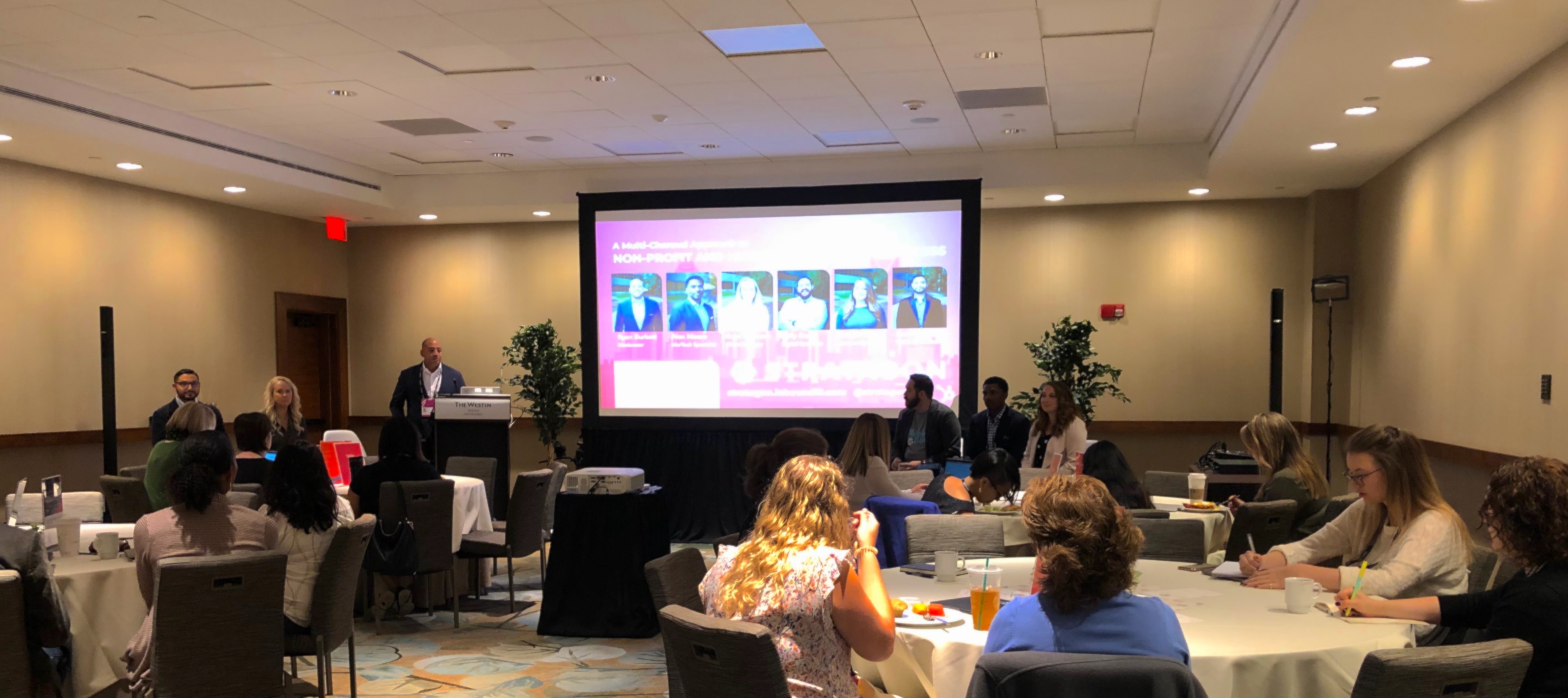 We're in Boston, MA for #INBOUND19 – and loving every exhausting, thrilling moment – ya feel me?
This morning, we started our day with a couple of life's loveliest things: a hearty breakfast and great conversation. Our account team hosted a panel session in the INBOUND village: "A Multi-Channel Approach to Non-Profit and Higher Ed Marketing Success," and if you missed it, you're in luck: it's recap time!
The scene opened with a highlight reel of some of our clients in Non-Profit and Higher Ed created by our hybrid content specialist, Brandon Weiner:
After the crowd ooh-ed and aww-ed, we opened up the floor with a range of hot topics for marketers in the Higher Ed and Non-Profit sectors. We heard questions and comments from attendees all over the world, and it turns out that everyone is facing the same setbacks, so it was great to collaborate during the session. Check out an overview of our discussion:
What are some ways to combat marketing budget issues in non-profit and EDU?
Kassi Whitman, account manager, opened this question with some great ideas about making sure that you look at the big picture and start with strategy. Once you figure out what you want to accomplish, break it down into what's most important and what will be the most effective. On a high level, you're going to need to do an audit of your budget cycle and assets in order to correctly allocate and move forward properly.
Balance, budget cycles, times of the year
Asset allocation + utilization
Automation (helps with lack of resources, works for you during busy times)
Do more with less (one video or piece of content can be repurposed for multiple uses)
The right tech stack: Google Grants (for nonprofits), HubSpot Ad Spend Calculator
Leverage unique skill sets (broad down to expertise to find efficiencies + tactical tips)
Dig into what you do BEST, focus in on those things, and do them WELL
How do I ensure that my technology stack is efficient, and how do I keep up?
Senior Partner Alex Moore showed a visual of the "Martech 5000" that shows the wide array of marketing and tech platforms now available on the market. He explained that you need to start from the inside out: make sure you have an effective core system (like HubSpot) and then ensure that it seamlessly connects to other applications as needed (for example: CRM, automation, and website – it should all work together to effectively market).
Invest in a product that invests in tech and updates AND content to invest in more efficiently (HubSpot puts its money into further development and listens to its customers)
Watch out for disjointed systems in your marketing
Implement automation for platform efficiencies (it's a lot of work up front, but it will be worth it in the long run)
Metrics help you see the overall picture: make sure you're using data effectively
How do marketers cut through all the noise in the digital space?
Digital Specialist Kelly Buck explained how we need to leverage every piece of traffic that comes to your site to make the best of every interaction, and then retarget. We should be using organic and complementing with paid advertising to intersect, and if we truly know our audiences and where they spend time, we will be the most effective.
Information should be timely, relevant, and helpful
Personalization (capturing attention through wording / video that speaks directly to them)
Ease of user experience (ensure digital tools are set up to delight users)
For EDU, provide other relevant info for FAFSA, etc. not just your school deadlines so that you're giving helpful info to students in every area to stay top-of-mind.
For Non-Profits, start with the bigger picture of corporations to partner with and then it can have a trickle-down effect in gaining individual donors and volunteers.
If you are passionate about what you do and you own that story in order to communicate it effectively, others will want to become a part of that.
How do I convince others on my team / stakeholders to invest in digital and to modernize our methods?
As marketers, we are all communicators at heart, and we need to know how to properly tell our story, both for our target markets externally, AND for our internal team. At the end of the day, the most important information to unify stakeholders will be your data, which you will collect in order to support your position and use as proof to communicate to your organization.
Moving forward is a marathon, not a sprint: you can't change everything in a day.
Take what's working well and expand on it
Internal selling of the right solution to your team (stress the PROCESS in order to get to the goal)
Show measurable progress / metrics to report and show your team
Set SMART goals and follow through in order to prove long-term ROI to your organization.
When we polled the room, no one was currently using automation for communication campaigns, and our team discussed the importance of planning it out months in advance and mapping out basic touchpoints in order to engage your audience over time: this can be through email, social posting, or even chat bots. Build a system so that you have repeatability, make sure that your systems are connected, prove your efforts are effective through your data, and you will have more control in organizational buy-in. Once you have the right systems and communications in place, you will see the long-term results!
Check out our Non-Profit and Higher Ed Resources page for more great tech and integration ideas!