Top 10 Ways to Generate Leads in 2023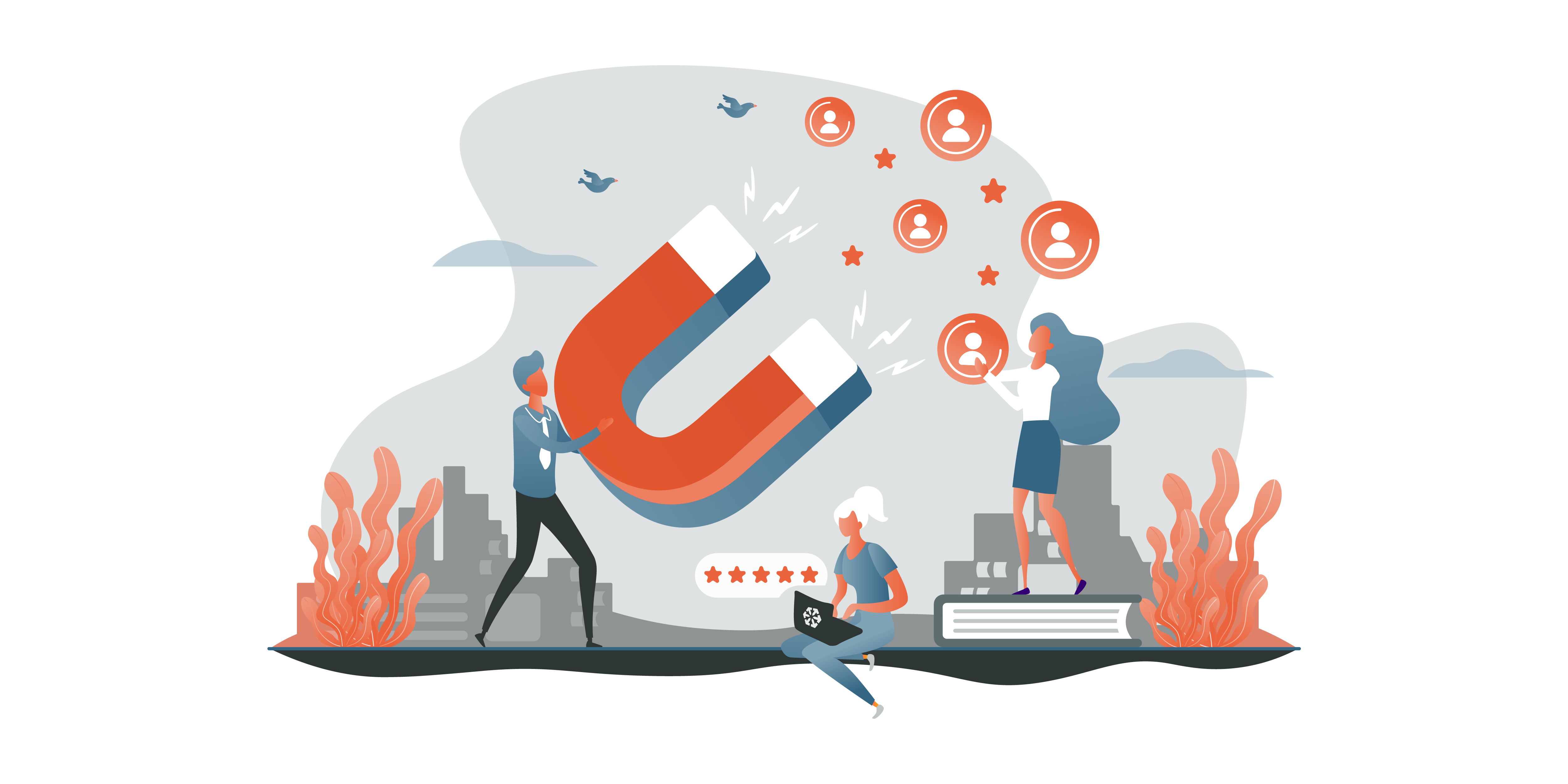 (This blog has been updated from its original version.)
You have an amazing product or service. It works. The branding is snazzy, and you've invested incredible resources to make sure it solves a real problem in the marketplace. You know you have something worth marketing. Sales should be easy-peasy-lemon-squeezy, right?
Not likely.
You can offer a cutting-edge, user-friendly, top-of-the-line product or service and fall flat because the right people don't know about it.
The continued success of your business relies on a steady flow of leads. Your sales team needs something to work with, and we all know we can't solely depend on cold calls—that would be de-energizing, and it's just not sustainable.
You need a dynamic strategy compromised of both outbound and inbound marketing tactics. Most marketers know about the Rule of 7, an advertising concept developed in the 1930s, which suggests most prospective buyers will need to be exposed to your brand at least 7 times before making a purchase. Whether 7 is still the magical number or not in today's digital landscape is debatable; however, we can agree that repeated exposure and familiarity still generate sales.
So how do you gain exposure and create familiarity with your target audiences?
Let's dive into 10 marketing activities that will create brand awareness and generate qualified leads.
1. Craft a stellar landing page.

If you want to turn casual visitors into leads that you can nurture through the funnel, grab their attention when they land on your website with landing pages (a web page that a visitor lands on for a distinct purpose).
Design this compelling, concise landing page to showcase your unique offering, build product interest, and encourage viewers to fill out a form that provides you with information that will help you further engage and nurture them during their buyer journey.
Offer a free trial, a discount, access to exclusive content or the latest news, or anything valuable to open the path to continued engagement.
2. Be social.

You're on Instagram, Facebook, Twitter, and LinkedIn. But it's not enough just to have an account. Use social media as a tool to build relationships with followers. Be responsive to comments. Establish trust. And drive traffic to your website with enticing CTAs (calls-to-action) that offer them something irresistible.
Remember: witty, helpful, relatable conversation gains traction on social media, so try to loosen up when interacting with prospects on these platforms. I've seen mediocre products generate enormous sales solely from their charming social media personality—that woo factor.
According to a study by HubSpot in which they reviewed 1400 websites, B2C customers using X (formerly Twitter) generated 2x more leads than customers without an X account.
3. Educate your audience.

Producing high-value content is the best way to showcase your expertise and establish your brand as an industry leader.
From videos to podcasts, webinars to white papers, these information-rich pieces address real challenges your prospects face, fill knowledge deficits they may have, and teach new skills. If the content you create is marketed well and deemed reputable, you have the potential to reach a wider audience. While production time is longer for high-value content, the return on investment can be exponential.
4. Optimize for search engines.

Rules for SEO constantly change, so updates are continually needed. Keep an eye out for new keyword best practices. Create strategic URLS. Craft catchy blog titles. Make sure all aspects of your website are mobile-friendly. Playing by the SEO rulebook increases your chances of a higher rank on Google, which drives traffic to your site!
* Increasing the number of keywords starts to impact lead growth only once you achieve top 100 rankings for a significant number of keywords.
5. Entice and incentivize.
As users, we hate pop-ups. But you know what? They work. That's why so many companies use them to garner our email addresses—and if they've incentivized us enough, we give it to them. From "Don't leave yet, save 20% on your first order!" to "Your exclusive offer runs out in 5 minutes!" we give in to FOMO at nearly every turn. Use this to your advantage but be strategic.
Make sure you're offering something valuable – not gimmicky – through your opt-in form. You want prospects to be glad they gave you their information, not regretful.
6. Keep blogging.
Some of you may wish that blogging was on the decline, but it's not. Believe me, I have my moments too. Blogs saturate the digital marketplace. There's more than one blog for every topic imaginable. It can feel like you're putting maximum effort into a tool generating minimum results, but not all is lost.
HubSpot found in their study of 1400 websites, that companies with blogs gathered 68% more leads than those without blogs. Growing articles starts to impact lead growth once 20+ articles become available.
Continue to invest in valuable content that contains actionable advice for your target consumer. You want your blog to be useful, not just noise. Populate your blog with evergreen content and pepper in articles specifically focused on what you offer. Remember to include CTAs at the end of each post or a subtle sign-up form on the blog page to encourage continued engagement.
7. Testify!
When you talk about yourself too much, you come across as arrogant. When the high praise comes from others, you're unquestionably awesome. This applies in business, too.
Case studies and testimonials are a prime way to show your expertise without flaunting it. When you share customer success stories on your website and social media outlets, you're validating the effectiveness and functionality of your product or service in an authentic, believable way.
8. Don't skimp on ads.
Brand awareness is the gateway to lead generation, so don't miss an opportunity to get your logo in front of your ideal customers! Targeted ads are a money-maker. Yes, they cost money. But it's a guaranteed way to get your brand in front of an audience that is searching for what you're selling.
Depending on your marketing campaign and strategy, you can incorporate tactics like Google Ads, HubSpot Ads, programmatic and ABM platforms, or ad tools offered on each social media platform.
Be intentional with your timing, and don't underestimate the power of using account-based marketing as a tactic in your lead generation campaign strategy to warm up prospects.
9. Make focused, personalized contact.
Remember those cold calls (and emails) we mentioned at the beginning? Well, there's a time and a place for those. Ideally, even in a cold call scenario, you want to be customer-focused and personalized. Whether via email or over the phone, introduce yourself and give your personal contact information—never a generic email address or phone number.
Highlight the benefits of your product or service by speaking specifically to a real problem your lead is facing. Even though the goal of the email or call is transactional, you want the connection to be relational.
10. Attend a trade show or host an event.
Networking events are excellent for lead generation! Never pass up an opportunity to meet your ideal customers face-to-face, perform demonstrations, and host Q&A sessions. Even in these more traditional scenarios, remember to apply marketing attribution tactics. Make sure you can digitally track as many interactions as possible so that data can be housed in your CRM (customer relationship management) tool for future lead nurturing.
Leads are useless unless you nurture them down the funnel with the right content. Don't forget to have a great CRM to store and manage new and existing leads!
There you have it. This is your year. Now, go get those leads!