3 Key Student Concerns HBCUs Must Answer to Attract Future Graduates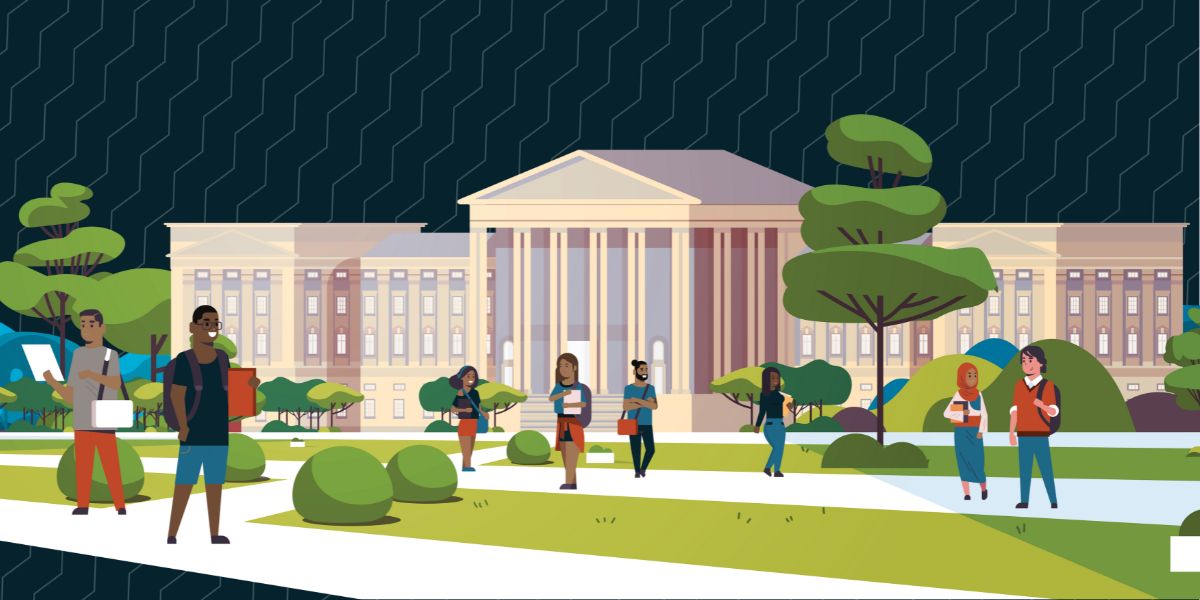 As admissions professionals at Historically Black Colleges and Universities (HBCUs), you hold the key to unlocking the dreams of countless prospective students. Your role is crucial, and it involves building trust by being proactive and answering the questions that matter most to those considering an HBCU for their higher education journey.
From addressing concerns on affordability to a sense of belonging and post-graduate success, the insights HBUCs provide are game-changers for increasing student yield. All three of these concerns must be answered well as they work together to build the trust and transparency with students and parents that is key for converting an admitted applicant to an enrolled student.
Concern No.1: Can My Family Afford My Education?
Students and their parents want a clear picture of what they will be expected to pay, how much, and help understanding how they can find scholarships and financing options. To attract and retain students, it's vital to convey how your HBCU makes higher education accessible without a crippling financial burden.
In addition to admissions staff being well-versed in the various financial aid options, scholarships, grants, and work-study programs available at your institution, your website and communications need to share this information. Showcase how your HBCU is competitively priced when compared to other institutions, making quality education attainable for a broad range of students.
Establishing trust is crucial when a student is making a four-year commitment to a college. Building trust hinges on transparency.
Enhance your credibility by taking a proactive approach to sharing affordability information in your communications, including:
Cost ranges for attendance that include not only tuition, but books, supplies, room and board, and other estimated personal expenses. If these costs vary by program, have that information easily accessible from the cost of tuition page on your website

.

Provide a three-to-five-year history of cost increases so that students and parents can plan for potential cost increases

.

Availability of scholarships and other types of aid that are not based on financial need

.

Financial aid deadlines and access to forms that are required to apply for financial aid.
Provide various financing options that are available through your institution or otherwise.
Dates that students and parents can expect to receive bills and dates when the bills are due.
Information regarding student employment including the Federal Work-Study Program

.




Top-ranked HBCU North Carolina Central's Scholarship and Student Aid website page is a great example of an HBCU following best practices for communicating affordability options. The prospective student and their parent can easily access the information necessary to make decisions. NCCU positions itself as a valuable resource by providing transparency into the admissions process and financial aid options.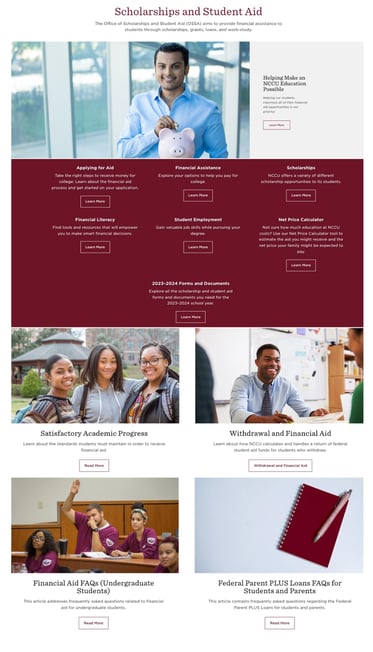 Concern No.2: Will I Feel Like I Belong?
"Do I go somewhere where it is sink or swim, or do I go somewhere where everybody's swimming with me?
– SeKai Parker, a prospective HBCU student
For decades, HBCUs have struggled as many Black students were drawn to predominantly white colleges and universities that offered financial incentives and better resources. However, since protests and demonstrations that occurred at the University of Missouri in 2015, Black students began demanding better conditions and treatment at predominantly white institutions, and many began to reject them altogether.
The time for HBCUs to revolutionize and tell their story is now.
HBCUs recognize that they offer the support and solutions that their students are looking for. However, it is not just about being the solution; it's about effectively conveying this solution so that prospective students not only understand it but also feel a deep connection to it.
How can an HBCU transmit the emotions and sense of belonging that come with being part of the HBCU community?
Harness the Power of Student Testimonials
Student testimonials lend authenticity to the message your marketing aims to deliver. While it is important to have testimonials that highlight academic opportunities, don't overlook the opportunity to showcase how students truly feel about their campus life. The emotional connection that prospective students seek in a community can be vividly portrayed through testimonials that radiate pride and unwavering loyalty to the university.
Leverage the Talents of Your Current Student Body
Your current student body possesses the desire and ability to share their authentic campus life experiences. Create opportunities for them to share their stories and even foster friendly competition among students to highlight what life on campus is like for them. Utilize the array of digital channels available, including social media, your website, and YouTube to spread these stories far and wide.
Concern No.3: Is My College Education Worth the Investment?
Prospective students want to know that their investment in education will yield long-term benefits. In an era filled with stories of college graduates burdened with debt and degrees that don't lead to success, it's only natural that they are cautious.
Demonstrate the power of an education at your institution by highlighting the achievements of HBCU graduates who have excelled in various fields such as medicine, law, business, and the arts. These success stories will allow potential students to envision themselves achieving similar success and inspire them to pursue their dreams.
Tell the Stories Behind the Numbers
Statistics are a powerful tool, but it is the stories behind them that truly resonate. Gallup research reveals that Black graduates from HBCUs have profoundly different experiences compared to their non-HBCU counterparts. These experiences translate into vastly different lives after college, encompassing purpose, social connections, financial stability, community engagement, and physical well-being.
As an admission professional, it is your task not only to present these numbers but to infuse them with emotion, to show prospective students how these outcomes become possible.
Leading the Way in Financial Transformation
When it comes to shaping the trajectory of financial success, HBCUs lead the charge. According to the 2021 UNCF Social Mobility Report, 40% of HBCU students are first-generation, and Bankrate reports that 70% of HBCU students are eligible to receive Pell Grants, indicative of their low-income backgrounds.
These statistics underscore the necessity for your HBCU to clearly communicate how it elevates graduates along the socioeconomic ladder. HBCUs are exceptional in bridging the gap for students moving from a low economic status to the middle class and beyond. On average, across institution types, HBCUs outperform all others with mobility rates exceeding double the national average.
Bringing It Home
While numbers and facts hold weight, the human mind retains stories and emotions far more effectively. The authentic and genuine touch that comes from telling the story will not only convey the data but also ignite the feelings that inspire students as they embark on the next stage of their journey.
Your dedication to providing clear, compelling answers will not only empower prospective students to make informed decisions but also contribute to the continued success and growth of your HBCU.