Converting Apps to the Cloud with Salesforce and Database.com?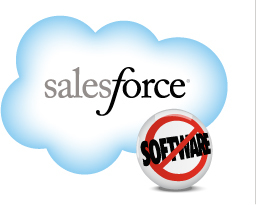 We don't hear this question enough. Its common practice to develop custom applications on the Salesforce1 platform and certainly should be a question asked by any organization who already runs Salesforce before developing on an alternative platform.
Too often I hear IT professionals and business managers try to keep Salesforce (SFDC) and its associated product offering Database.com in a small box known as CRM or SFA. The reality is, there is truly a lot of functionality "in the box" of the SFDC CRM/SFA offering yet there is tremendous room for out of the box thinking for those willing to take the blinders off and realize the power of database.com and the broader Salesforce1 Platform. The Stratagon team has led Salesforce1 implementations, which are as far away from CRM as you can imagine in both for profit and non-profit sectors. Consider these three benefits as you examine how to approach your next application development project.
1. Scale with ease
Database.com provides access to the multi-tenant infrastructure that made Salesforce.com so successful. You can build the application you want in the language you know best and leverage an enterprise level database in the cloud to deliver data to your application. As of 2014 the Salesforce1 Platform, which runs on database.com, is running more than 4 million applications from SMBs to Enterprise clients such as Coca-Cola.
2. Go mobile now
Database.com APIs are built to easily develop mobile ready applications. You can maintain a single, trusted identity across your company without the need to spin up a new database server each time the business requirements change or expand. You can ensure you maintain centrally managed apps, users, and data sharing for all of your enterprise cloud and mobile apps with the simplicity, transparency, and trust of the Salesforce.com, world's #1 cloud platform.


3. Connect to the back office
With Designed API first, the Salesforce1 Platform allows you to easily build more innovative apps, faster. Database level APIs allow for integration with 3rd party and back-office systems, like Oracle and SAP.


So What?
Unlike traditional application development, many of the technical limitations can be removed and no longer block progress due to high cost or integration complexities. Business and marketing managers can focus on refining their business processes to be the most effective possible and rest assured that the Salesforce1 Platform technologies are capable of keeping pace in a manner that delivers excellent ROI when compared to traditional development lifecycles.
---
Are you looking for a way to effectively use Salesforce Chatter in your business? Click on the image below to find out more about how utilizing Salesforce Chatter can help you be more effective.
---