Employee Spotlight: Sarah Garrett, Account Manager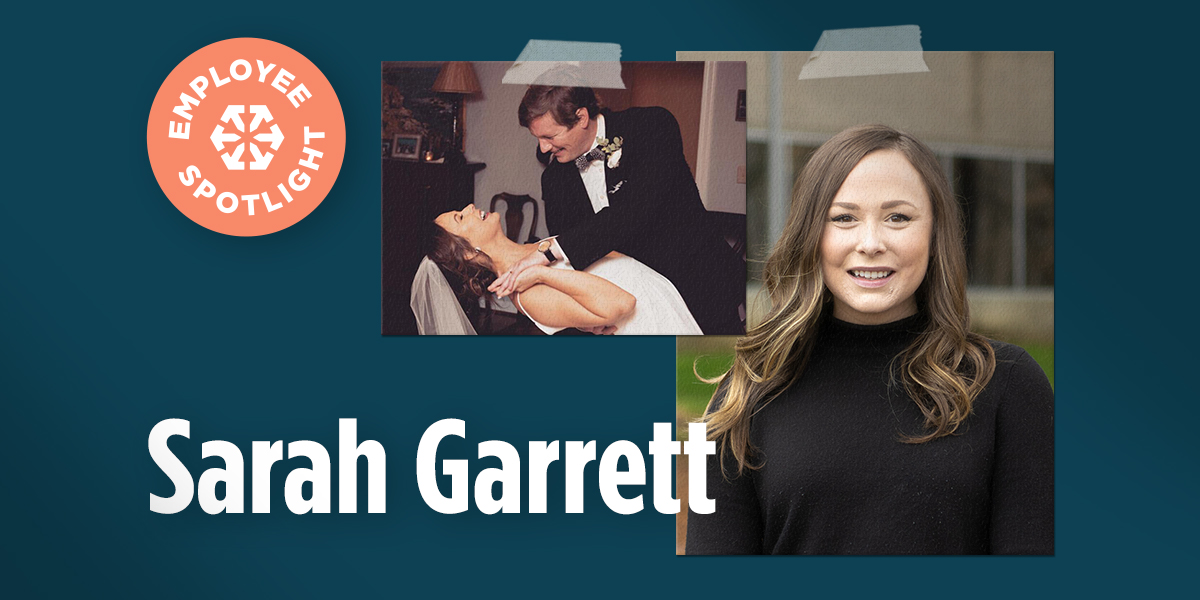 We're turning the Employee Spotlight on Sarah Garrett, one of Stratagon's Account Managers. Sarah builds meaningful relationships with her clients and team every day, and Stratagon is so happy to have her!
Let's get to know her better!
How long have you been working at Stratagon?
My start date was Nov. 1, 2020, so about 1.5 years.
What do you love most about your position?
This is the first job I've had not in-house for a company, so I love the variety of the work that I get to do. Every day is different from the one before, and I get to learn about and participate in all parts of marketing.
What's the best part about working at Stratagon?
The people! From our Leadership Team to our newest hires, everyone at Stratagon is fun to work with and everyone brings great ideas to the table. I love that I can goof around with co-workers one minute and the next I can go to those same co-workers for help/advice on a challenge.
What do you like to do outside of work?
Reading, crossword puzzles, and bingeing TV series are my most frequent pastimes, but I also love handlettering and using that skill to create beautiful things for the people I love. Cooking is another thing I love to do - a hobby that ends in eating delicious food!
What is a fun fact about you that most people don't know?
I swam competitively/year-round from the age of 8 to the age of 18, and my first job was as a swim coach.
Where did you go to school and what did you major in?
I went to UNC-Chapel Hill and got a degree from the School of Journalism and Mass Communication (now called the School of Journalism and Media). I also minored in history because I'm a big history nerd.
What are your DiSC, Myers-Briggs, and Enneagram personality results?
DiSC: C; Myer's Briggs: INTJ, Enneagram: 6
Name 3 people alive or dead that you'd like to have dinner with.
Robin Williams, Jerry Garcia, Charlotte Bronte
If you won the lottery, what is the first thing you would do?
Pay off my student loans!! And then travel.
What's your favorite food/drink spot in High Point?
Food: Blue Rock Pizza is by far my favorite High Point restaurant. Drinks: Brown Truck Brewing
What would you do for a career if you weren't doing this?
I've always thought being a travel writer would be very fun.
Who are your favorite bands/artists?
I'll keep it to two: The Avett Brothers (the band I've loved and consistently listened to the longest) + The Grateful Dead (became a fan later in life - about 5 years ago - but they're now my most listened to artist on Spotify year after year)
What was the first concert you attended?
Britney Spears in 5th grade wearing matching elementary school sweatshirts with two of my friends (such a strange "fashion" choice).
What's your favorite TV show?
Arrested Development, Parks + Recreation, Seinfeld
What's your favorite place you've traveled to?
Porto, Portugal. The city itself is beautiful and historic, and the people are incredibly friendly. Also, everything is amazingly inexpensive which is always a plus while traveling. It's also where my husband and I got engaged, so it will always have a special place in my heart.
What ranks first on your "Bucket List"?
Seeing the Northern Lights
What's your most used emoji?
🎉
What would be your last meal?
My great-grandmother's macaroni + cheese, my dad's grilled flank steak, my brother's homemade pasta, and my mom's baked porkchops. It would be a very carb-heavy meal.
What is your favorite seltzer flavor?
Strawberry Bubly
To connect with Sarah, reach out on LinkedIn, and visit our site to meet the Stratagon team.