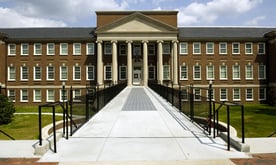 With strict budget policies and procedures, it is important for schools to get the most bang for their buck when doing any sort of marketing. At the end of the day the goal is to get "butts in seats," for university marketing programs. For example, the University of North Carolina at Greensboro uses HubSpot for their UNCG online initiative. Their goal is to get people to register and enroll in their online courses. So what can marketing automation do for higher education?
Cut Marketing and Recruiting Cost - Most marketing automation platforms have a multi-channel platforms that can identify a lead, nurture the lead through email campaigns with relevant content that resonates, and recruit candidates who are looking for something specific or meet a specific criteria by using customized and personalized landing pages with forms.


Drive Campaigns Based on Quality Engagements will have students, alumni, parents, donors, knowledge seekers and many other personas who will visit your website. Platforms like HubSpot will track visitors and their website activities so you can segment their movements and behaviors online to drive a more targeted campaign. For example, if you see that Jane Doe visits your website, fills out a form on your business school page, and then looks at another page that has the business school requirements then you can target her interests. At this point she could be added to a list named "Potential Business School Candidates" and sent a weekly email over the next month that may include testimonials from other business students, business school dorm facilities, and a personalized email "letter" from the Department head inviting her to come visit the school. Attached to this email could include a call-to-action that sends the user to a form where they can sign up to come for a visit. It's all about nurturing, selling, and getting butts in seats.


Enhance Your Brand Online - With more and more undergraduates (and potential graduate school attendees) turning to mobile to search for information about higher education, it is important that you provide them with a user experience that they can appreciate. We know now that mobile optimization is VERY important but using the personalization features on marketing automation software will help to create an initial or ongoing relationship with the potential "enroller." You want to be able to develop a somewhat emotional relationship with someone who is about to spend lots of money and lots of time investing in an education that you want to sell to them. Make sure you start the buyer journey off on the right foot. Speak to them directly. Sound like you don't have time for that? You do if you have marketing automation software and you make the time to include it as part of your overall marketing strategy.
So What?
Your higher education marketing and recruitment strategy should include marketing automation. Education marketers are turning to marketing automation to deliver a personalized user experience, to maximize their budget, enhance their brand, and to manage a multi-channel existence of different marketing communications.
Learn how to meet enrollment targets through customized hybrid campaigns.
---

---
Photos in post: freedigitalphotos.com