If I Knew What I Know Now: Reflections on Marketing Amidst COVID-19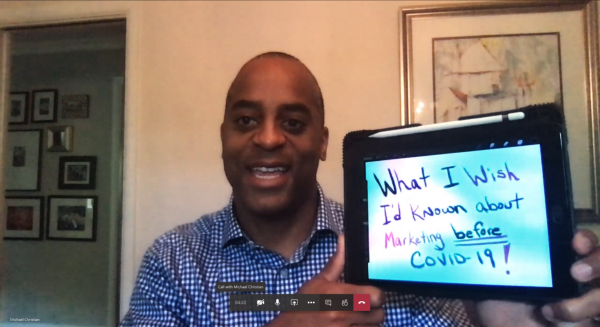 The world as we know it has changed, and all of us have to wrestle in some way about how to proceed forward. I am on a networking thread that is for local businesses of all sizes, and I found a recent question interesting. It stated, "If you knew what you know now a week ago, what would you have done differently with your business?" The answers varied, but the majority of them answered that they wish they had invested more in digital marketing for their business. I find that surprising on one hand, but not so much on the other.
There's no doubt that the impact of COVID-19 has reached business all over the world. In a recent Databox and Lola survey of 300 businesses:
93%

said they expected

that

their potential clients

and new clients wou

ld see disruption from the pandemic

.

80%

expected

their vendors would see similar

disruption.

Many of those respondents believe that canceled events/travel,

client postponed commitments, and self-

quarantine

will drive that impact.

These numbers solidify that this may be a new normal – at least for the foreseeable future. So the question my networking thread posed got me thinking: how could our customers and prospects best have prepared themselves for the pandemic?


W

hy

S

hould I Invest in

M

arketing,

E

specially

D

uring a Pandemic?

I prospect with various types and sizes of businesses, and the overwhelming focus of each conversation is, "Yeah, I know marketing is important and I should do more of it, but I don't have the time and budget," or "We have been doing it THIS way for so long and we think that it's still working, so it would be hard to give that up."
For many companies, marketing has always been nice to have, not a need to have – and rarely are there line items set up in their budgets to accommodate a consistent digital strategy. Business owners have a hard time spending money on something that they are not sure if they can see a return on or don't fully understand. There is so much noise out there surrounding digital marketing that it is hard to decipher what is right for your particular business situation or targeted customer base.
In the same Databox survey, 81.7% of respondents said they have instructed all employees to work from home and 12.8% have instructed some to work from home. Website sessions have spiked over the last few weeks. More people are online now than ever before. More conversations are happening via remote work, and your customers and prospects are doing more research now on your products than they ever have before.
Now is the time for the content on your website to reflect the collective knowledge that your organization, sales reps, and service members have gained over time and that's good news! It's not too late to begin creating content; it just takes a little more focus and effort. It's important to remember that what you're doing now will be monumentally helpful in the long term because that's likely what your competitors are not doing, and your business will be on the forefront – whether that's in content, digital advertising, or other marketing efforts.
How Do I Move My Digital Marketing

Forward

?

As things are shifting in our day-to-day lives due to this pandemic, we pride ourselves in being agile and creative to overcome adversity. That should not be any different in our business lives. Marketing should be a complete strategy on how to reach your potential clients and provide a message to help them solve their challenges.
A digital presence is now the foundation of brand awareness and problem solving. It is a way for your potential customer to get familiar with you before engaging with you on their terms. Behind a keyboard, they feel more in control of their research and problem solving. There, they can move their own pace with the ability to digest the material on their own time. You need to be where they are with content that answers their questions in a way that still gives them control.
A marketing strategy gives you several options to leverage technology to relay your messages and get connected with potential customers as well as to measure a return. It does not need to be overwhelming; even in these changing times, a crawl, walk, and then run approach is still appropriate. As your sales teams are grounded from trade shows and face-to-face meetings, you have to pivot and give them the touches that they need to make their sales goals.
You'll also need a way to measure their activity, effort, and use of sales materials to promote your brand, service, or product line. Marketing brings a full set of tools that will give you the ability to collect data, and that data can be used to understand exactly what your target audience needs.
Let's

R

evisit

the

O

riginal

Q

uestion

:

W

hat

W

ould

Y

ou

Do D

ifferently?

1) Have a CRM in place for account and contact management. It's a way to have more control over the data and use that data as our teams add more information to accounts with each interaction. There are learnings to be had with each engagement that we can become more effective with our customers as well as efficient in our protocol and actions.
2) Leverage your social profiles. Think about your social channels and create social campaigns to take advantage of your current audience and customers as well as create brand awareness among a new audience to promote content that you have created -- even if you're B2B! Make sure you've done proper persona development to ensure that you're speaking to the right audience in the right way.
3) Create valuable content using a list of frequently asked questions. Write down what prospects ask about your business and implement content by answering those questions on your website to build authority with the search engines (SEO). Content is more relevant now with the shift in our day-to-day lives because of COVID-19 than it has been previously due to the captive audience that most individuals have with the stay at home orders forcing them to use technology to complete their jobs from afar. We have seen major recent shifts in online traffic for new and returning site visitors due to the recent shift, and you can use this time to your advantage.
4) Set up better opportunities for Sales and Marketing alignment. Since online meetings (using platforms like Zoom or Teams) are all the rage right now, set up a weekly meeting to help align the goals with your sales and marketing teams. These "smarketing" meetings are a great way for both teams to come together to understand KPIs and goals, and then put it into tangible ways to boost the pipeline and grow revenue for the company.
5) Invest in strategic paid advertising. Digital advertising can be a scary concept if you're new to the mix, but with the right goals, target audiences, and strategy, you can reach prospects more quickly (especially since more people are online right now). Pair that with relevant design and messaging, and you'll really help boost your sales. Just make sure you're not throwing money at advertising without all of those foundations in place.
In Summary

Digital marketing does not have to be a grand gesture and entrance. The point of entry is a lot lower now than it was just a few years ago. Building a foundation that is scalable as your business grows is step number one. The amount of resources that you put into it depends on your needed results and timeline. Ideally, this is where having a partner in a marketing agency would guide you through these critical steps.
The ability to help you decide how to prioritize your efforts, resources and scope is a service that will become more valuable as you see the results. For now, take into account the processes you do have in place, and begin to expand those into other areas to build your digital sales and marketing presence....and more importantly, stay safe and healthy!