Intro to Account Mapping for HubSpot's ABM Tools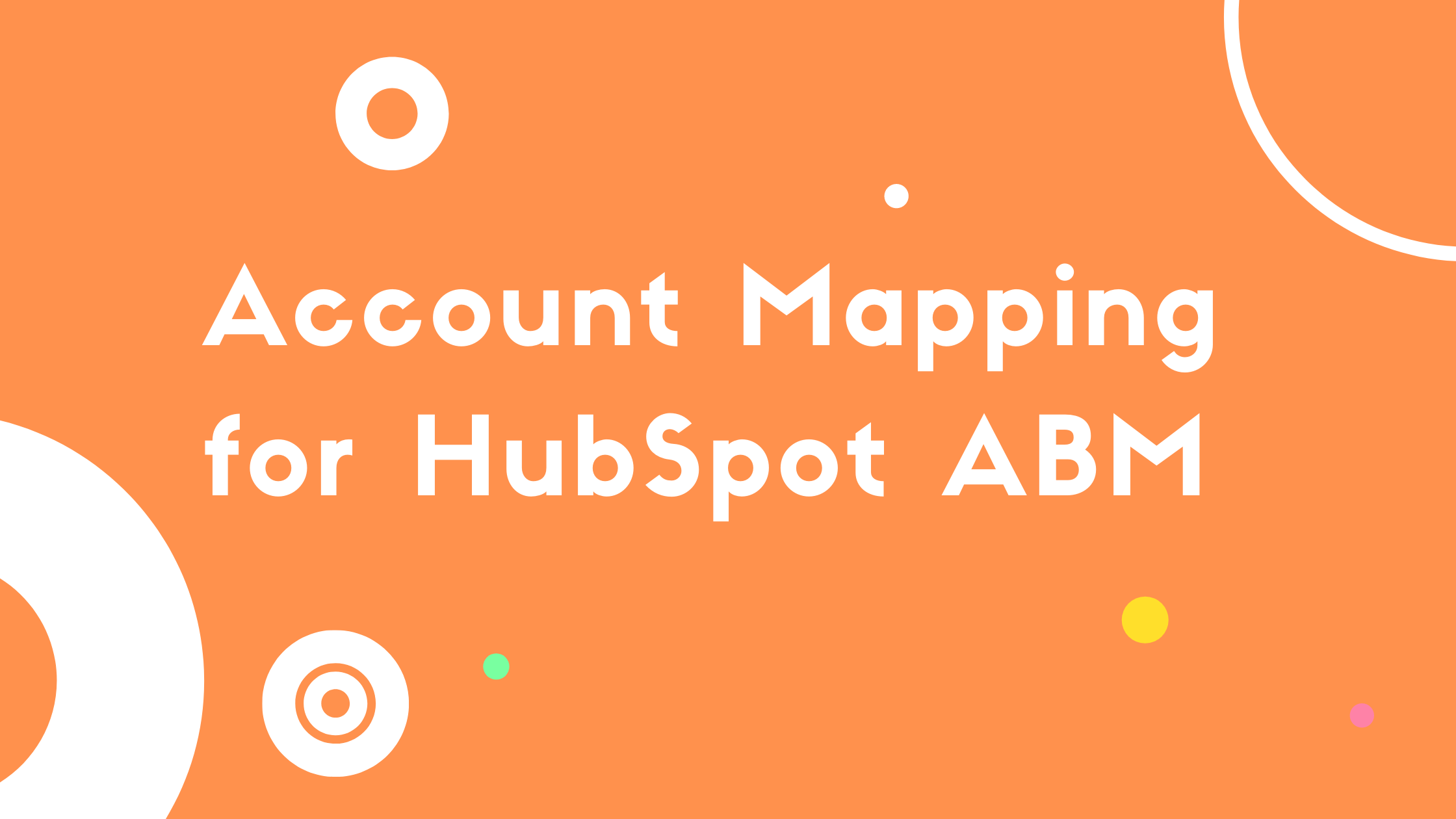 Account-Based marketing is a sought-after strategy in aligning B2B marketing and sales because it's really effective in reaching target accounts, but it's a difficult strategy to implement. Where is the best place to begin?
We recently published a marketing blog via our partner HubSpot to help you answer that loaded question.
Here's an overview – a teaser, if you will:
Let's dive into Account Mapping!
You may be wondering, "What is account mapping?" It's the process of selecting and organizing target accounts within an ABM strategy. Basically, you start by establishing goals, then you take the critical steps of selecting and mapping the key accounts that your marketing and sales teams will pursue.
Steps to ABM Account Mapping:
1.] Gather Key Decision Makers + Influencers
Identify your ideal customer profiles (ICP) through account planning, and then research and understand the organizational structure and how decisions are typically made within those accounts.
Identify buyer roles using the HubSpot ABM software, such as Decision Maker, Blocker, Influencer, Budget Holder, Champion, Legal & Compliance, and other important roles depending upon your needs. You can use tools like LinkedIn or ZoomInfo to research key contacts within your accounts, and then align the contact data to your account intelligence within HubSpot.
2.] Collect Intel + Align Content
Map out your buyer's journey according to an account's needs and pain points. Align relevant content and communications to each stage of the journey.
Gather intelligence along the journey through discovery calls, social listening, search intent, press releases, Google alerts, and more. Input the intelligence to gain insight into future account needs and map marketing content and sales playbooks to make meaningful interactions.
3.] Engage + Learn
Develop a plan for engagement using a playbook for both sales and marketing teams to make the prospect journey a seamless process.
You could start with account-based advertising to warm up accounts while utilizing HubSpot's Company List and LinkedIn Ads Integration to keep everything centralized within the platform.
4.] Document the Decision-Making Process
Make sure you're collecting data throughout the ABM campaigns that you can use to fill in gaps and increase intelligence about the accounts and key buyer roles.
Record the info in your CRM so that it's in a central place and available for anyone working within the account.
What Account Mapping Software Should I Use?
As Account-Based Marketing becomes more widespread, so too does the software available to implement it. You have options from freemium to paid versions of tools that can get your strategy moving.
Start Here:
HubSpot

– use this as your centralized platform to enable transparency into all campaigns and to align marketing and sales tactics.

LinkedIn

– it's an ideal tool from a professional networking perspective for account research, and it integrates well with HubSpot using LinkedIn Ads, Sales Navigator, and InMail.
ZoomInfo

– an excellent resource for everything from prospecting to buyer intent to track companies using your ideal customer profile.

6sense

– improve the transparency into buyer intent using AI with this tool that helps you take action across a wide variety of channels.
Whether you're a rookie or advanced when it comes to ABM, HubSpot now offers the tools to make this complicated strategy accessible to all.
With the right planning and mapping processes in place, you'll be able to align your sales and marketing teams in order to create robust and centralized information about accounts to keep your ABM strategy moving forward.
Visit the HubSpot Marketing Blog below to read the full post with more details about how to implement account mapping in your organization!