Customer Journey Mapping: 3 Ways It Impacts Your Internal Brand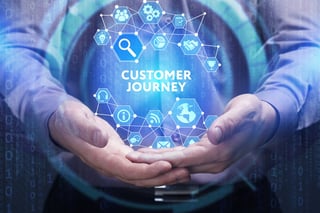 You know that mapping customer journeys is a critical component of your marketing program from the customer perspective. However, have you stopped to consider how going through the mapping process can positively impact your company and your sales?
Journey Mapping Keeps Your Messaging Customer-Focused.
Mapping the customer journey means that your team is in the heads of your customers. They understand the pain points at every step of the process and be in tune with what works. If your team is in the minds of your customers, the messaging will be on target and the likelihood of improving the journey to move customers toward purchase is greater.
Mapping Helps to Build An Actual Picture of the Customer Journey.
Building a journey map as a visual representation of the journey makes the journey somehow more "alive" and interactive. Airbnb's CEO Brian Chesky read a biography about Walt Disney and took the idea of storyboarding back to his staff at Airbnb. The company hired a Pixar animator to storyboard their customer journeys from the host perspective, the guest perspective, and the Airbnb hiring perspective. Making the journeys a visual story helped the company understand that Airbnb isn't about a website because the majority of Airbnb experiences happen offline. If they hadn't created a visual narrative, they may have taken a lot longer to understand that nuance of their brand.
Customer Journey Mapping Accelerates Your Use of Data and Research
Mapping a customer journey makes using data critical. In order to evaluate touchpoints accurately, effective use of data is required. You need to know what channels your customers are seeing your messages on, how they are reacting to those messages, and what actions they're taking to further their journey. Why is data important? Without data, you can't truly assess how successful your messaging is or how effective your channels are.
Mapping a journey is not an easy task for marketers but it is a critical one for companies who desire to delve into the minds of their customers, determine what works and set a guided path to convert those customers into brand evangelists.