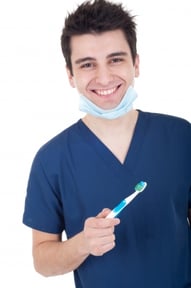 You've got all your marketing plans lined up: your website is designed to attract potential patients; you've got Twitter handles, Facebook pages, and even LinkedIn profiles for your dentists and hygienists; you're starting to blog to drive traffic to your website. There are a lot of balls in the air, though, and you're starting to wonder how on earth you're going to manage it with a small staff and limited time.
Marketing automation may be the solution your dental practice needs to align your goals and tools and keep your sanity in the process.
What Is Marketing Automation?
Marketing automation is using a specifically designed software platform to assist marketers in defining and automatically delivering marketing processes such as customer segmentation, lead nurturing and campaign management.
In a nutshell, it takes all the tasks that human marketers want and need to do to move their prospects along the sales funnel and it puts them on one convenient platform to make it possible.
So why does marketing automation make sense for marketing dental practices?
You have a variety of customer segments. The truth is that everyone needs a dentist. And, if you want to attract a variety of people in your community, you'll need to address their needs differently. Marketing to elderly patients is very different from marketing to young adults or families. Utilizing a marketing automation platform can help you segment your audiences and create and deliver the appropriate message using the right tool for each segment.


Smaller marketing staff. The typical practice has either one marketing manager, a business manager who is responsible for marketing or even a practice owner/dentist who does the marketing. Marketing automation can help streamline some digital practices so that you can focus on other aspects of the business. You do need to understand, though, that a great deal of time needs to go into establishing, maintaining and analyzing. You may want to consider hiring a marketing technology firm to help drive your strategy and develop your content so that you can focus on delivering other services.


Help you convert website traffic into real patients! You may have a website today that looks great. But do you know who is coming to your site? Do they have an opportunity to download useful information? How do you know if they're making appointments? Marketing automation platforms provide a way to help you create ways to drive your potential patients to take real action.
So what?
Marketing automation platforms are a great tool for small and large businesses alike. Dental practices have unique marketing needs that can be addressed by the right marketing automation tools and, perhaps, a little help from marketing technology experts.
Learn everything you need to know about Marketing Automation
---

---
Photos in post: freedigitalphotos.com