Optimizing Your Website for Conversions with CMS Hub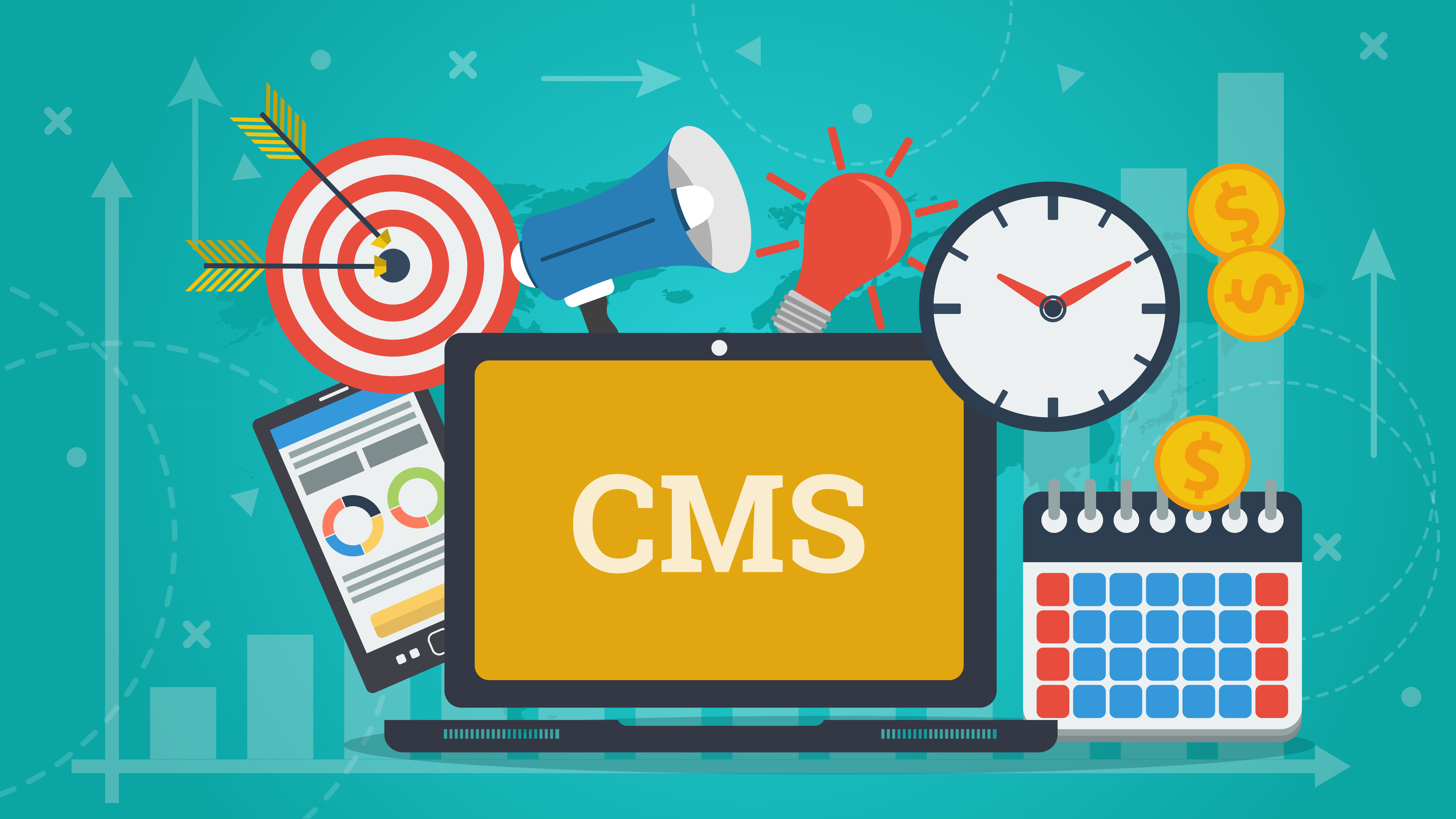 Adapted from a presentation by Emily Murphy & Valarie Kouba for the Triad HubSpot User Group on November 20th, 2020.
What was your company's top goal this year? Increased website traffic? More leads? New customers? Dollars? If any of the previously mentioned came to mind, you're within the majority. For marketers, attracting, nurturing and eventually converting leads is the ultimate goal of everything we do. And our websites should support those goals. Especially when you consider that they are the hub for most if not all of our marketing efforts.
Really, your website should be your hardest working lead conversion machine. But for many of us, our web and content management platforms don't make this easy. They're difficult to use, have inability to scale, and their lack of flexibility keeps us from getting the full value of our website.
Truthfully, if you're sending traffic to a site that is difficult to manage, report on, and optimize… you are wasting valuable time, resources, and money.
Even if you have a beautiful site that's aesthetically pleasing and easy to navigate – if it is serving no purpose toward your goals, it's time to reconsider.
What is HubSpot's CMS Hub?
The fact that traditional content management systems prove to be more and more difficult to use as the website and business itself grows was enough to lead HubSpot to developing one of their own. One that would allow their customers' websites to scale just as quickly and efficiently as their business was.
In its basic sense, CMS Hub is a Content Management System (CMS) that offers speed, security, and scalability to growing businesses like yours.
Even more, it's an integrated, easy-to-use, and deeply powerful content management system that allows multiple stakeholders within your company – from your IT and development teams to the sales and marketing teams – to work in tandem on everything from minor content updates to major website upgrades.
Now, let's get into detail on the various integrated elements and tools you'll have access to within the platform to ultimately achieve better lead conversion rates on your site.
CMS Hub Professional vs. CMS Hub Enterprise
First, it's important to note there are two tiers of CMS Hub: Professional and Enterprise. There are some differences around cost, but also what's included. The most important thing to consider is where your company is in its growth. Start with professional and know you can grow into enterprise seamlessly when you're ready for it.
Here's a breakdown of the features included on both sides. See more features here.
(Note: Screenshot above reflects a discount that does not reflect typical pricing; speak with your partner agency to learn more.)
CMS Hub: Taking the Pain Out of Website Management
CMS Hub removes the technical web management burden from you and your team, allowing you to focus on the strategic optimization of your website for lead conversion.
Take a look at the web management features offered:
Security
With traditional CMS platforms, you're often left to fend for yourself when it comes to security. You want to be able to trust that your website and its visitors are secure.
With CMS Hub, you gain peace of mind knowing your site is backed by:
HubSpot's content delivery network (a critical component of nearly any modern web application).
24/7 security and threat detection
99% uptime
A standard SSL certificate (something that alone can run you a couple hundred dollars a year elsewhere).
What it comes down to is that although the CMS Hub has an upfront cost, it pays for itself (and more) in what you would pay for in plugins, security, and ongoing updates using another platform.
Check out HubSpot's comparison to WordPress to learn more.
Development & Design
With CMS Hub, even the most entry level marketer can build beautiful web pages that convert without the help of a developer.
You'll gain access to HubSpot's:
Drag and drop web editor tool
Automatic responsiveness
Convenient blog publishing
A marketplace of website themes and templates to customize
Multi language content creation (important for those of us marketing to multi-language audiences)
HubSpot's dynamic content platform, HubDB (which allows you to create a dynamic page for every row in a data table, each with its own unique SEO-friendly URL)
Angela DeFranco, Director of product management at HubSpot pointed out, "marketers at growing companies have a lot of things to think about and managing their CMS should not be one of them." She went on to say, "Most CMS platforms available today make website management more complicated and painful as time goes by. They put a limit on what's possible. They have a ceiling. But rapidly scaling companies don't. I'm delighted that with CMS Hub, we're offering users a powerful system that removes unnecessary gatekeepers, democratizes the web management process, and makes it easy for them to execute their boldest ideas" (HubSpot, 2020).
Your website shouldn't ever be held hostage by a developer or the agency that created it.
Take control of your website with the CMS Hub, where you can easily update pages, make edits to go live immediately, and so much more.
CMS Hub: Helping Marketers Focus on Their Funnel
Andrea is correct, as marketers, our goal shouldn't be managing a website, it should be driving traffic to our sites and converting the traffic into marketing qualified leads, i.e. improving those highlighted percentages of conversion you see on this funnel below.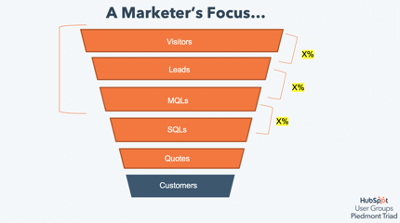 Let's take a look at the tools available through CMS Hub for marketers to drive traffic, gain insight into what's going on with that traffic, and how they can continue to optimize their websites based on those insights to convert.
Increase Visitors with CMS Hub
If you are truly using your site as a lead generation tool, you have to ensure that you're driving the right traffic to your site. If you're not filling that "visitors" bucket with qualified traffic, you can't expect leads and customers to funnel out the bottom. While other campaign efforts may be responsible for driving traffic to your site, maintaining a site that is SEO optimized is critical if you want to count on "search" traffic.
The tool provides easy to understand recommendations within three main categories:
On page SEO recommendations
Crawling and indexing
Mobile experience
…and makes it even easier to implement recommended optimizations! You can view pages affected and click to "fix in editor."


The tool also offers topic cluster planning, SEO recommendations across a number of domains and a handful of SEO plugins too!
Increase Traffic to Leads with CMS Hub
Gain insights
Understanding how users are using your site is the first step in converting traffic. From there, you can make a number of optimizations to ensure you get that conversion.
Tools for gaining insights provided through CMS Hub include:
A/B testing & multivariant
Custom Dashboards
Web traffic analytics
Filtered analytics view
Each of the above CMS tools provide their own data-driven insights for your team to take and improve your site's conversion rate with. Let's take a look at an example of this.
With CMS Hub, you can compare up to 5 variations of a single page.
Your team may be wondering where the ideal placement for a CTA is on a landing page. The answer? TEST! Create a few variations of CTA location and test which page/ CTA location gets the best click through rate. This is a simple example, opportunities for testing are endless.
CMS Hub also offers a list of third-party API integrations. Take Heatmapping for example.
Heatmapping tools like Hotjar and Lucky Orange allow marketers to see what users are actually doing on their website. Recordings and reports can be used to see why a particular landing page may not be converting, if a website redesign was successful, etc.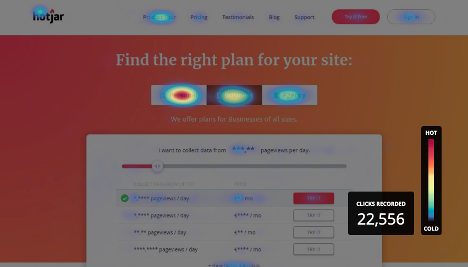 Optimizations
Insights and reports are great, but the ability to analyze and adapt is critical. Coding and IT restraints should not inhibit you as a marketer from adjusting your site's UX and conversion opportunities.
Tools for better optimizing user experience and conversions through CMS Hub:
Pop-up forms & CTAs
Chat bots
Smart content
Personalization tokens
Mobile responsiveness/ preview
What does this look like put into action? Say you learn that a particular landing page isn't converting the way you had hoped it would. Drive that conversion with a timely pop-up form.
Or here, if leads are converting on a specific page but they're not quite ready for sales hand off yet, add a chatbot to the page to engage the user and then continue their journey through your funnel.
Personalization is always going to mean higher conversions. According to HubSpot, on average, conversion rates are 20% higher when personalization is applied. When possible, take advantage of CMS Hub's tools for smart content and personalization. It adds so much to the user's experience on your website.
Your website should be a living and evolving entity that grows to reflect your business' goals. With CMS Hub, the common web management pain points many of us are facing become alleviated and we're able to refocus our efforts on data driven optimizations to improve user experience and ultimately your bottom line.
It's important to note, we've really just scratched the surface of the ways you can use CMS hub to gain insights and improve your website for conversions. Feel free to reach out and pick our brains about an idea or question you have!