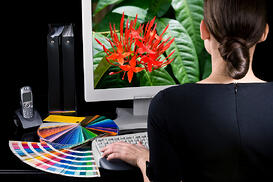 In today's technologically-dependent society, the success of your marketing campaigns depends on your ability to use internet-based mediums, such as emails, blogs and websites. However, with so much competition online, simply distributing content through these channels isn't enough to draw visitors in and convert them to consumers. To get the most out of your marketing campaigns, you must optimize the content you distribute, both visually and textually.

The Importance of Visual Stimulation
It's no secret that consumers are more likely to pay attention to an eye-catching advertisements. In fact, according to AnsonAlex, high quality infographics are 30 times more likely to be read than plain text content. Furthermore, with more than 27,000,000 pieces of content emerging online every day, it's essential that your company's posts stand out from the crowd, so high-quality visual content is a must.
Engaging Consumers with Value
While images may draw consumers in, they won't stick around unless your content also provides them with something of value. Whether it is entertaining, interesting or instructional, marketing content must give users something they can take away. The more engaging the content, the more likely it is that a visitor will continue down the path to becoming a customer.
Interact with Your Visitors
Your website is not a zoo; you don't want people to just stare at your site with interest and then move along. Have them tell you a little about why they're window shopping on your site before they enjoy that juicy new e-book you wrote. Ask them a different question the next time they come looking for your well-designed, insightful content by using your fabulous marketing automation software. Then use your marketing know-how to convert your visitors into profit-generating customers.
So what? Remember that millions (billions? trillions?) of pieces of content are now available online, so the visual and informational quality of your content matters more than ever before. Make each post, email and webpage count by ensuring that it is both visually appealing and valuable to consumers. If you don't engage them, you can't convert them!
---
---
Topics: Website & Web Design