What's New, WhatsApp? A HubSpot Integration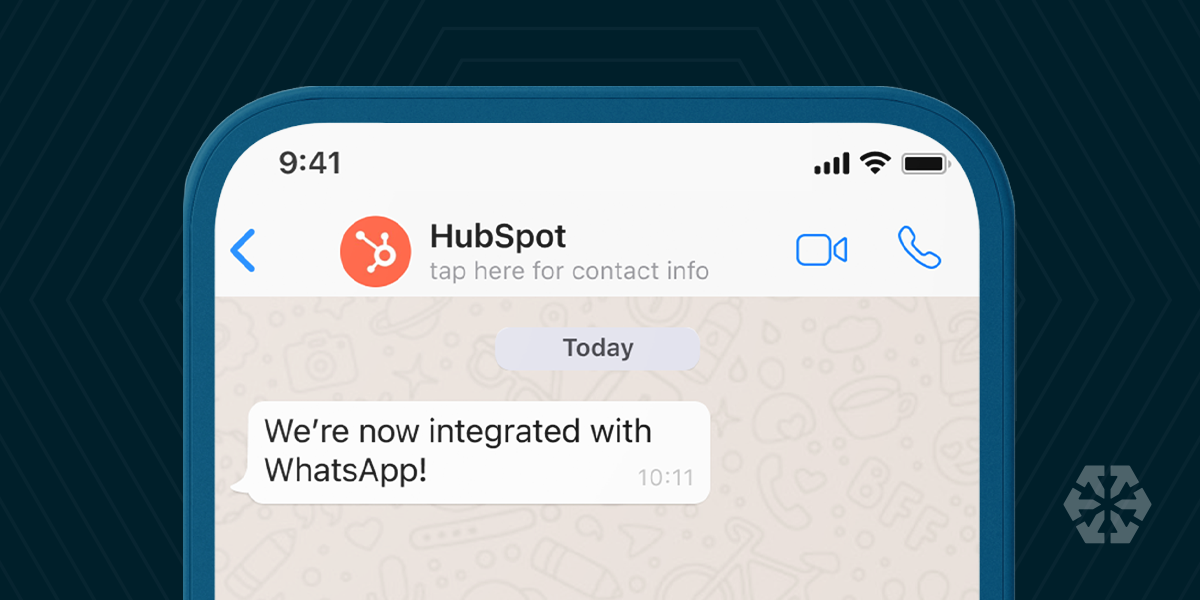 What's WhatsApp?
WhatsApp is an instant messaging and voice-over-IP service that allows users to send texts and voice messages, make voice and video calls, and share images, documents, and other content.
You've likely heard of WhatsApp before, but how much do you really know about the platform?
WhatsApp has 2 billion monthly users – that's people who are accessing the app on a monthly basis, and it's available in over 120 countries and offered in 60 different languages.
Where are all these users coming from?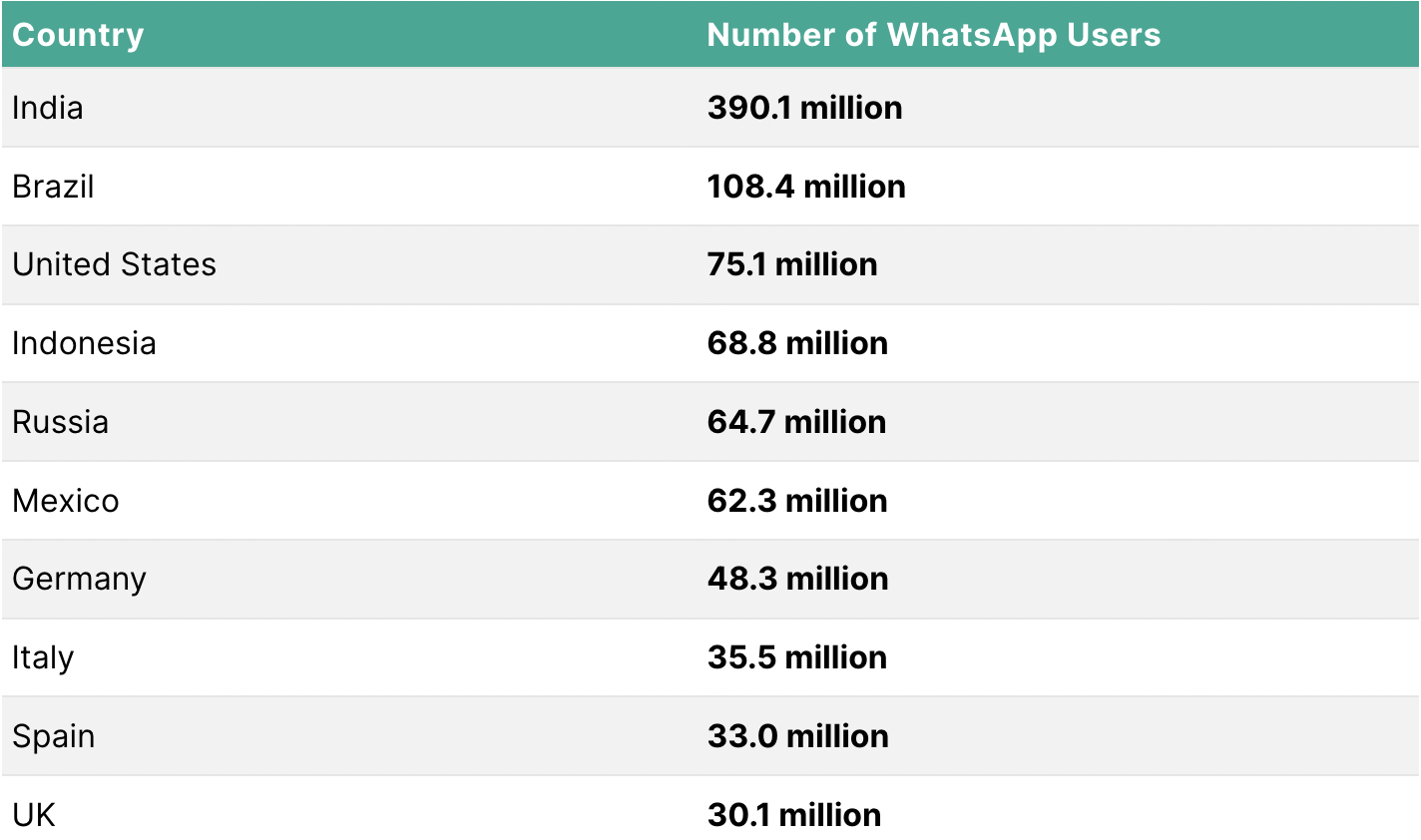 India has the most WhatsApp users, with Brazil coming in second. In a lot of these countries, WhatsApp serves as their top social platform and has become a part of their daily lives.
Maybe you were surprised to see the U.S. in the top three, or maybe as a frequent U.S. user yourself, it comes as no surprise. In the past couple years, WhatsApp's U.S. market penetration has picked up speed, specifically in the B2B world.
From a marketing perspective, adding WhatsApp to your strategy would primarily be a play in other countries, especially for B2C, but the U.S. is a growing option as well for your B2B marketing efforts!
HubSpot Announces a New Integration
At INBOUND 2022, HubSpot announced a new integration with HubSpot – WhatsApp! A couple requirements to be aware of to integrate:
You must have

either

Professional

or

Enterprise editions of Marketing

or

Service Hub
4 Benefits: Why Consider Adding WhatsApp Your Tech Stack?
Frictionless Customer Service
Meeting people in platforms they're already spending a lot of time on while successfully addressing pre-sale queries is huge for nurturing prospects well and converting them into paying customers, not to mention keeping existing customers happy!


Increase Ecommerce
WhatsApp offers the ability to make purchases within the app, providing an alternative avenue for ecommerce sales.


Expanded Content Distribution
Event marketing performs well in WhatsApp, giving an additional avenue for sharing invites and reminders for webinars, conferences, etc. with a new market.


New Business Opportunities
Reaching new markets increases the potential of new opportunities as you increase brand awareness through a new network.
Integration Features: What's Made Possible?
1.

Track all conversations and customer data in one unified location.


Connect WhatsApp to your Conversations Inbox! To do so, you'll need:
Admin permissions for your Meta Business Account

A unique phone number that can receive voice calls
WhatsApp messages can be initiated by your team or by a prospect/customer, and any time a new contact reaches out, they're automatically stored in the CRM.


2.

Deliver a seamless service experience by leveraging HubSpot's shared inbox, which gives teams a comprehensive view of each customer's conversation history.

Conversations can be viewed from the Conversations Inbox or from a contact record timeline, allowing for all team members who are set up as HubSpot users to have visibility to conversation history in a centralized space versus having multiple team members trying to manage from within the WhatsApp platform directly.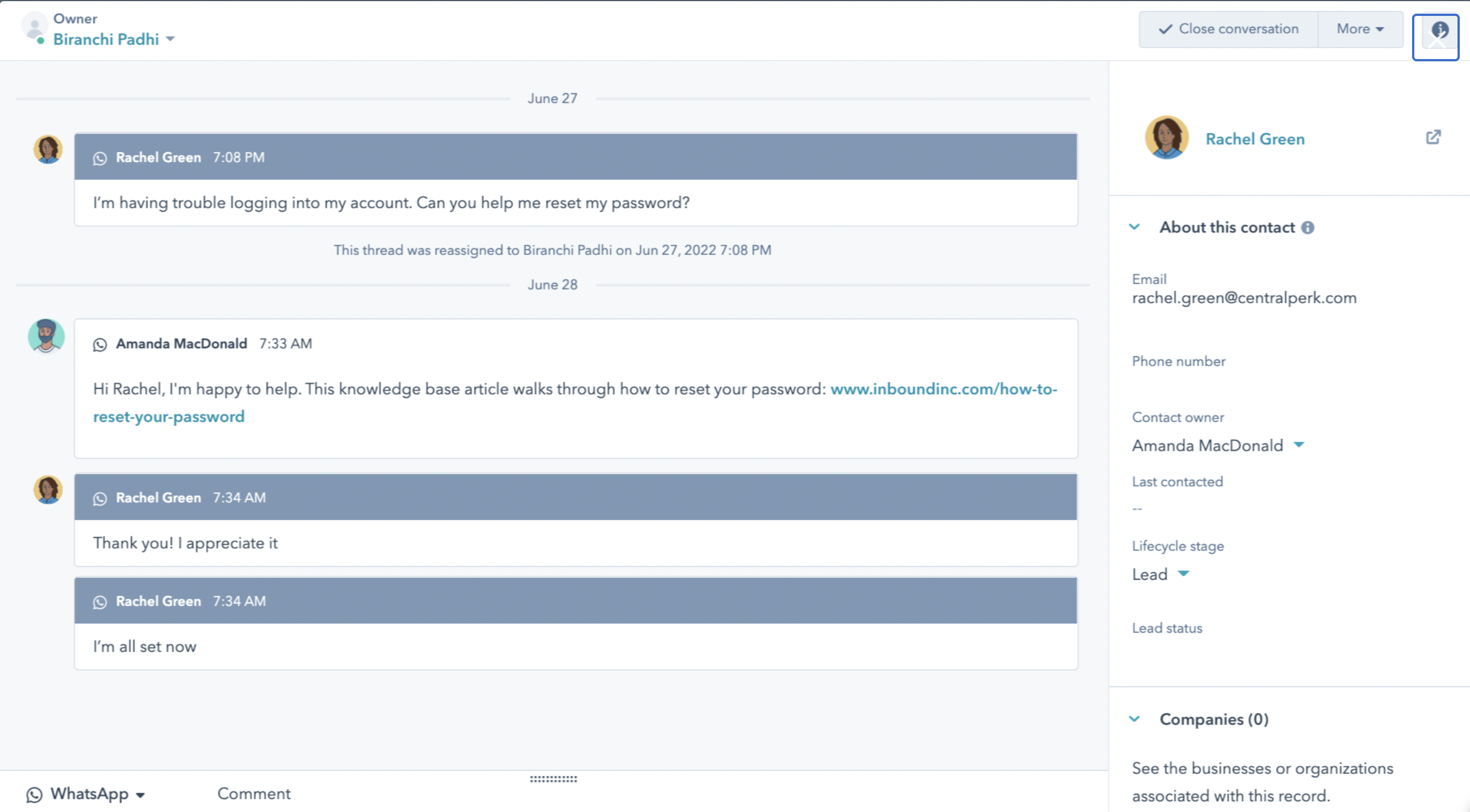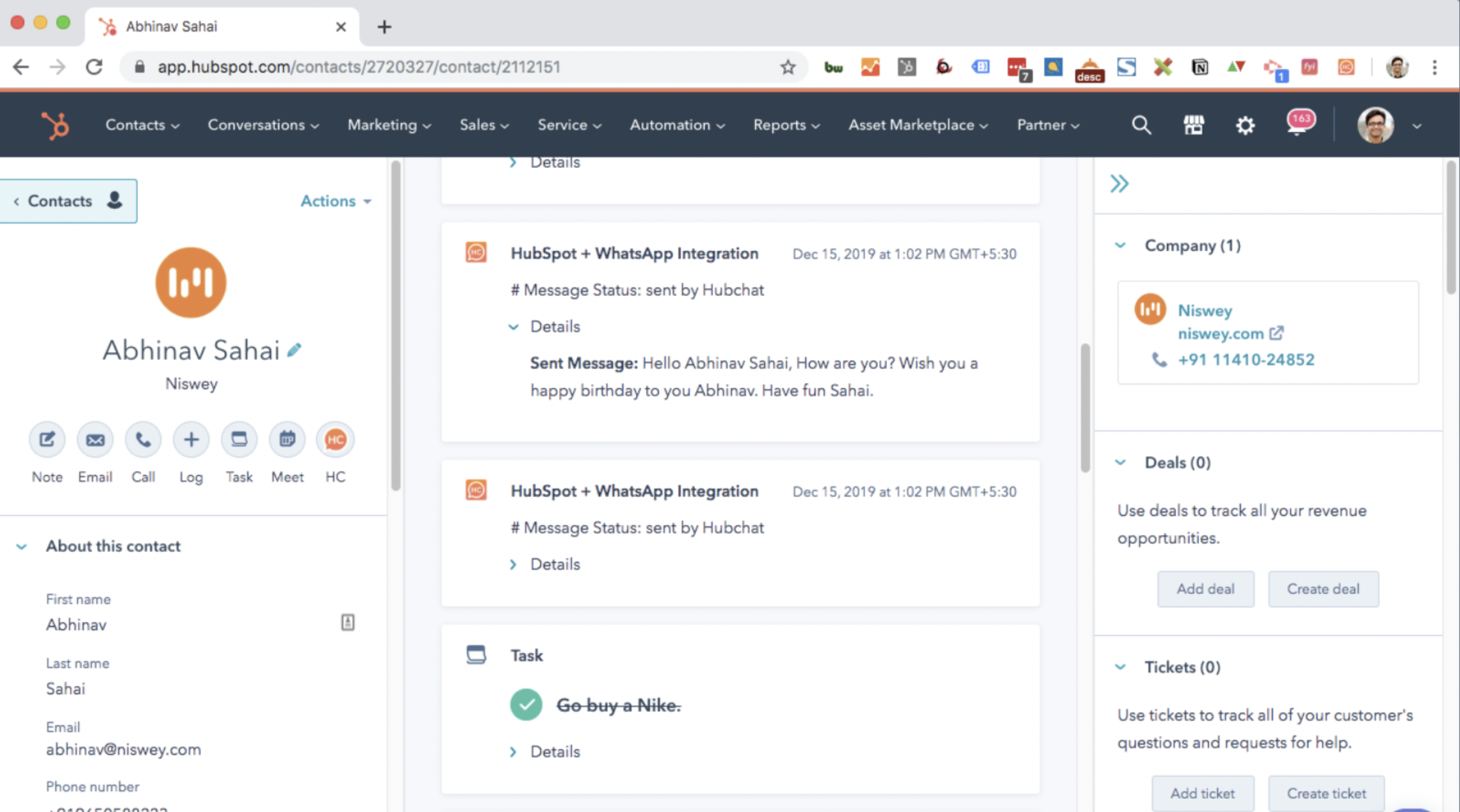 A valuable benefit of that centralized conversation history is that prospects/customers can always feel like their relationship with your brand has picked up right where it left off. You can buffer them from any shifts that may occur in your internal team like transitions, hand-offs, escalating to other team members, etc. Your prospects and customers are receiving communication that feels natural and authentic because each correspondence has that historical context behind it.
Disclaimer: historical conversations pre-integration don't sync with HubSpot, but all conversations going forward will be recorded in the CRM.


3.

Connect with customers using their preferred medium, all from within

HubSpot.

Like email, WhatsApp offers the flexibility to share text, images, video, URLs, and documents, so you're always able to meet customers with what they need, when they need it, where they need it.

4.

Automate and personalize messages, encouraging a two-way conversation and ultimately building more human connection at scale.


Automate WhatsApp messages to help meet customer expectations of timely communication

Personalize message templates for more human interaction




Automation
Through Marketing Hub, you can automate welcome messages, answer FAQs, send abandoned cart texts, and send post-sale messages to customers like order statuses, updates, and tracking.
You can also set up workflows to trigger based on a specific keyword being used in an incoming WhatsApp message and set up alerts/notifications for customer service agents or sales reps accordingly. You can create outreach reminder tasks for when deals move from stage to stage or are likely to close, create tickets for the customer service team, and send SMS notifications to sales reps.
For example, you could set up a trigger with the keyword "pricing" and set up workflows to immediately text a sales rep about the pricing inquiry so that your rep is getting that information in real time, right to their phone.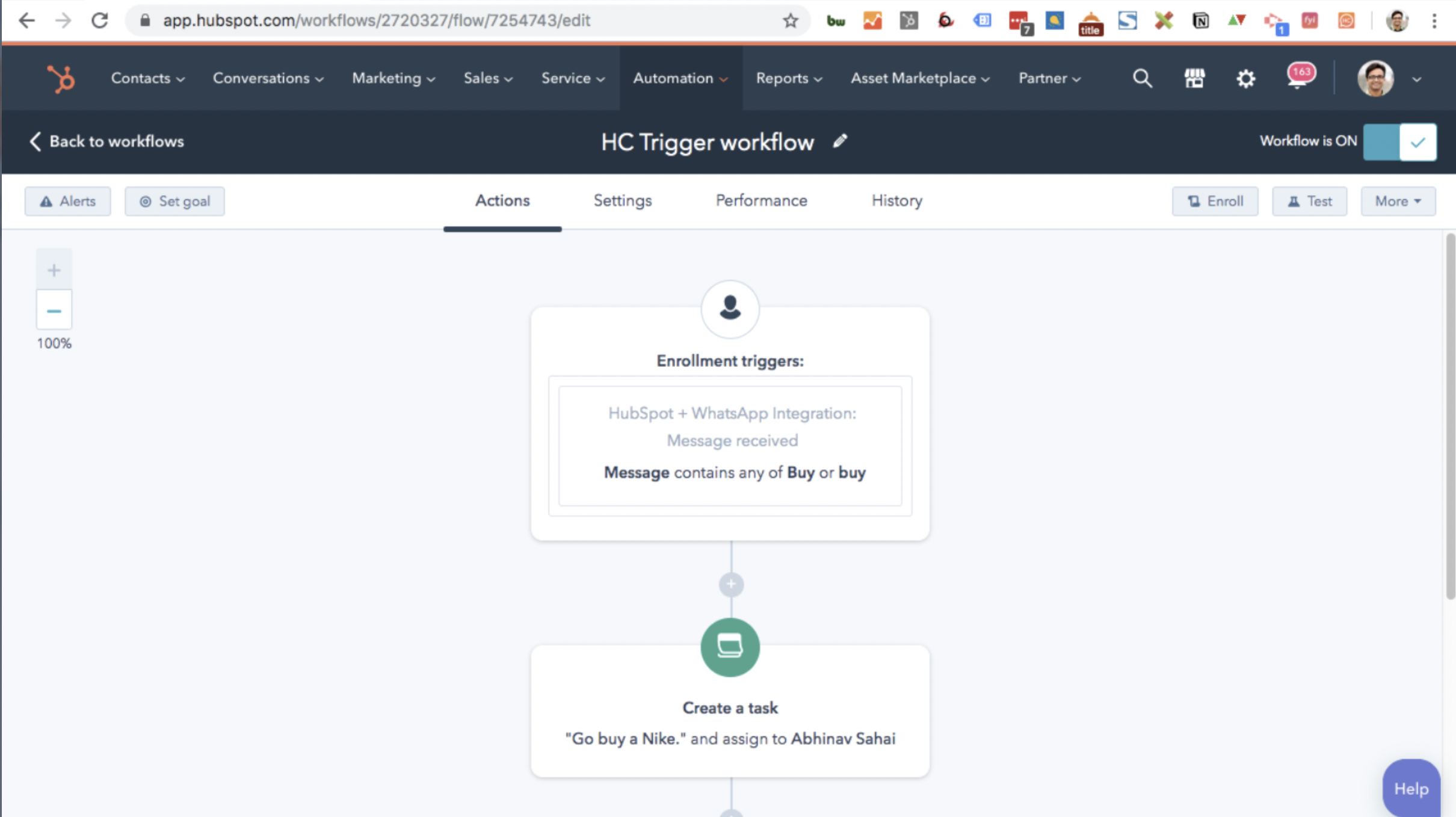 The goal of automation is to meet the customer expectation of timely communication, and to be able to scale two-way human connection with prospects and customers.
Personalization
If you're used to creating HubSpot emails, you're no stranger to personalization tokens. Use this feature in your WhatsApp message templates by adding personalization property values like:
First name

Last name

Company name

Phone number

+ more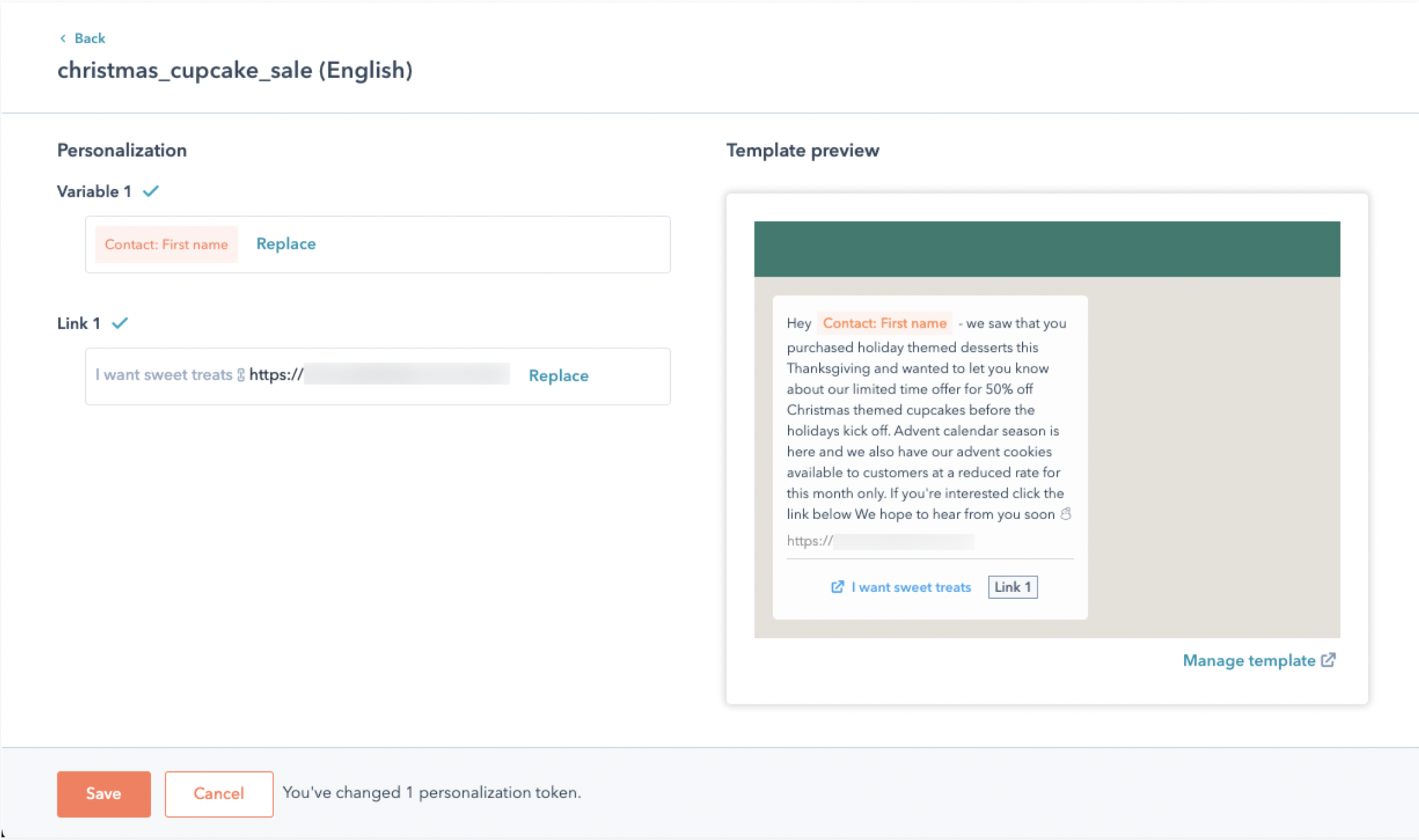 Using the contact data stored in your CRM, HubSpot dynamically customizes your messages for each recipient, so you're creating human interaction with every prospect and customer.
Reminder: Don't Get Slapped on the Wrist!
Follow GDPR compliance and get that opt-in!
As marketers, we're all familiar with General Data Protection Regulation (GDPR), but just a reminder that if you decide to give the WhatsApp integration a shot, you're adding a new avenue of communication to your strategy and need to ensure you're getting consent to communicate with your prospects via a new channel.
Con: We've covered a lot of pros, but what are the cons?
Remember, a lot of people use WhatsApp, but not everyone does.
Consider whether the platform makes sense for your market and, if so, use it as an addition to complement and beef up your marketing and service strategy, not as a substitute to traditional communications like email marketing.
What now?
When HubSpot announced the integration, their Chief Product Officer, Steph Cuthbertson, said "Digital marketing is changing. To reach your customers you must connect in new ways, especially with customers outside the U.S."
Maybe WhatsApp makes sense for you to use now and it's something you're excited to try, maybe it makes sense for you down the road, or maybe it doesn't at all, and that's okay! There are a lot of tools out there, and we have to find the ones that make sense for us and our use case – not all of them will. The important thing to remember, as Steph called out, is that the digital landscape is ever-evolving, humans all around the globe are ever-evolving, and we have to be diligent as marketers that we're continuing to learn and grow and evolve with them.
Do you need to implement or optimize HubSpot? Check out our HubSpot Partner Solutions.