How to Optimize Your CRM for Enterprise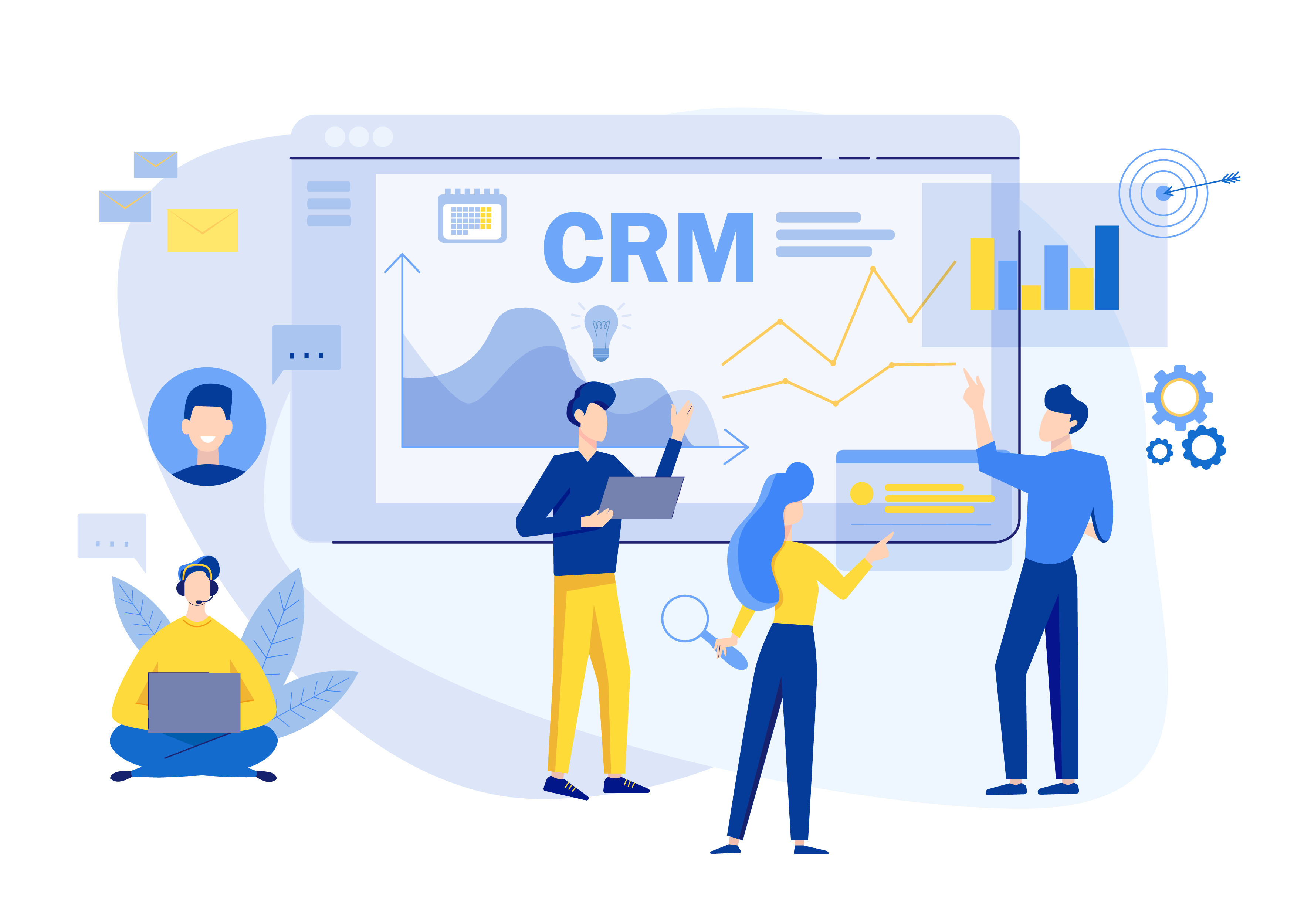 If you don't have a comprehensive understanding of who you are selling to, generating new leads and closing sales can become quite difficult. Luckily, Customer Relationship Management (CRM) systems exist to help you get to know your customer base and streamline your sales process.
By providing a unified platform that enables business professionals to link customer information from various sources, CRM systems make analyzing customer data and identifying customer trends easy. CRM systems are used to automate manual processes, and according to Salesforce, Customer Relationship Management systems are one of the top three tools used for generating personalized customer interactions that lead to loyalty and improved marketing ROI.
If you're a scaling company, you likely already have a CRM system in place as a part of your Go To Market Strategy (and if not, it's time to do so). The best way to start using your new CRM system is to develop an implementation plan to ensure the platform is set up correctly and aligned with your sales and marketing strategy.
Establish measurable goals.

What are your priorities? What does a successful CRM look like to you?
Configure your CRM.

Once you know what you want to get out of your CRM, make sure your data is migrated or set up properly and mapped with external systems.

Skill up.

Take the time to train yourself and the team on how to properly use your CRM. We consider change management to be a critical success factor when implementing a new CRM. Also consider outlining a contingency plan for any roadblocks or barriers you may encounter.



Okay, so you've implemented your CRM, now what?
It's time to continuously optimize the platform!
Developing system operations and routinely checking in on the performance and "hygiene" of your CRM and the data within it not only allows you to fully harness the system, but it can also help lower your customer acquisition costs and save you time.
So... how do you start optimizing your CRM? Here are our top three tips on how to get the most out of your Customer Relationship Management platform.
1. Ensure Usability
There are lots of companies out there that already have a CRM in place, but their teams aren't using it. You might be asking, "why wouldn't they want to take advantage of a tool specifically made to streamline their workflow?"
Oftentimes it comes down to things like:
Not understanding the purpose or benefits of a CRM
A lack of proper training

Overwhelming expectations

User adoption
The best way to avoid usability problems is to make sure that your teams view your CRM as approachable and worthy of their attention.
Instill the value that CRMs can bring to workflow. Let your sales team know that because CRM systems keep all of their information in a centralized portal, it will save them time and allow them to focus on closing deals.
Sales managers benefit, too!
A CRM will provide managers with valuable insight into all of the company's sales activities and highlight sales pipelines so they can better forecast upcoming revenue streams.
Make sure that you are also giving your employees the necessary training and time to get acclimated to using a CRM properly. Teaching your employees to master a CRM should not be a one-day goal.
Instead:
Consider starting small with a pilot.

Begin with the most basic data entry requirements. Once your staff has mastered these, integrate a new feature or process. Continue adding new "levels" until your teams are utilizing every aspect of your CRM in their daily routines.
Don't overwhelm your team.

If your company wouldn't benefit from certain CRM features, DON'T incorporate them. Make sure your employees can easily enter information (ideally, on the go with

mobile apps

) without the hassle of having to input irrelevant data.

Show support.

Listen to any problems or concerns your team may raise about using a CRM platform. Keep your employees in the loop by involving them in your decision making and work to find solutions collectively.
2. Practice Good Data Hygiene
Unclean data can start to smell.
Well, maybe not smell… but bad information will definitely not do you any good.
If your CRM is full of spoiled data, you're losing profits due to things like mis-labeled invoices, marketing assets that never reach your customers, having your emails blacklisted from sending out too many undeliverable messages and time lost searching for correct client information.
So, how do you keep your data in check? Performing a data audit once or twice a year will ensure that your information is relevant and that your CRM is working efficiently.
To audit your data:
Start by identifying pollution.

Is data being captured accurately and at the appropriate time? Is there room for improvement in how data is being entered into your CRM?
Remove unnecessary information.

This can include data that has been duplicated or mistakenly entered, emails that have bounced, or information that is no longer relevant to how you conduct your business.

Look for gaps.

Do you have a lot of missing information? Is there something that your CRM doesn't currently do that would be a helpful addition to the system?

Assess for utility.

How would you rate the quality of your data? What type of customer information is the most valuable to your business?
After you have scrubbed your existing information clean, create or update a uniform data entry system that is aimed at combating human error or other points of pollution found during your audit. Organization is your ally! By establishing clear guidelines that are easy to follow, you'll be able to categorize and segment information based on your company's needs and priorities—making future audits a breeze.
3. Remove the Burden of Manual Tasks
According to HubSpot, "17% of salespeople cite a lack of integration with other tools as the biggest challenge when using their existing CRM."
You shouldn't have to hunt down and piece together information from multiple sources every time you need to know more about a client or potential lead—that can get old quick and will likely result in a mistake (or two).
Instead, say goodbye to information silos by integrating your CRM platform with other data-sourcing hubs like your business's website, social media accounts, calendars, form submissions, emails, customer support tools and so forth. Doing so not only broadens your database, but it also gives your clients a more positive experience since they won't feel like they are rehashing information they've already made available to you.
Finally, automate processes when possible.
Did you know that 27% of salespeople spend an hour or more on manual data entry each day? That can add up to be a significant chunk of their work week that takes away from revenue-generating activities!
Automating processes like data entry and task creation not only opens up more time for your employees to do work that really matters, but it also improves the overall health of your CRM by removing the risk of human error.
What Are the Key Takeaways?
You don't want to waste your time, money and effort with an inefficient CRM, do you?
The first step toward integrating a CRM into your workforce is figuring out what CRM platform will serve you and your company best. 
We love HubSpot! HubSpot CRM is scalable all the way to enterprise, meaning it's great for companies of all sizes, and you can grow your involvement with the platform in tandem with your business.    
HubSpot's enterprise level CRM gives you everything you need to scale, with complicated features like NEW custom objects, attribution reporting, custom fields, the ability to have more than 20 users, user assignment, team assignments, and multiple sales teams with a global overview, the Sales Hub gives you everything you need for enterprise teams.
Check out these examples from the Sales Hub Enterprise (HubSpot, 2020):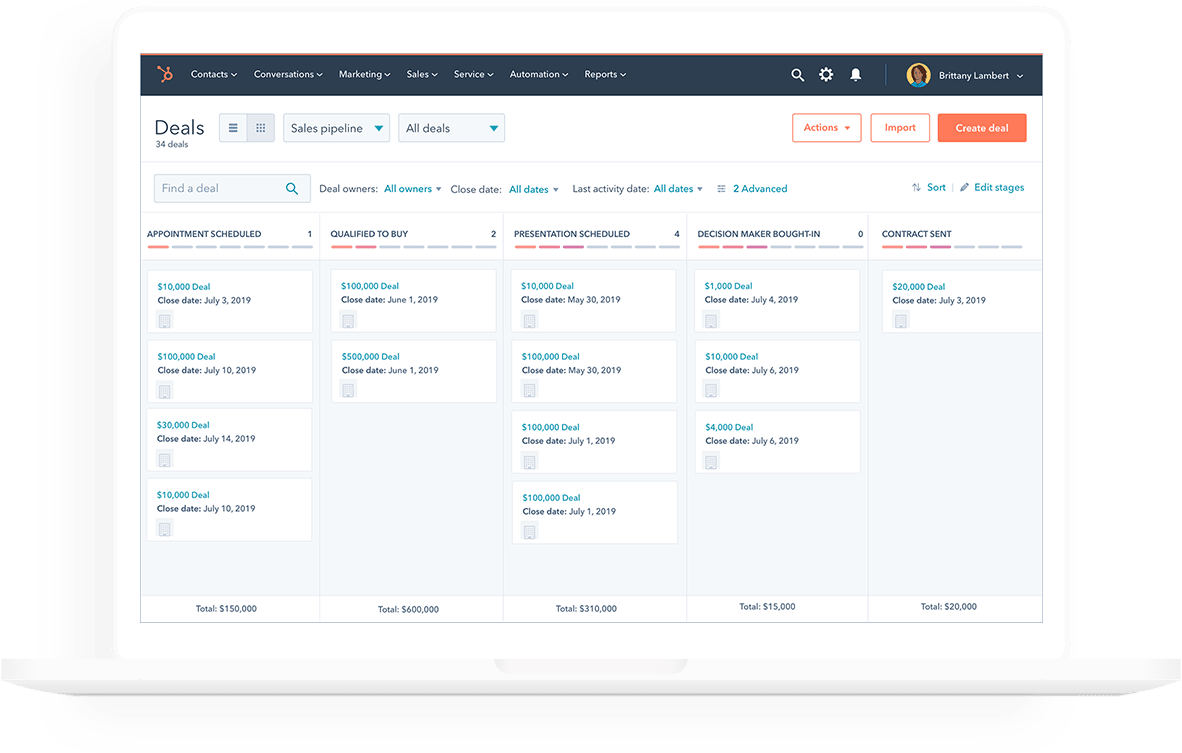 Above: an example deal board where reps can easily move prospects through pipeline stages (and managers can have full visibility).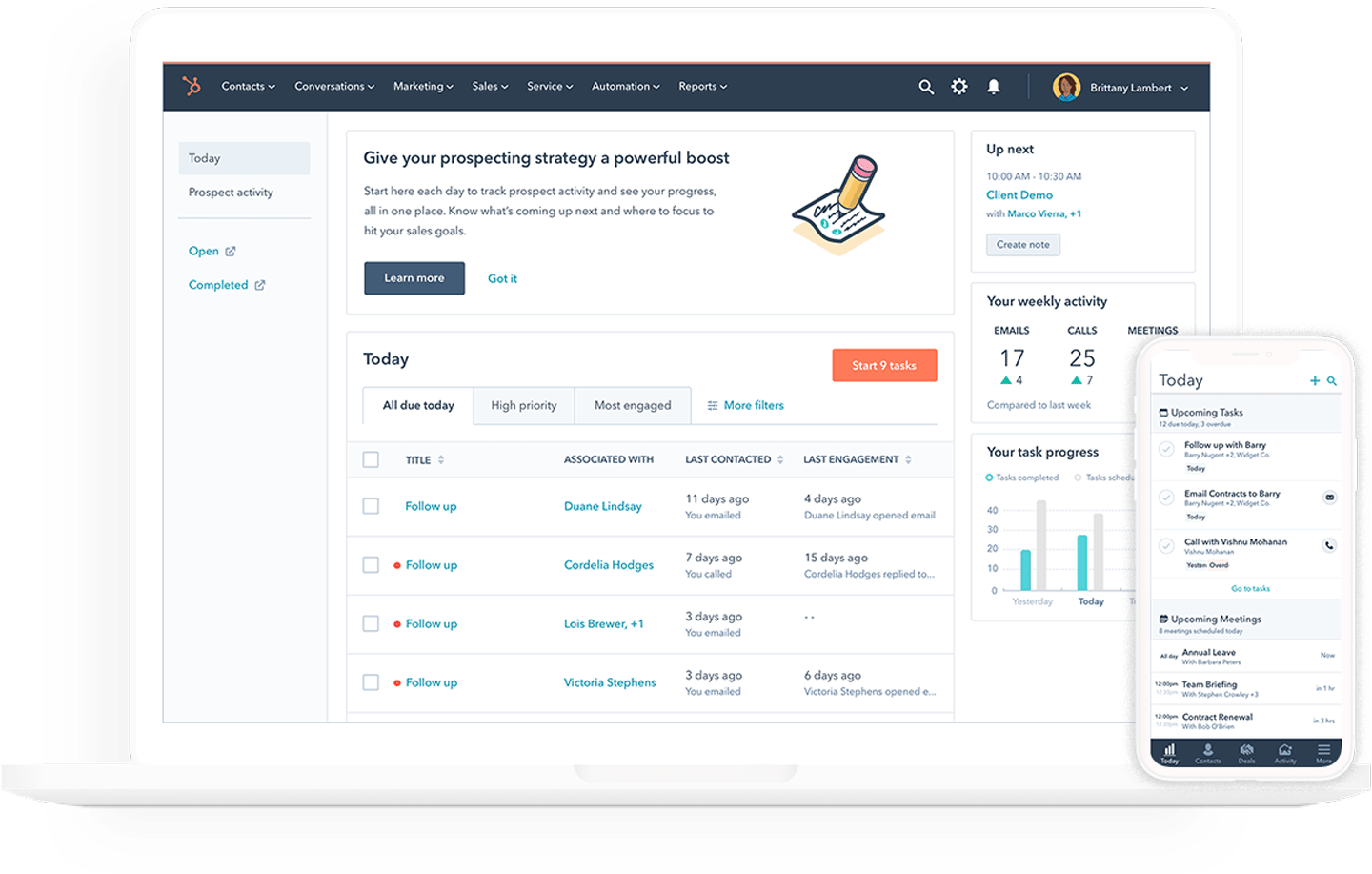 Above: simple prospecting through the HubSpot CRM to prioritize and organize tasks, with the mobile app for reps on the go.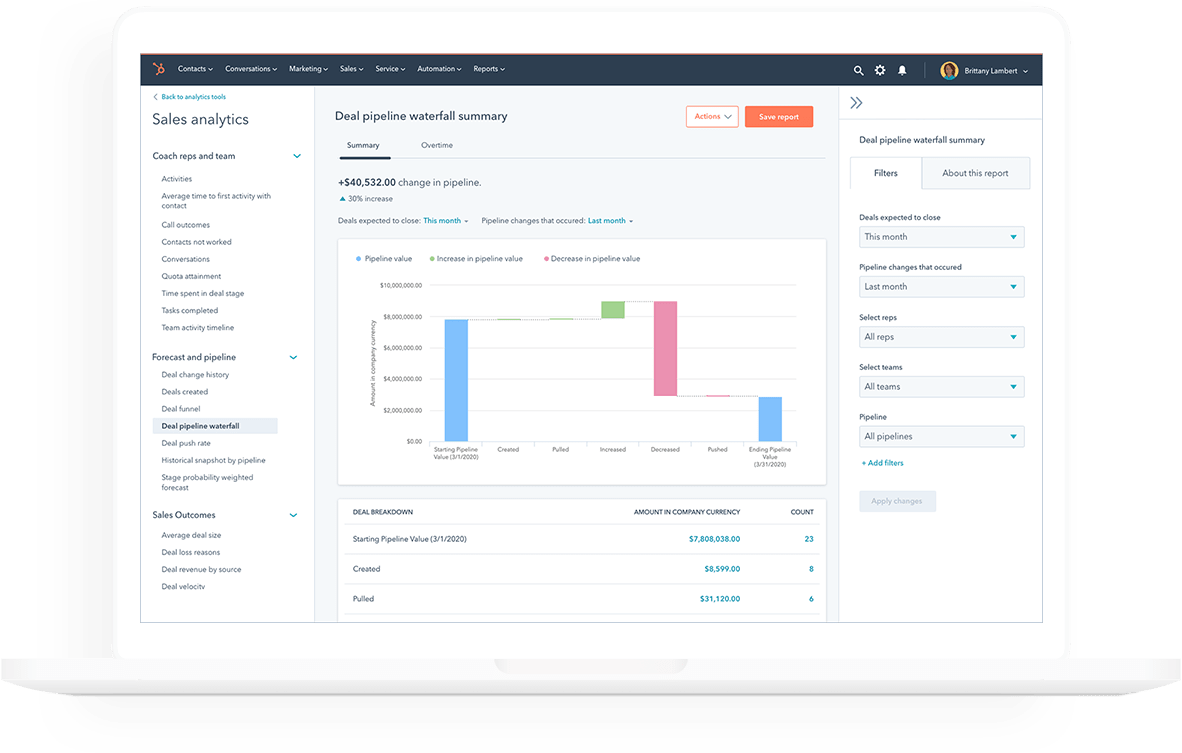 Above: sales insights through CRM analytics for forecasting, pipeline management, and more.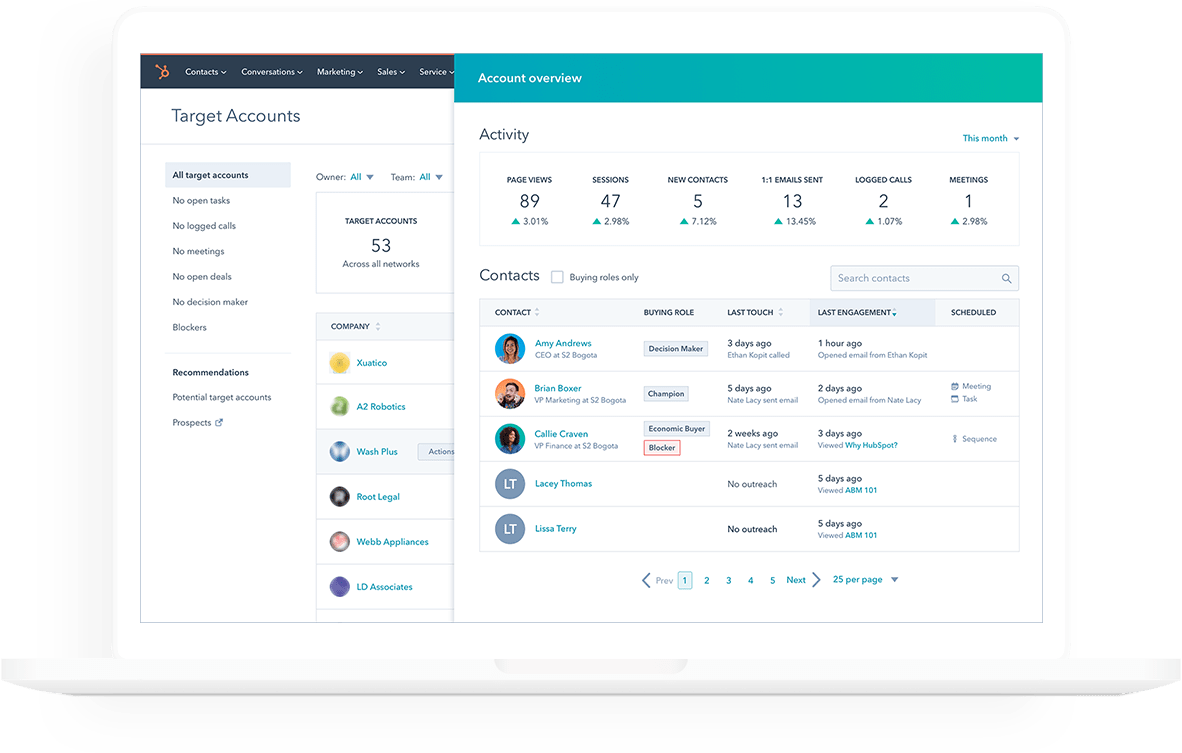 Above: organize CRM contacts by ICPs or target accounts for ABM campaigns.
And there's more -- with the right custom implementation and optimization, you can make your CRM work for you and grow as you go.
Show your CRM some love by:
Making sure your employees know how to properly use (and can appreciate) your CRM
Keeping your information clean and up to date through uniform data entry systems and annual audits

Taking advantage of some (or maybe even all) of the integrative features a CRM has to offer
With an optimized CRM in place, you'll streamline the way your marketing and sales teams work. This means your customers will have more positive experiences, you'll be able to lower your customer acquisition costs and you will see a better return on investment in the long run.
If you take care of your CRM, it'll take care of you.