Keyword Strategy 101: The Importance of Keyword Research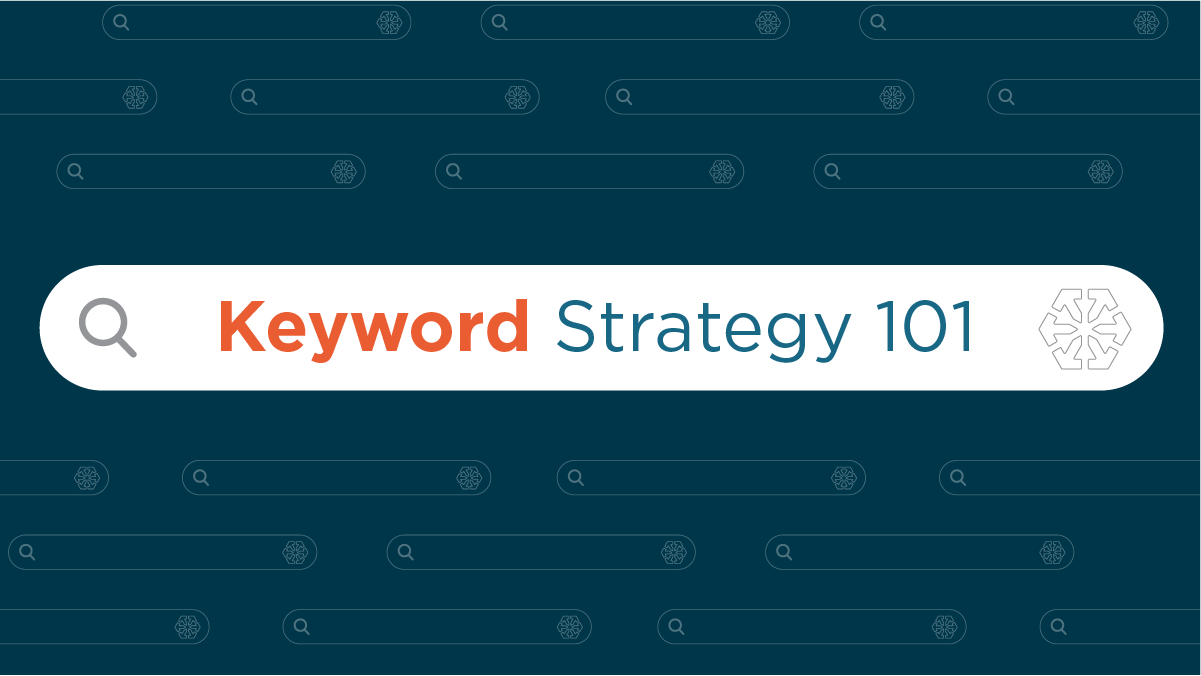 By now, almost all companies have come around to the idea that they need to incorporate content in their marketing strategy to be successful. Whether it's a blog they're posting to regularly, the content published on their website, or video tutorials being created for customers, they create content because they've been told there are benefits.
But what if I told you that by skipping this one important step in your content strategy you could be missing out on the bulk of those benefits. It's no secret content strategy and creation take time – would you do what it takes to ensure it's not for nothing?
Why Keyword Research is a Critical Step in Content Creation

Gone are the days where marketers put out a single message and the audience buys in. Today, our audience goes on a journey to become aware of their problem and then educate themselves on how to solve that problem before deciding on the best solution.
It's our job as marketers to influence that journey in any way we can, helping our audiences move towards deciding that our solution is the best solution for them. I present to you: Inbound Marketing.
But Emily, I thought this was a keyword research blog?
Stick with me.
Take off your marketer hat and put on your "buyer" hat. When you have a problem or need, where do you go?
Google.
(Or you ask a friend if they have the same problem, but that's another blog for another time)
Put your marketing hat back on and consider this. If "buyer" you is going to Google your problem and it's "marketer" you's job to influence "buyer" you's journey, then the number one thing "marketer" you can do to ensure impact on "buyer" you's journey is deliver "buyer" you with the right content in the right place at the right time.
Still with me?
Backing your content strategy with keyword research helps you create and deliver the right content, in the right place, at the right time.
Deliver the "Right Content" with Keyword Research

It's always a good idea to get a picture of how your content currently ranks. If you already have content published, see which keywords you're currently ranking for. It will be a good indication of your authority and ability to rank for certain keywords. It's not to say you can't rank for additional keywords, but something about the content you've already written resonates with the SEO bots and your audience around those specific terms and you may be able to leverage that to write the right content in the future.
Next, through keyword research you can tap into a metric called "search volume." Search volume allows us to see how many searches occur around a certain term. If a term has particularly low search volume, content with a focus on that keyword is likely not the right content. Content focused on keywords with high volume will be the right content, resonating with the searchers!
Additionally, keyword research is an opportunity to see what your competitors are doing. If your competitors are writing on and ranking for keywords, it is a good indication that their content is resonating with your audience. While we're not suggesting you replicate your competitor's content strategy – we are suggesting you identify any gaps your competitors may be filling in the audience's journey and address them with your content too. Bonus points if you have a unique perspective on the topic and that perspective resonates with the audience more than your competitor's. Talk about hitting the audience with the right content!
The right content might look different person to person. You won't always deliver the exact right content, but keyword research can help you get closer to the right keywords than a guess.
Deliver Content at the "Right Time" with Keyword Research

Google Trends is a keyword research tool that allows anyone to see when certain topics have historically trended or are projected to trend. While there's a strong case for prioritizing the creation of evergreen content (content that is always timely) in a content strategy – being aware of when topics spike in search traffic can help you create and publish content at the right time for the search.
The right time for content is always going to be when the searcher is searching for it. While this might take into account seasonality, it's also about getting your content in the right place. Lines blur a bit here, so keep reading.
Keyword Research Puts Your Content in the "Right Place"

Writing the right content isn't enough. To influence your audience's journey at all, your content must be seen when they take to Google. Keyword research can help your content be in that right place (the first page, first position of Google's results page) when the time comes.
As I mentioned previously, keyword volume helps a marketer see what terms or queries their audience is searching for. To add another layer, keyword difficulty allows marketers to see what chance they have at ranking for that search. If all the marketers in your industry are reaching for the same keyword, it's less likely that your content on that keyword will show up in the right place.
Consider keywords with strong search volume and a relatively lower keyword difficulty to improve your odds!
Keyword Research Allows Your Content Marketing Strategy to be Successful

Bottom line: Google has their searcher's best interest in mind and they'll do whatever they can to deliver the most relevant results. But Google play's fair. They've given us all the tools we need to create the right content and deliver it at the right time and right place. It's up to us to use them.
If I've helped you understand the value in keyword research, you may be curious as to how to actually do keyword research. And once you've done that research, how do you implement it in your content strategy? Subscribe to the Stratagon blog to be notified of the next blog in this series.
In the meantime, be sure to check out our CoreMedical Group case study to learn how we used keyword research to build a content strategy that resulted in increased site traffic, increased session duration, and decreased bounce rates.