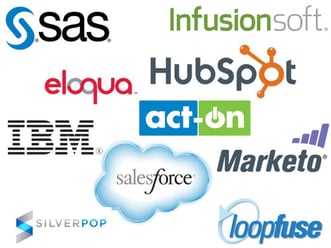 We know you've already fallen in love with marketing automation, and really, what person in your shoes wouldn't? But now it's time to bring your sweetheart home to meet the parents. You need to convince your boss that marketing automation is a worthy investment. What does she need to know to get on board?
1. Marketing automation is more than just software for automated emails. Does your company purchase prospect lists and send email blasts? If so, your boss may think you've already implemented marketing automation. Really it is so much more! HubSpot defines optimal marketing automation as "software and tactics that allow companies to nurture prospects with highly personalized, useful content that helps convert prospects to customers and turn customers into delighted customers."
2. Marketing automation does not make marketing automatic. Professionals still have to generate and nurture leads. Instead, it takes these proven efforts and scales them.
3. You can vastly increase the efficiency of your marketing team by automating manual processes and eliminating redundant ones. Let the software do the grunt work, while humans nurture leads and guide prospects toward sales conversion. Also, you can target the right audience with the right message at the right time. No more throwing messages out in cyberspace hoping they float into the right ears.
4. It's the right time to invest in marketing automation. Your business is ready if you are..
Producing quality inbound marketing content,

Generating a steady flow of new, organic leads, and

Using a proven lead-nurturing strategy that you are ready to scale.
Don't worry if you can't check off everything on this list. You can consider these the first steps to implementing marketing automation.
5. Marketing automation helps you measure ROI. And really, isn't it all about the bottom line? Let's say Joe's Pest Control provides content to prospects using email, Facebook, Twitter, a website, and a blog. Marketing automation software gives Joe and staff analyzable data to determine things such as...
Who's visiting the website; how often? Where do they click? Do they come back the next day, next week, or never?

Do more people click on a blog post when it's promoted through Twitter or email?

Which blog articles are being shared?

How many people are requesting to unsubscribe from emails?
Data such as these help Joe determine where efforts and resources really pay off.
6. Think of it as an investment, not just an expense. Hubspot notes that "effective marketing automation takes time, effort, and resources to implement and maintain for revenue growth." But the yield can be tremendous because it is scaleable and evolves with your clients. Once all the marketing tools are in place, all you need to do is tweak based on your data. You also can continue to engage prospects long after they become happy customers, nurturing with added-value products and services, newsletters, special events, and more.
7. Marketing automation will put you ahead of your competitors. While your competitors are purchasing the same prospect lists and clogging email inboxes, you will be using scaled, inbound marketing strategies to build trust and relationships. You are delivering useful, personalized information to prospective customers, and they will remember your brand for it.
So What?
Marketing automation is not a euphemism for spamming. It's all about efficiency and effectiveness. It gives you the tools to deliver high-quality inbound marketing efforts on a large scale. When implemented correctly, it's a smart investment for any company.
---
---
Photos in post: freedigitalphotos.com