Culp Home Fashions Website Revival Showcase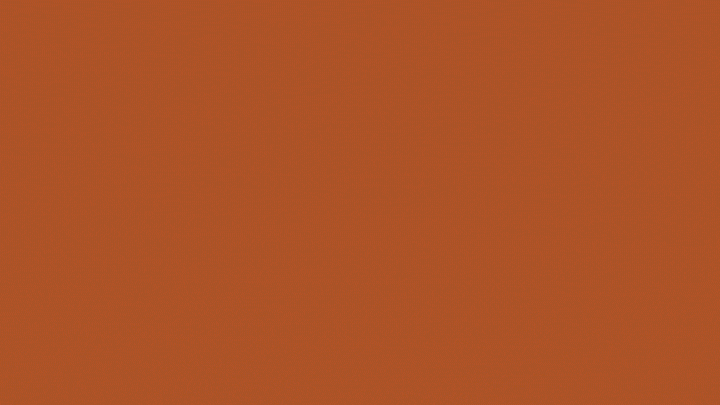 We are a family, and our clients are part of that family. We are genuine, truthful, sincere, hardworking, and trustworthy. We are accountable for our contributions and we will sacrifice for one another when necessary. In turn, we will all recognize those sacrifices. We are not like everyone else, and we are not right for everybody. This is a reality. We are proud of who we are, of what drives us, and of what makes us different. Every day, we wake up and work hard to earn the win.

When we go through the process of determining if a client is the right fit for us, we need to see that we can share a vision. Culp Home Fashions is a company that shares our vision of family, quality, innovation, and values.
CHF is a family-owned B2B manufacturing company founded in 1972, and it is the largest producer of mattress fabrics in North America. They are leaders and innovators in the bedding industry, both in design and technology. Their flagship facility is located right up the road from High Point, NC, the "furniture capital of the world," and home of the biannual High Point Furniture Market, the largest home furnishings trade show in the world which draws over 2,000 exhibitors from around the world. Culp Home Fashions is truly in the thick of the industry's action.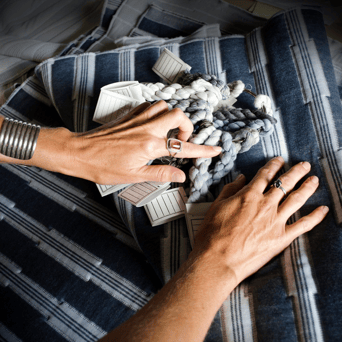 They also manufacture worldwide through "mirrored manufacturing," which are facilities that feature identical state-of-the-art capabilities across their four different plants, allowing customers to get what they need quickly across the world, yet, all under one roof in each location.
We've toured the local manufacturing facility in Stokesdale, NC, and we're amazed (it really looks like magic). We know and believe in the ways that they stay ahead of all the industry trends.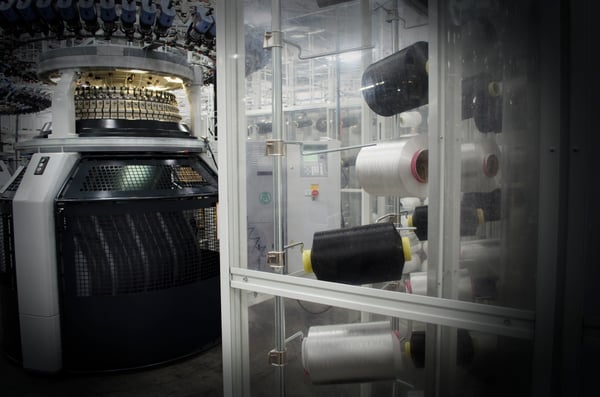 So, if you've never thought about the fabric that covers the top of your mattress (also called "ticking"), now's your chance to go behind the scenes.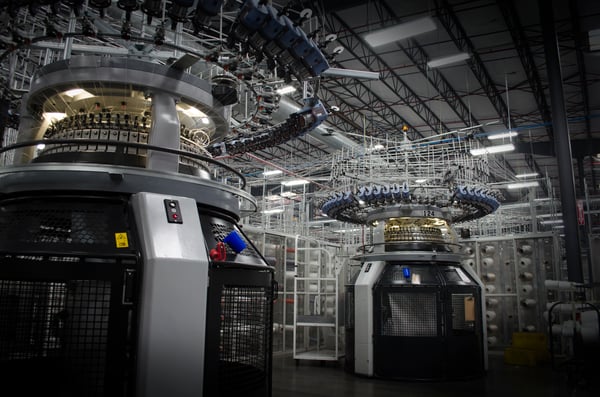 Challenge: Antiquated Web Presence
Culp Inc. exists in an industry that has historically focused on traditional marketing efforts to grow business primarily through trade shows. They had a functional website but needed a strategic plan to integrate all the pieces of their marketing puzzle in order to stay relevant in today's digital climate. Their website needed to effectively portray the unique and innovative manufacturing capabilities and products that they offer.
The older website had many dynamic pages that created a clunky user flow. We needed to think outside the box to keep some functionality while minimizing confusion, keep users on pages, as well as increase usability in the navigational aspects of the site.
The goals were to position Culp Home Fashions as the premier player in their market with a custom site targeting personas to support their Trends, Technology and Products.
Previous Home Page: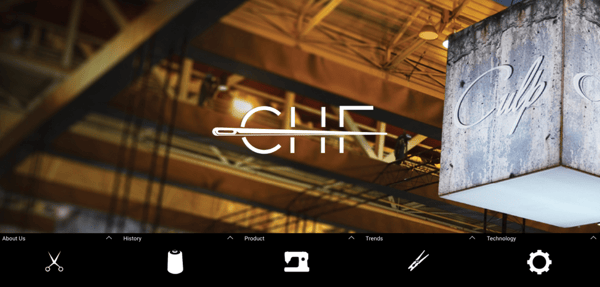 It's practical and functional, but not quite magical. CHF needed to portray their innovative capabilities in a way that was more creative and accessible to their target personas.
Previous Technology Page: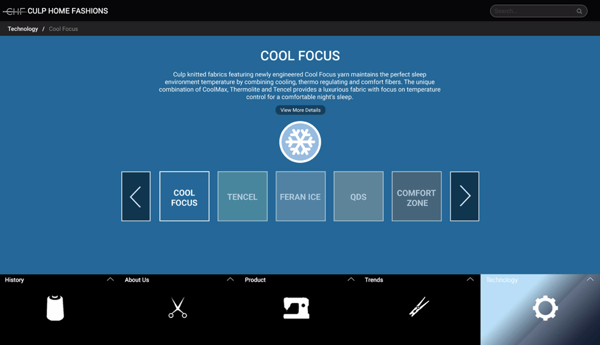 This is informative, but somewhat bland considering the science behind these fabrics (CHF's marketing manager mentioned that it just looked like a PowerPoint slide, not an interactive website). Fact: cooling technology (which can come as a built-in fiber or a finish on top of the fabric) actually helps control the temperature of your mattress, which brings healthier sleep! They also feature comfort and clean capabilities in fabric options.
Strategy: Website Rebuild and Integrate Marketing Efforts
We performed an in-depth discovery process with the client through reviewing trend analysis, stakeholder interviews, competitive research, and target audience consideration. They knew who their best customers were, but they didn't have a clear picture of their personas' needs and how to reach them effectively.
We recommended building the site via responsive platform through the HubSpot COS to optimize for mobile and SEO, improve navigation, and increase conversions of target personas. We're a HubSpot Platinum Agency Partner, so if we seem a little biased, it's because we happen to be huge fans.
The shared goal was to create a digital footprint that would help connect with the direct customer base, as well as catalyze demand with the end consumer. Therefore, we also developed a content strategy to utilize the inbound methodology through integrating pillar pages, topic clusters, and blog content to enhance the user experience, drive traffic, and increase targeted content. Since CHF had little to no prior social presence, we deployed a social content strategy to drive site visitors and overall engagement.
Solutions:
CHF Website Redesign: Migration of current CHF website content to the HubSpot Enterprise platform, plus the creation and development of specifically focused micro-websites ("microsites") for subsidiaries Comfort Supply Company and CLASS.

HubSpot Development: Development within the HubSpot COS allowed for built-in SEO functionality, simple editing for content and imagery as well as drag-and-drop features, and easy-to use responsive framework for viewing on any device screen.
Digital Strategy: Included a Kickstart phase for appropriate initiation of the CHF digital initiative, and an inbound marketing retainer with content development (content writing and imagery) to support the execution going forward.
Content Strategy: Employ inbound methodology based on persona development through pillar pages, topic clusters, and blog content. The entire content plan based around pillar pages. Every piece goes into the larger plan of setting up pillar pages.
Creative: Develop consistent guidelines to create a brand story that carries through all initiatives, including graphics, visuals, and video.
Social Strategy: Increase social presence and awareness to drive site visitors and overall engagement.
The Process:
Our team dug deep. We planned, researched, interviewed, sketched, and collaborated. We presented our strategy through a 4-hour kickstart meeting, where we collaborated even more.
Truly, we know our clients in and out: we walk beside them, we make their goals our goals, and we earn the win with them.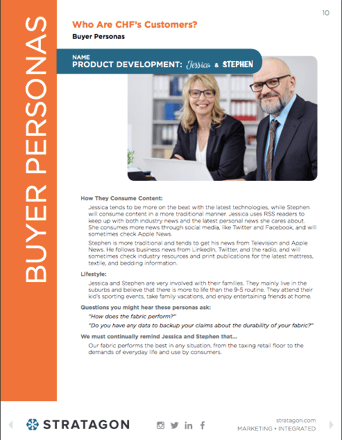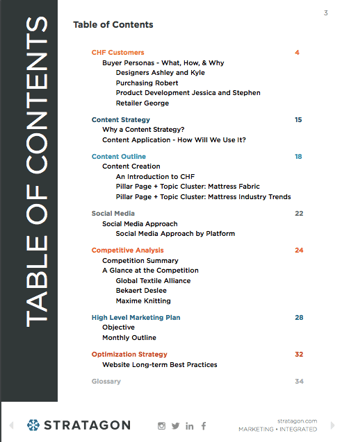 Kickstart Timeline:
We take the big picture and plan it down to the most granular details to make goals a reality.
Kickstart Intro and Table of Contents:
We're showing you the sneak peek of the overview because we can't reveal all of our secrets!
Persona Development:
We believe in intense persona development, and of course we gather inspiration from HubSpot.
Buyer Persona Example:
Through our team and client collaboration, we developed five buyer personas, each with its own description based on interests, lifestyle, content preferences, and needs. Each persona featured a 2-page in-depth narrative.
Content Outline:
We have entire walls in our offices that are made with whiteboard paint. Below is an example of how we brainstormed the content strategy for CHF (although there were many more days with many more covered walls for this undertaking).
We developed the final content strategy (which was 7 pages of detailed plans in the Kickstart) through topics, focus, funnel (top, middle, bottom), details, keywords, target persona(s), and CTA for each published blog or piece of rich content.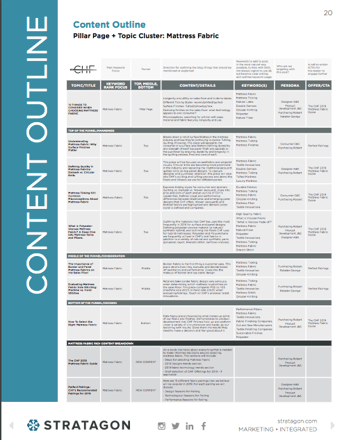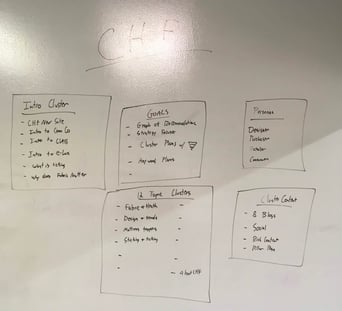 Planning Stages of the Website:
We are HubSpot enthusiasts – we love its ease of use and ability to play well with so many integrations, so when our clients love it too, we're all happy. Here's a few reasons why we love developing within HubSpot to make life easier for us and our clients:
HubSpot has built-in SEO functionality that allows users to cover the basics, so even if someone isn't an expert in that field, they're able to flourish on their own.
Editing content and imagery is a breeze on the WYSIWYG editor, so once everything is in place, it's simple to make updates or edits to a page.
More experienced users can edit templates with a simple drag-and-drop feature as well, so we either do that for our clients or train them so that they can make edits.
HubSpot has an easy-to-use responsive framework that allows developing the website for any size screen. Whether it's a full screen, a mini-laptop for travel, a tablet, or a phone that fits in your pocket, the website has beautiful functionality.
As the pages are built within the sandbox, our account team goes over them with a fine-tooth comb to ensure we're effectively telling the brand story through every detail.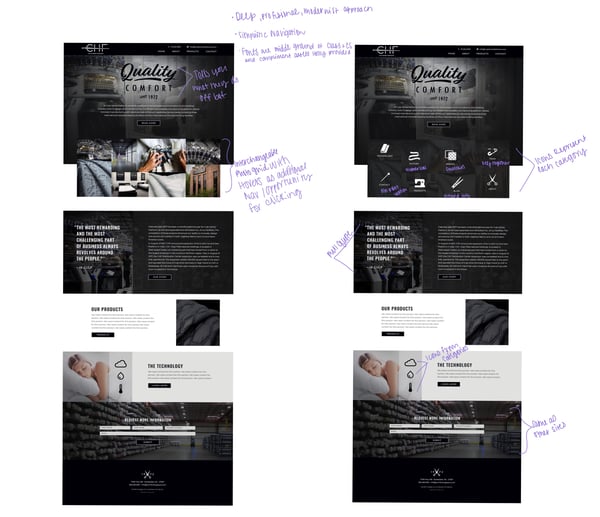 Highlights:
Here's a little show and tell of the final product, but the best way to see it is to truly experience it for yourself.
The optimized website captures attention, reveals innovation, and highlights the company's story, products, and technology.
Page Examples:
Home Page:
The updated Home Page creates a clear picture of the innovation that happens at Culp Home Fashions. The approach is deep and modernistic, and the hero tells exactly who they are and what they do.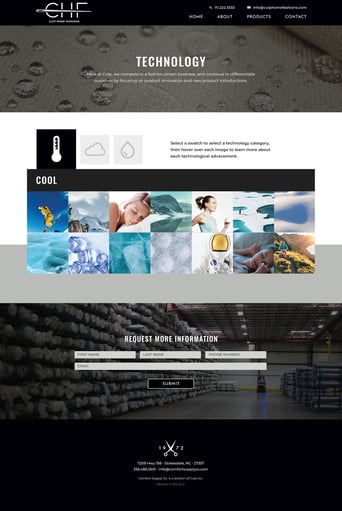 Technology Page:
The updated technology page delights the viewer through highly interactive and visual content that showcases the science behind the products. The page is easy to navigate with intuitive icons that points out applied technologies and allows visitors to click directly on fibers and finishes for readily available details and downloadable spec sheets. Customers can find detailed information at their fingertips – they love it!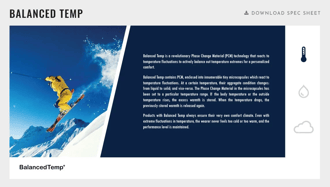 Products Page:
Although the site is not used for eCommerce, CHF needed a place to showcase their designs and allow salespeople to utilize it in the field or at a showroom. After interviewing members of the sales team, we found that a common stumbling block is the sheer number of SKU's. The existing site was difficult to update and did not have an easy-to-navigate UI.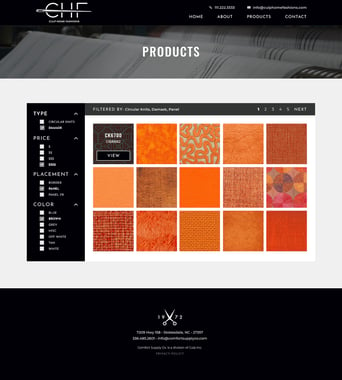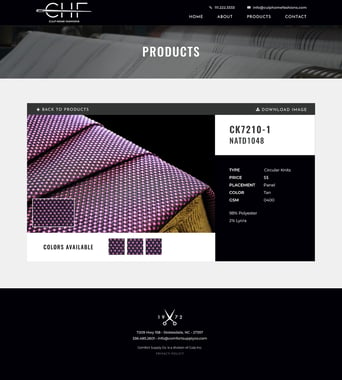 Part of our solution would have to be a user-friendly sort functionality to cut down on time hunting based on the criteria both sales and customers prioritize, including fabric and knit type, price, placement, and color. CHF's sales team can easily locate products and SKU's in the showroom on an iPad.
Above is the final product selector on the Products Page. We had to creatively think outside of the box to create it, so we utilized Expression Engine to host some of their product SKUs. Additionally, the new product detail pages show multiple views and all criteria from the sort feature.
Blog Interface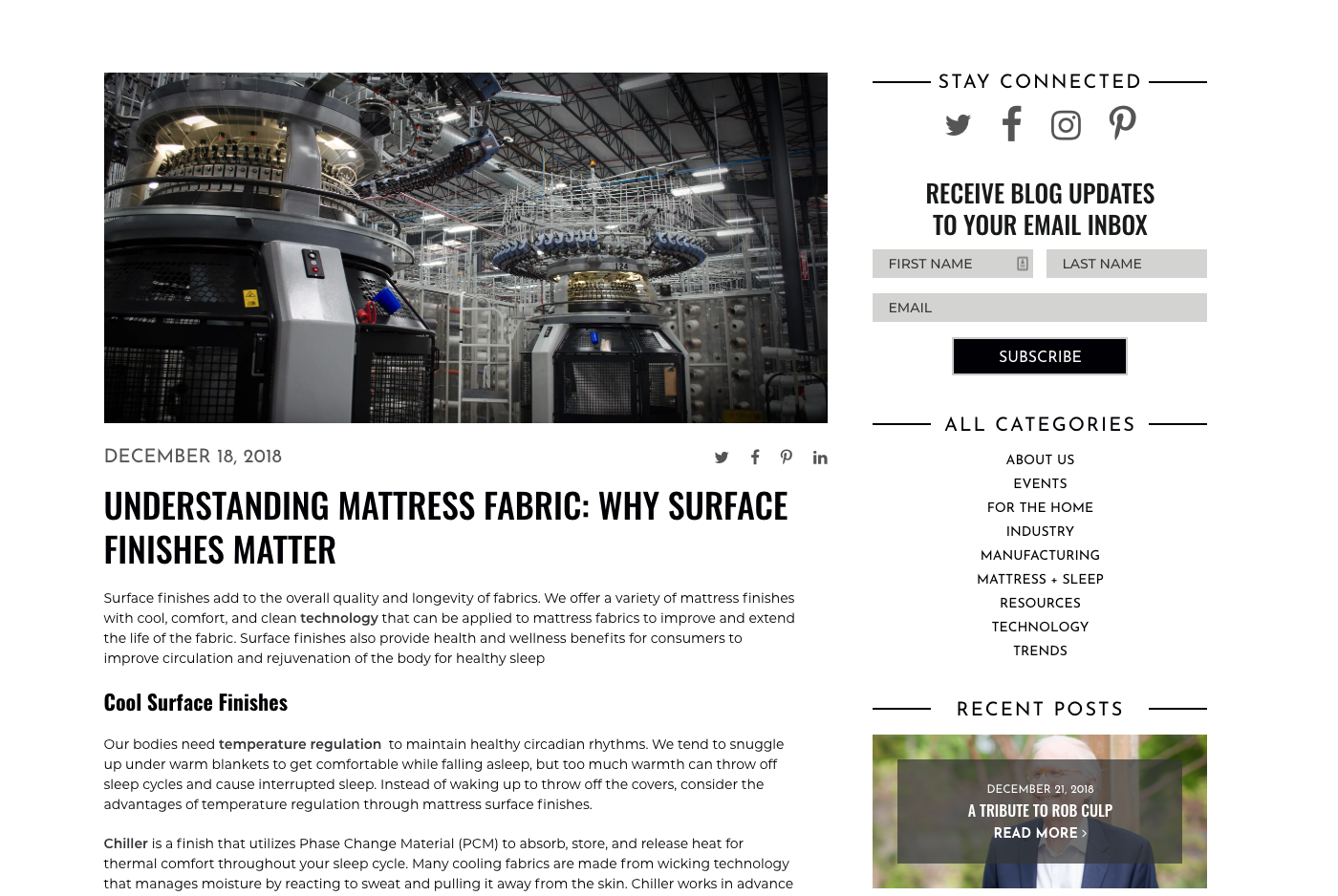 While a large section of our strategy relies on content marketing, we needed a clean and easy-to-navigate spot for our content to live. We built a clean and streamlined page where our blogs and future rich content could live. The right sidebar features an Instagram stream along with category sort features, an area for subscription lead capture and links to CHF's shiny new social platforms.
The sidebar remains once the posts are clicked into, with the addition of a "recent posts" tab to encourage users to continue exploring the content library.
Results and Analytics:
We believe that marketing should be effective, measurable, and fun. Therefore, we provide regular updates on analytics for our clients as we monitor progress and results.
Basically, we geek out over numbers and then use them to increase results.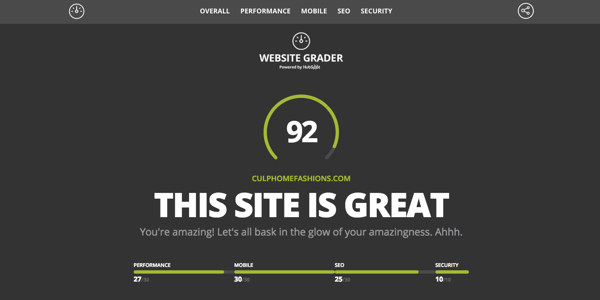 Website Grader:
We love to start with the Website Grader by HubSpot because it breaks down the parts to show the overall effectiveness, and it speaks for itself. Indeed, we do enjoy basking in the glow of our amazingness with the help of our partners at HubSpot!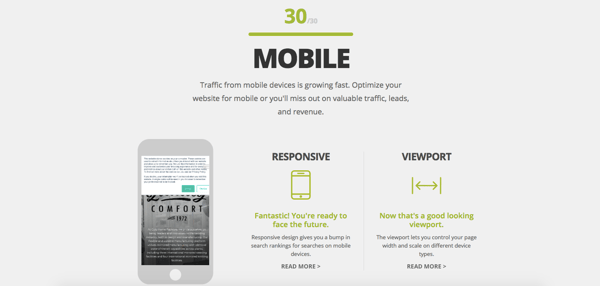 Google Analytics:
Since the site was launched in early October 2018, we tracked the Google analytics for the first 3 months since launch versus the three months prior. Although we haven't had a lot of time to measure analytics since the site is still relatively new, we've already proven steady growth, and we estimate these numbers will continue to climb due to our integrated inbound strategies.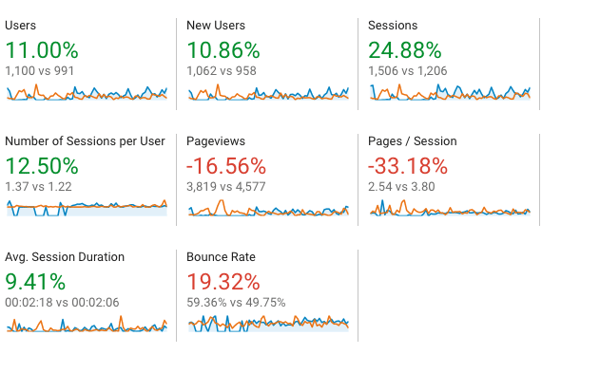 Here's the breakdown for the first three months since site launch:
11% increase in Users
11% increase in New Users
25% increase in Sessions
13% increase in Sessions Per User
There is a decrease in Page views (-17%) and Pages/Session (-33%), but these stats could mean that visitors are finding what they need directly from the first page they visit due to the optimized SEO and persona development. We know it makes people happy to find what they're looking for quickly and easily.
DataBox: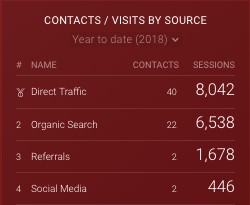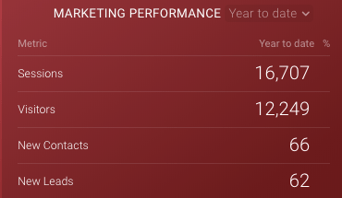 We also love partnering with Databox to get up-to-date metrics all in one place (we use it internally and recommend our clients have a solid grasp on the platform so that we're working as a unit). It connects seamlessly with HubSpot, too – gotta love those KPI's! Databox is a fantastic way to present Hubspot metrics to clients in a digestible way to supplement analytics from outside sources with custom databoards for individual needs.
In the month of November alone (just one month from launch), the updated site had 4,176 sessions, and each user was visiting close to three pages for almost two minutes each time. The breakdown of top channels is helpful in how we drive traffic to the site and where we want to make changes moving forward.

We're continuing to see significant and steady growth in page views, with 16,643 sessions as of December 2018, 66 new contacts, and 62 new leads.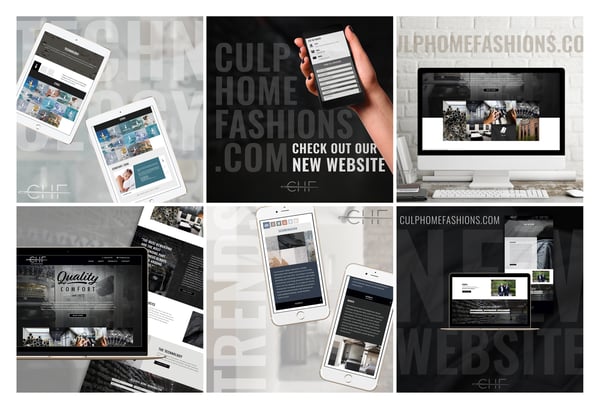 Featured above is the Instagram graph for the new site launch to drive traffic. These images were also formatted and published on other social platforms, including Facebook, Twitter, and Pinterest.
Sessions from Social Media continue to climb exponentially month-by-month as noted below. We began social promotions with teasers to the new site in August of 2018.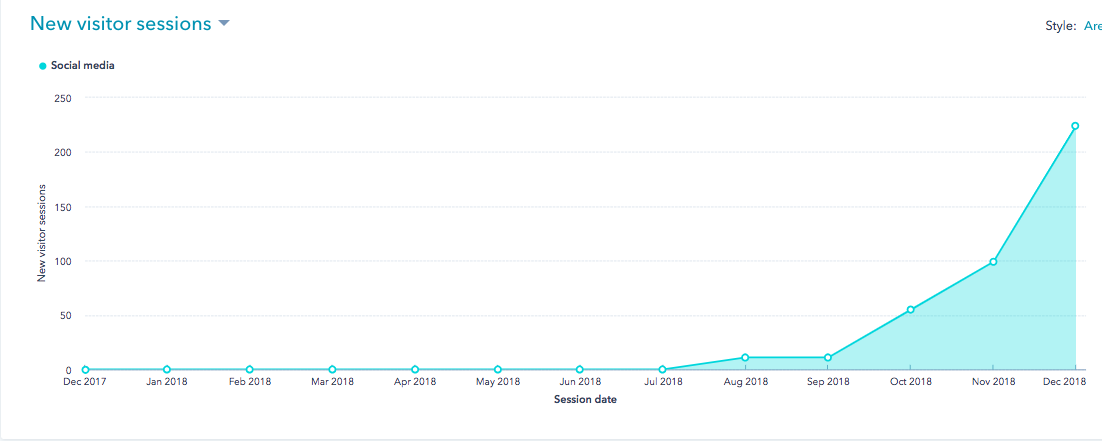 Customer Testimonial:
Discover firsthand our client's story of partnership.
The Story Continues:
The best stories are the ones that you get completely wrapped up in, and the characters feel just like your own friends and family. If your favorite show doesn't have at least 10 seasons, you're heartbroken. And even if it's been on TV for more than 15 years, you're still enthralled (because Grey's Anatomy just never gets old, right?).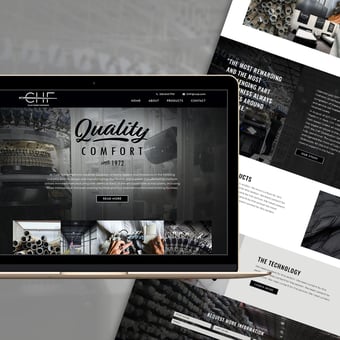 So, we love it when our stories continue to thrive with our clients, because when we invite them into our family, we keep growing together.
Stratagon's partnership with CHF continues as we work with Culp Inc. and their subsidiaries, like LiveSmart (which also features incredible textiles – performance fabrics made so that you can spill red wine on your white sofa and not have a worry in the world, but that's another story for another day).
We love what we do, and we cherish the relationships that blossom from it.
We have a passion for creativity, people, and marketing. Let's wake up and earn the win.