Higher Ed Marketing 101: Why You Need Persona Development in Higher Ed

It goes without saying that the higher education recruitment process has experienced major upheaval in the past decade. As a result of the decline in the effectiveness of traditional advertising techniques, a shift in how applications are completed (now over ninety percent online), and prospective students' ability to readily access outside testimonials and reviews, it's no surprise that institutions are shifting to an inbound approach to nurture student relations and deliver valuable content to engage students.
Anticipate Prospective Student's Needs with Inbound Recruitment:
Regardless of institution size or specialty, understanding how prospective students consume media is essential. Nowadays, university-provided brochures and handbooks play a less significant role in establishing an ongoing relationship with college-bound students as they navigate their laborious decision process.
For traditional undergrad students, by the eleventh grade, even students with average GPAs are bombarded with exploratory recruitment emails, and blanket awareness campaigns don't cut it. We know that prestigious students at the top of their class may start engaging with universities as early as the ninth grade with the occasional nudges of outside influences from alumni, parents, and recruitment counselors.
Without understanding how to properly nurture prospects, direct mail and sporadic email outreach will do little to build rapport.
To stand out from the pack, universities must anticipate the needs of their ideal candidates and stay ahead of the curve by having the right answers to their commonly asked questions.
1. Focus on Relationship Development and Retention.
Abandon the idea that you're "selling" an education to someone and drop the standard sales pitch accordingly. Nurturing is key; simply put moving your prospects seamlessly from awareness to consideration to a decision phase. Higher education has one of the longest sales cycles, and students and parents are considering the return on this high-involvement decision upfront.
In 2015, The National Student Clearinghouse Research Center released a Transfer and Mobility study reporting that approximately 38% of higher education students who entered college for the first time in the U.S. transferred at least once throughout their college career. Of that group, 45% changed institutions more than once.
Admissions personnel have quotas at the forefront of their minds, but an important aspect of recruitment is ensuring your program can stand the test of time and create lasting value for your incoming students.
Boosting retention and positioning yourself as the right institution for the right student the first time around is invaluable. Steady communication and accurate messaging can assist here.
2. Prioritizing Personas over Generic Personalization.
So how can you ensure that you both have the right answers to common pain points, deliver meaningful resources at the right times, and truly understand your prospective student base? The inbound methodology is at the heart of the higher education recruitment process.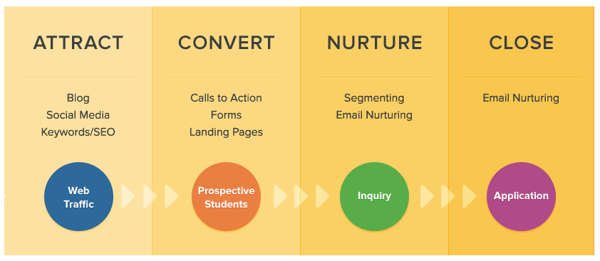 The inbound methodology has four identifying steps, and we've tailored them for schools here: driving web traffic to your site, converting that traffic into leads (students considering applying and attending), nurturing those leads, and closing them (receiving an application). Personas are at the core of attracting applicants who are aligned with your university.
Personas are generalized semi-fictitious representations of your ideal student.
Your diverse group of students will have some common goals, but you need to understand what sets your university apart and what attracts individuals there. Generalizations in this incredibly complex and laborious decision process will get you nowhere. Proper persona development will allow you to truly segment contacts, align inbound tactics, and kick off the nurturing process. This heart of the attract phase.
Thanks to CRM and Marketing/Sales software, there are a multitude of options for taking your prospective students through all levels of the cycle past simply the attract phase.
Marketing automation platforms like HubSpot streamline the inbound methodology for higher education marketing and bridge the gap between university website visitors to applicants- navigating the nurturing phase with ease thanks to contact management, targeted CTA's that deliver useful pieces of rich content, and email automation to ensure the personalization process is dynamic and effective.
3. Qualitative Research for Persona Development.
Asking the hard-hitting questions is essential. What are your future students searching for online and where do they spend their time? What are their concerns about going to college? Are scholarships a deciding factor? Some important issues to keep in mind when pinpointing pain points are their goals after graduation, primary obstacles and challenges, accreditation concerns and needs, and parents/influencers educational backgrounds.
Keyword research can be utilized to deduce where their hang-ups might be. Current students offer a wealth of knowledge on the process - these interviews and insights should not be overlooked.
Students are used to receiving emails with name-based personalization tokens, and with persona grouping, we can personalize even more specifically based on wants and needs. Ending up with one single persona is not realistic, and these are not static entities.
16-year-old STEM students touring in their sophomore years, student-athletes, and 24-year-old transfer students pursuing evening online programs while working full time all have very different priorities. Outside decision-makers and influencers play a role as well. With personas, institutions can address these idiosyncrasies.
4. From Engagement to Enrollment.
Don't forget to address your university's role in this process. What benefits and unique program offerings set your university apart? Understanding the strengths you highlight in your recruitment messaging with aid in aligning ideal personas to your programs.
Working in the awareness phase is broad and can seem complex. By fully researching prospects to compile airtight personas, you'll become proactive and responsive.
Craft content by answering questions frequently posed by your primary personas to position yourself prominently along the jumbled wealth of content in the mix and drive frequent web traffic back to your university site. Remember that maintaining a relationship and understanding the fluctuating nuances of the application process are key – prospective students need consistency.
Our persona development worksheet and template above can simplify and streamline your efforts. Develop your primary personas and get moving!