Why Email Automation by College is a Plus for Higher Ed Recruitment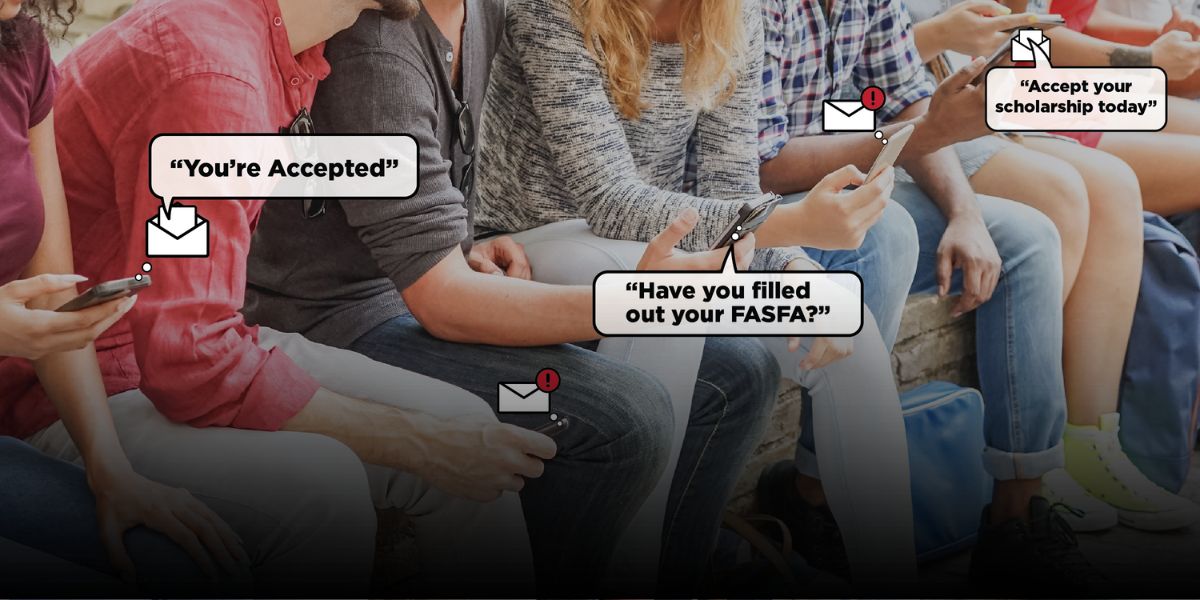 Email automation is key to recruitment efforts in higher education. With the majority of prospective students using mobile devices as their primary way to communicate, you are behind the curve if you aren't already meeting them where they are.
An integrated digital and traditional approach is most often the answer to a successful recruitment campaign, but if you need a place to begin, email is the perfect start.
We are going to go one level deeper though. Let's discuss why it's a good idea to email and leverage communication that comes directly from a school that a student has elected to attend in the fall. Utilizing email (from the student's major and school choice) in student recruitment is always a good choice for a few key reasons.
1. Personalization
Of course, personalizing an email by adding their name to the first line is a good start, but why not take it a step further?
Communicate with your students from the University level as well as the college that they choose. This way, you can speak to them directly about what interests them. You can tell them about why the major they chose is great, the clubs that they can join right when they get to campus, or share with them major-specific scholarship opportunities. By communicating in this way, you are already developing rapport with the students and reassuring them that they are more than just a quota to fill.
This doesn't always mean double work. Use an editable email template in a marketing automation system and add personalization and smart content to remain efficient yet deliver a custom message. Don't forget to use persona development to ensure you understand your target students and their needs before you go through this exercise!
2. Visibility to "Less Popular" Majors within a School
High school seniors (and even underclassmen) may have a very clear path set on what major they want to pursue, but not always. They may choose a more broad or "popular" major to satisfy their decision to choose a path before they are ready, or maybe even before they know the potential of learning opportunities or careers in other majors within the college they have chosen.
This is where your expertise comes into play. You have the opportunity to inform them about other majors offered within the college, as well as introduce them to majors that they may not discover until later. This approach encourages students to consider their post-graduation goals before committing to a major, ensuring that they are choosing the pathway that best suits their interests and aspirations.
3. Highlight Why Your College is the Best Choice For Them
Whether you are a school of Ag, a business school, or another option, you have different benefits to offer. Maybe you want to highlight your talented professors or your advisors' success rates in helping students to enter the workforce.
Maybe you want to discuss the breadth of experience and connections that your alumni group has to offer as a way to network. You may have your very own open house, and you want to make sure your students come to meet with you personally. Whatever it may be, sharing relevant information is always a plus to students who are looking for the final box to check off when deciding if they want to send in their security deposit and secure their spot – and, you could become the hero by helping them with scholarship opportunities they weren't aware of before.
There are several reasons why deploying a marketing automation strategy is a good idea for college student recruitment. It's an even better idea to invest in customizing the communication and process by reaching out to them by individual school. It gives the student more perspective, and it allows you to show off how your school delivers a better experience for the student!
Interested in learning how email automation can help a college increase recruitment? Check out our Tuskegee University Case Study for stats and more!