Nine Must-Do Marketing Trends in 2019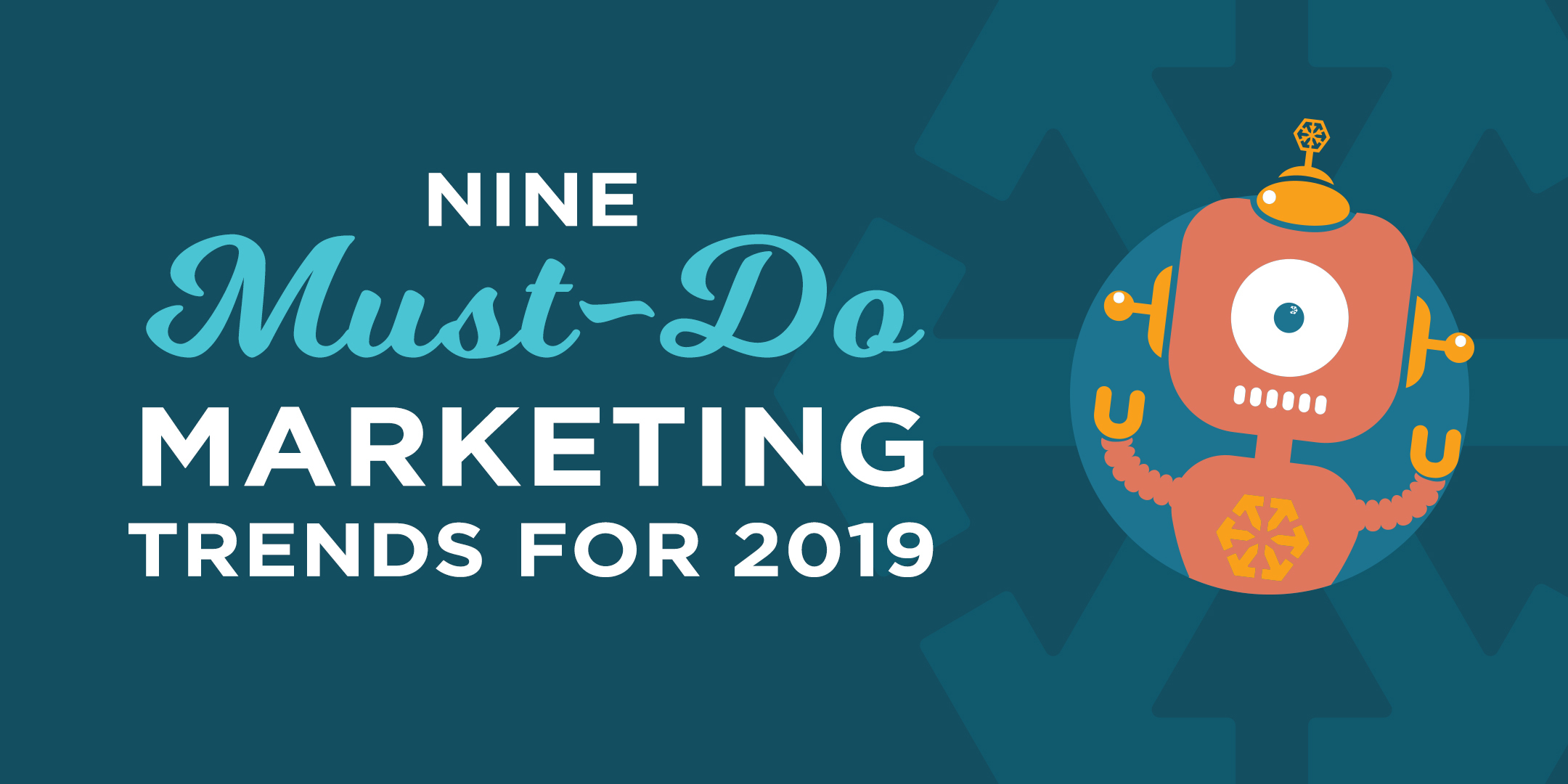 Need some new ideas for your marketing strategy in the new year? Don't miss out on the trends that will refresh your marketing as you keep pace moving though 2019. Although these trends are numbered, they are in no particular order – we understand that every business is different. Discover the solutions that best fit your target audiences, needs, and goals.
1. Get in Front of the Camera
It's no secret: video captures attention. Video can incorporate storytelling, product development, tutorials, and testimonials in a visually pleasing manner that will captivate habitual scrollers and convert them into buyers.
2. Keep Pace with AI
Artificial Intelligence continues to change the playing field in digital marketing. Now, an online chatbot can be your best 24/7 sales person, and can store gathered information directly into the CRM for nurturing leads.
3. Personalize and Contextualize
Personalization will get you everywhere. Matching the content to the buyer's needs at the exact stage in the sales cycle is all about context and timing. Use personalization tokens in email campaigns and throughout the website to draw in your prospects. Check out our blog on how we revitalized buyer personas and content for a customer that caused inbound growth.
4. Complement with Paid Digital
Algorithms on social platforms have taken away some organic search power, so don't be afraid to add paid into the mix to target buyer personas. Don't just boost a post though: make sure it's backed by strategy and specific goals with highly individualized content.
5. Leverage a Custom Content Journey with ABM
Tailoring content to specific accounts flips the funnel and personalizes the buying process through alignment of sales and marketing efforts. Streamlining the journey provides an efficient and scalable process to reach your target audience at the right time through the right buyer. Our ABM Case Study provides more specifics on how this works.
6. Build Brand Communities
Shared experience is powerful. Inviting users to share in the product through a community of like-minded individuals will allow them to become part of something bigger than themselves – and they'll keep coming back for more (think TOMS advocates or Apple fanatics).
7. Influencer Marketing
Consumers want real, human interaction – influencers curate content that is natural and honest because they choose what to feature in their subtly sponsored content, which creates more organic increase in followers. Our blog on Influencer Marketing gives more specifics!
8. Voice Optimized Content
It's quicker to talk than to type, and online voice searches are growing every year. Tip: most voice searches feature more long-tail content than shorter phrases typically done through text.
9. Ensure Privacy Protection
Data breaches are scary. Ensure compliance with privacy laws such as GDPR: protect your company and customers with clear policies on cookies, data collection, and privacy rights for website visitors.
Make it Happen!
Marketing should be measurable, effective, and fun. Passion is an integral part of every project we take on. We create customized marketing strategies and implement them to help businesses grow. We want to understand your challenges, your goals and what drives you. We seek to grow our knowledge and expertise in your business, and we want work alongside you to help you achieve success!
Learn more about our services in integrated marketing along with service and sales enablement, or connect with us to learn more!