B2B Lead Generation: Aligning Marketing and Sales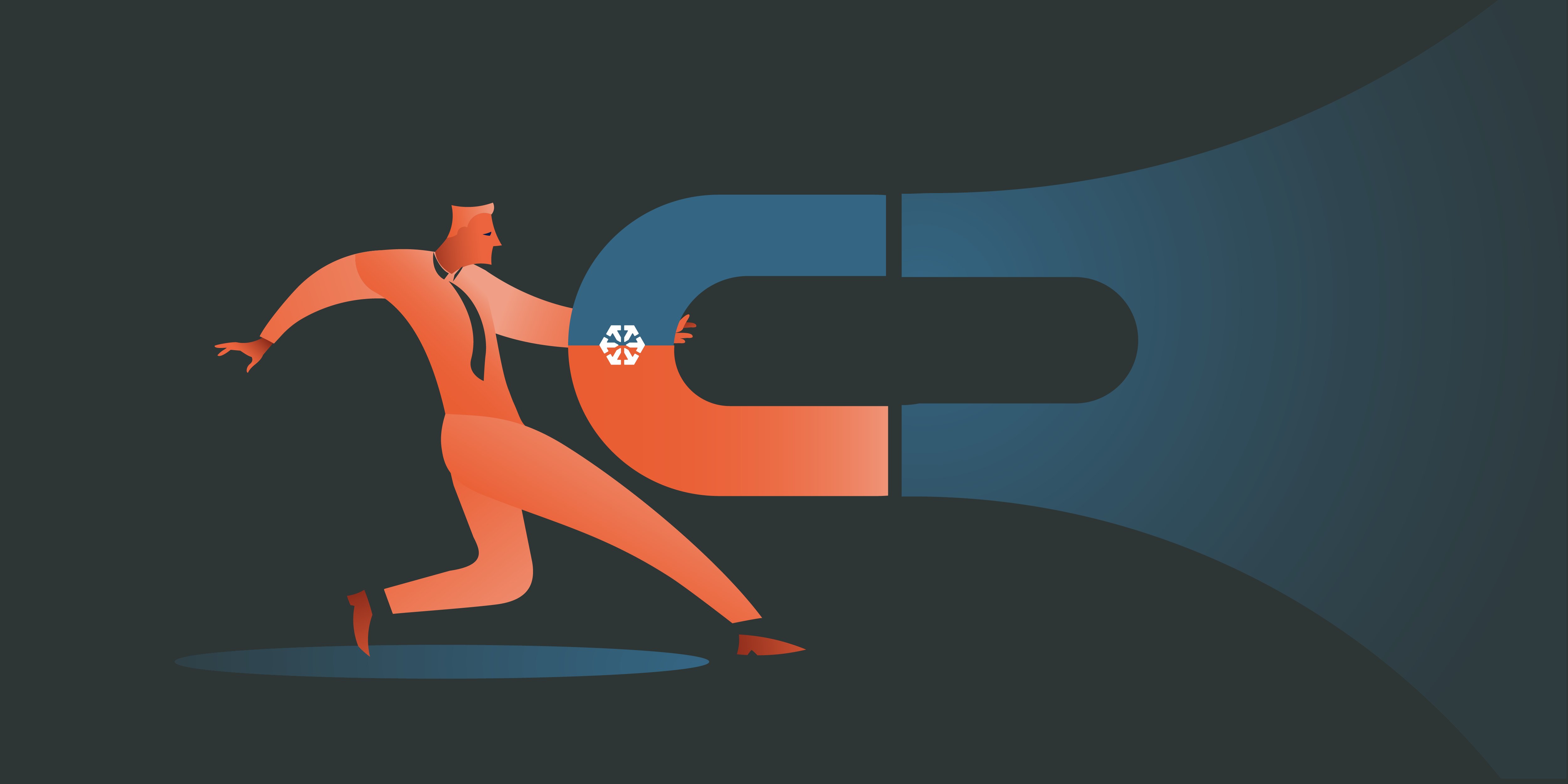 Lead generation should be like a magnet: the right prospects and companies are drawn to your products and services because they're attracted to you, and you know that once they're customers, they'll just stick.
Sometimes, lead generation can feel like you're using a massive magnet, but nothing is moving towards it. Especially when it comes to B2B lead generation, it can become more and more complicated when you're looking to magnetize the right decision makers within the accounts you're targeting.
Here's the question: are you using the right magnet?
Maybe you think your lead generation tactics are magnetic, but you're actually just using a block of wood that's not magnetic at all.
What is B2B Lead Generation?
B2B lead generation is a business-to-business marketing and sales process that identifies best-fit prospects or accounts that are ideal customers for your business because your products or services offer them ideal solutions to their business problems.
Marketing and Sales Alignment in B2B Lead Gen
Ideally, marketing and sales teams should work together for lead generation to be effective.
Marketing and sales seem like they go hand in hand, right? Well, yes – but many organizations completely separate sales and marketing, so their goals are not aligned, and their processes are not efficient.
I hear it all the time from sales and marketing professionals (no, it's not just you!): "If they would just do things my way, we'd be getting more leads!"
Typically, the larger the company, the harder it is to align sales and marketing processes for B2B lead generation. Especially when it comes to historically traditional industries, like B2B manufacturing, agriculture and biosciences, B2B managed services, and more – we spend a lot of time helping moderate conversations between marketing and sales teams.
Here's the thing: if marketing and sales could just get along, they'd all be reaching their goals more quickly, moving the pipeline faster, shortening sales cycles, the list goes on and on.
How to Set Up a Successful B2B Lead Generation Machine
Before we get into the age-old sales and marketing argument, let's just put our qualms aside and start at the very beginning (it's a very good place to start, you know).
Establish joint goals and KPIs
This is the foundation – if you don't know where you're going, you'll get nowhere fast. Determine what you want to accomplish between the marketing and sales teams based on overall business goals, how you will measure it, and a timeline to make it happen (SMART goals!).
Determine your ideal prospect accounts or Ideal Client Profile (ICP)
An ICP (ideal client profile) is a description of what defines the perfect customer account for your organization, which could include company revenue size, number of employees, industry, geography, technographics, and more. Your sales and marketing team should define these characteristics together to determine the clients that most align with your company's offerings.
Set up ongoing check-in meetings
Ugh, not another meeting? Yes, seriously. At first, you'll need to schedule frequent meetings between sales and marketing teams (smarketing meetings), and then, as you get into a rhythm, you can spread them out more. Start weekly or bi-weekly, if possible, and then move to once a month. These meetings should determine progress, be an open forum for feedback, and serve as a space where you can discuss current pipelines, accounts to target, and next steps in processes.
Find and nurture your leads
This is where the powerful marketing and sales magnet starts to do its job. Make sure that as you pull in leads, you're capturing lead information through forms or other means that can be stored in your CRM database so that you can effectively nurture them.
When it's time, reach out to your leads
Not every lead is ready to talk right now. Most B2B buyers want to self-educate through website copy, blogs, or other content to move themselves through the funnel before they're ready to speak to a salesperson. When your data shows that an account or lead has hit multiple triggers (such as spending a lot of time on a product page, reading multiple blogs about one service, or talking with a bot about a specific topic, etc.), it's time to pass that info over to the right salesperson to reach out.
TIMING IS EVERYTHING!
What are the Best B2B Lead Generation Tactics?
If you understand the process of aligning sales and marketing, lead generation will get easier over time. Don't get me wrong: it will still take a lot of strategic planning and work, and you'll have to change your tactics as technology and the market changes – but you'll be more aware of best practices and how to stay agile in your industry.
Every industry, market, and company is different, so there really isn't one magical magnet to rule them all when it comes to B2B lead generation. However, you should always be applying multiple tactics at any given time to hit targets at every angle (account-based marketing is a great way to think about this as well).
Here are some tactics for B2B lead gen that we love right now:
Paid digital advertising (PPC, programmatic, retargeting, etc.)
Trade shows
Direct mail (or other traditional methods as long as they're attributable and tracked to a unique URL or QR code)
Trade shows
Content marketing (blogs, downloadable items, etc.)
Social media (organic + paid)
SEO
Chat bots
Email marketing / sequences
Customer testimonials
Case studies
Smart content for

personalization

Webinars or podcasts
Backlinks
Great CTAs
Highly specific landing pages
And more (obviously, this list isn't comprehensive, and it's constantly changing)
Check out these tools for B2B lead generation:
SEMRush (for SEO research on keywords)
Lucky Orange (heatmapping to find out how customers are browsing)
And more (tech is ever-evolving, so we'll keep you updated!)
At the end of the day, B2B lead gen is about knowing your buyer.
Every prospect wakes up a human being, just like you. Your goal is not to "sell them" but to determine if they have a need and if your solution can make their life a little easier.
Find out where your prospects spend time, what they value, and what their challenges are, and then become the source they turn to for expertise.
Just like any great relationship, approach it with empathy in order to make genuine connections with your prospects. It'll make all the difference.